Base model used to mean the cheapest version of a car's model lineup. Back in the day, manual cranked windows could have been a way to show you were getting the cheapest model, but in recent years, OEMs have flipped the script and there are base models available with top-of-the-line technology like the base model 3 Series BMW 330i.
Recently, I spent some time with a 2019 BMW 330i Sedan and let me tell you, the options packed in this "base model" wooed this M3 owner. The car comes packed with a 2.0-liter I4 turbocharged engine good for 255 horsepower and 295 lb-ft of torque.
I refer to the BMW 330i as a base model, which it is, but for many, the terms "base" and a "stripper" can be blurred. Base refers to the lowest available trim level of a model's line, whereas a stripper refers to a model having no optional boxes checked. So for example, with the BMW 320i/330i, they can be seen as a base model BMW 3 Series, a M340i mid-level trim and a M3 as the top-of-the-line trim. You can have a "stripper" model of a high trim level — a stripper M3, for example. There are even base versions in trim levels sometimes. Confused yet?
I am not going to lie to you, this car had a bunch of options checked and included, but based on my explanation above, it's still very much a base model, just not a stripper.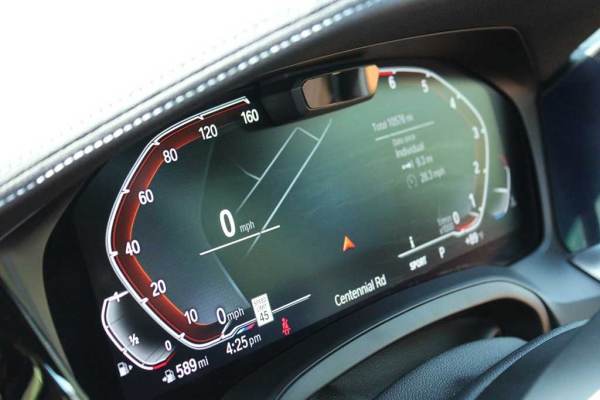 The BMW 330i I drove around in came packed with a slew of options such as the Driver's Assistance Pro Package, which includes Extended Traffic Jam Assistant and Active Driving Assistant Pro. It also has the M Sport Package, which adds variable sport steering and Comfort Access keyless entry, as well as the Executive Package, which adds BMW Laserlight and Surround View. In addition, it has the Track Handling Package, which adds M Sport Brakes and a M Sport Differential as well as a slew of M badges that will irritate "///M" car owners. Most noteworthy to my experience is the Premium Package, which adds BMW's Live Cockpit Pro.
BMW's Live Cockpit Pro — basically the full digital display — is the most eye-catching and noteworthy option in this base model Bimmer. It ties directly to the Driving Dynamics Control to give you the feeling that you are behind the wheel of something special, even, dare I say, punching in that weight class of the Ultimate Driving Machine.
The Driving Dynamics Control is BMW's driver mode select, providing the driver with ECO PRO, COMFORT, ADAPTIVE and, of course, SPORT mode. As my video above shows, going through the driver modes changes the full digital display based on those modes. COMFORT, ADAPTIVE and SPORT are all generally the same with touches for their respective terms, while ECO PRO showcases efficiency over driving experience to save those extra miles per gallon.
Beyond the driver modes, you get a nice street navigation view in the center of the digital display, while the BMW's BC (Board Computer) button will cycle the driver through options on the right side of the display, including gear selection, miles per gallon, trip data, g-force, radio and, my personal favorite, the horsepower/torque bars.
Speaking of the horsepower/torque bars, that information, along with the g-force meter, is available on the Sport Display on the iDrive system screen in the center console.
Base sure has come a long way from the times of cheap. When I grew up, a base model meant you were getting manual windows and a "meh" interior, but the BMW 330i and other cars like it have gotten with the times.
Know of other cars on the base level that like to pretend they aren't? Let me know in the comments below. Find a BMW 330i for sale
For more of his automotive exploits, you can follow Danny on Instagram: @DKorecki and subscribe to his YouTube channel.
MORE FROM OVERSTEER:
Video | The Mercedes-Benz G63 AMG 6×6 Is the Craziest Pickup Ever
5 Great Overland Ready Toyotas Listed for Sale On Autotrader
Early Tesla Model S Electric Cars Are Now Just $25,000