Volvo may have had a stodgy image, but its cars have never been boring. From its earliest models, which blended agricultural underpinnings with sultry curves, the automaker has always injected some quirk into its cars. Today's Volvo lineup is stylish and fun, and still has plenty of quirks — like the orange carpet available in the XC40.
Until Volvo was acquired by Chinese automaker Geely, however, its lineup started to feel a little stale. Still, there were plenty of bright spots. Here's a look five quirky modern Volvos that you might not remember.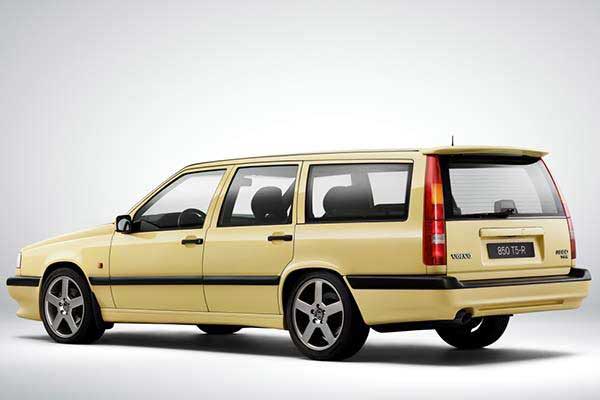 850 T5-R
The 850 T5-R was the original high-performance Volvo. Launched as the more ferocious version of the sprightly Volvo 850 Turbo, the T5-R was a station wagon that boasted 243 massaged-by-Porsche horsepower, and it could be had in a memorable bright yellow. If that's not an interesting enough car for you, you might need to take a break from supercars and come back to reality for a while.
Today, 850 T5-Rs are sought after and exceptionally rare. One with 42,000 miles went on sale earlier this year for a hefty $24,000, but the listing is gone, and the car's likely parked in a new owner's garage by now. Find a Volvo 850 for sale
C30
Volvo sought to remake its P1800ES with the S40/V50-based C30 hatchback. Its glass hatch afforded terrific visibility and gave it a nifty shape. Moreover, U.S.-market examples came with a 227-hp 2.5-liter turbocharged inline five that could be teamed with either a 6-speed manual transmission or a 5-speed automatic. With the stick shift, the pint-size C30 is a hoot to drive, and it boasts standard Volvo virtues, such as a slew of airbags and plush seats.
C30s are still reasonably easy to find, as production continued through the 2013 model year, and good examples of the facelifted version are easy to find for around $15,000. Here's a high-po Polestar version that you should probably buy before I do. Find a Volvo C30 for sale
C70 Coupe
Volvo's history with coupes has been spotty. It first partnered with Bertone for a 2-door version of its 240 with a vinyl roof that looked like it had been stepped on, though the later 760 Bertone had crisp lines like a fine Italian suit. For its C70, Volvo didn't need to visit Italy. This homegrown 2-door version of the S70 sedan has just-right proportions and can be had in a palette of stunning colors with high-class wheel options.
The best of the breed is the rare Saffron Orange, and attempting to find one with the standard 5-speed manual transmission as well as the optional Dolby Pro Logic audio system and BBS-style wheels is what you should be doing when you finish reading this article. Find a Volvo C70 for sale
C70 Hardtop Convertible
By consolidating its C70 coupe and convertible into a single model, Volvo in 2006 thought it had its niche solution. The new C70 featured a metal hardtop that tucked into the truck at the press of a button. It wasn't as fun as its predecessor, but the second-generation C70 was far more refined. Well-equipped models cost around $45,000 when new, which put them dangerously close to like-priced BMWs and Audis that rode and handled better.
But the C70 has depreciated considerably, and a 2011 model year update gave it fresher styling. Look closely and you might find a C70 Inscription, which had dressier leather and could be had with a light oak interior trim that helps its interior look modern today. Here's a sharp red-on-red example for just under $16,000. Find a Volvo C70 for sale
V70R
The second-generation V70 wagon is an immensely practical high-performance machine. With 300 hp sent to the wheels through a Haldex all-wheel-drive system, the V70R ticks all the right boxes for enthusiasts. Did I mention that it could be had with a 6-speed manual transmission that boasted one of the prettiest shift levers ever made?
V70Rs were unusual when new, which is something of a head-scratcher given that they listed for a reasonable $40,000 when new. Mercedes-Benz wanted $62,000 for its 302-hp E500 wagon back then, making the Volvo an absolute steal. Clean examples, like this 85,000-mile 2006 V70R, demand nearly half of their original list price now, but good luck finding a more versatile, high-performance car for that price. Find a Volvo V70 for sale
MORE FROM OVERSTEER:
Video | The Mercedes-Benz G63 AMG 6×6 Is the Craziest Pickup Ever
5 Great Overland Ready Toyotas Listed for Sale On Autotrader
Early Tesla Model S Electric Cars Are Now Just $25,000