Bicycles and cars have been natural foes for about 130 years now, though occasionally, they can get along. For instance, protected bike lanes are increasingly common, and aftermarket firms Yakima and Thule make bicycle-transport systems for darn near every car. Even Porsche includes mounts for roof rails on its 911 (though you must first select a sunroof, naturally).
Three automakers in recent memory have taken the bike-car relationship a step further by including a bicycle with purchase. These cars targeted active lifestyle types, though more than a few of those bikes probably wound up collecting dust until they were sold for $50 at a garage sale long after the cars they came with had been traded in for newer models.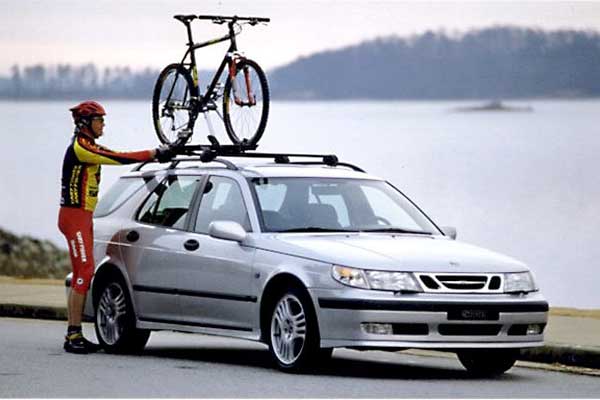 Saab 9-5 Gary Fisher
The top of the heap was the Saab 9-5 Gary Fisher. Saab sponsored the Gary Fisher mountain bike racing team. Gary Fisher himself is one of the founding fathers of mountain biking, and he lent his name to a brand that was eventually acquired by Wisconsin-based cycling giant Trek — but more on them in a moment. To cement their relationship, Saab used the 2000 Chicago Auto Show to unveil a 9-5 wagon with the body kit from the sporty Aero version and some of the wackiest three-spoke wheels imaginable.
Of course, the icing on the cake was the up top — a mid-level mountain bike that had a retail price of about $900 at the time. 9-5 Gary Fisher buyers could select their size bike, and, once it arrived, they had a roof rack to strap it to. I didn't find a 9-5 Gary Fisher edition for sale on Autotrader, but you could set up a search alert for 9-5 wagons, and one may eventually show up.
Saab also lent its name to the race-level Gary Fisher Supercaliber bike, which is still worth quite a bit to mountain bike collectors (probably more than a 20-year-old 9-5 wagon, let's be honest). Find a Saab 9-5 for sale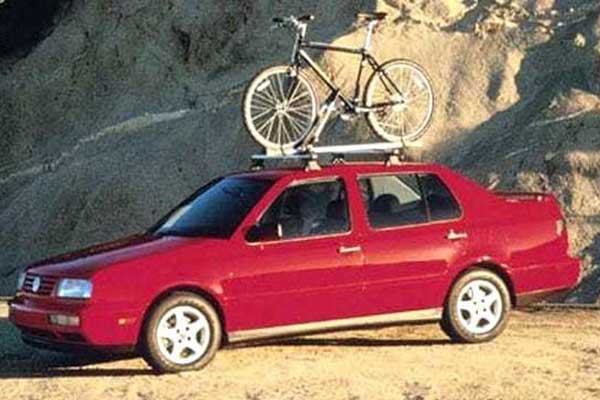 Volkswagen Jetta Trek
With its Jetta Trek, VW courted not those who follow George Lucas but, instead, mountain bikers. Offered first in 1996, the Jetta Trek came with the requisite roof rack, plus Trek badges and patterned cloth upholstery so rad that our own Tyler Hoover might use it on a hooptie supercar someday. The 1997 model upped the ante with Trek-logoed upholstery and a nicer badge on the back.
VW seemed to target entry-level bikers with its Jetta Trek, though. The included bike was of proper local bike shop quality, but it was a relatively entry-level steel-frame model that would have retailed for around $400 when new. Given that the Jetta was also a low-spec version with manual windows, VW must have figured that its target bikers were on a budget. VW apparently sold a number of these Jetta Treks, as I remember seeing them around fairly often. Now, most are in junkyards, similar to the one that fellow automotive writer Murilee Martin found in 2017. I didn't find any on Autotrader, but I did come across its wintry cousin, the Jetta K2 (which came with a snowboard). Find a Volkswagen Jetta for sale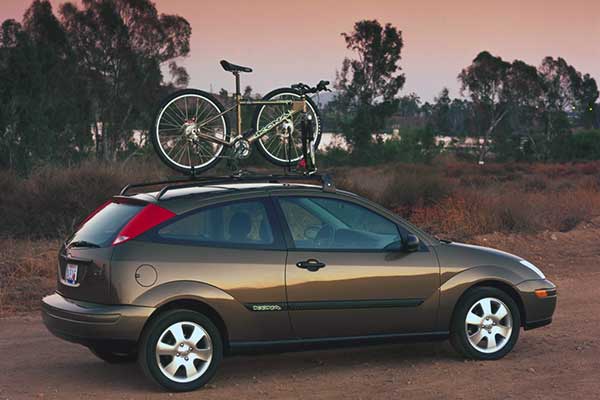 Ford Focus Kona
Ford followed in VW's tire tracks with smaller bike manufacturer Kona to promote its 2000 Focus ZX3. Available in brown and equipped with side moldings designed to replicate mountain bike tire tread patterns, the Kona also had different wheels than other Focus models at the time.
The included mountain bike was an entry-level Kona Blast, though it came with then-uncommon disc brakes. It was also painted to match the Focus — a nice touch.
A surprising number of 2000 Ford Focus compacts are available on Autotrader, though no Kona editions showed up in my most recent search. Just look for the quirky tread-pattern side moldings! Find a Ford Focus for sale
MORE FROM OVERSTEER
Video | Here's Why You Should Never Buy a Cheap Old Bentley/Rolls-Royce
Here Are 5 Fast, Affordable Cars That Are Family-Friendly
Autotrader Find: 2008 Ford E-250 4×4 Pop-Top Camper Van