I recently visited the GM Heritage Center, General Motors' archive and private collection of notable concepts and significant models. While I was there, I received a guided tour of the collection, with roughly 150 of 700 cars on display. The staff there asked me to reiterate that the collection is private and does not admit unsolicited visitors. However, there are amazing photographs and documentation of the Heritage Collection's vehicles on their website.
In the automobile industry, the "concept car" is a well-known tool for automobile development. It is a marketing tool, a teaser and also a way for car companies to receive feedback and even gauge audience's reactions to bold new designs and technologies. The history of the concept car originates to one man, Harley J. Earl, an early auto designer and coachbuilder. He started the first-ever styling department at GM in 1927, a first for the auto industry, and later became Vice President of General Motors. Earl's groundbreaking 1939 Buick Y-Job was the first concept car from a major manufacturer, setting the tone for auto design for years to come and paving the way for many forward-thinking concept cars from General Motors.
Walking around the Heritage Center's showroom, I was first drawn to the 1951 Buick Le Sabre Concept. This Harley Earl-penned design was GM's first post-war concept car. It debuted at Autorama, GM's in-house auto show that ran from 1949 to 1961. Held at the prestigious Waldorf-Astoria hotel in New York City, Autorama was General Motors' venue for showing concept cars, halo cars, and other new exciting vehicles to boost sales and increase their public profile. The 1951 Le Sabre was a groundbreaking concept car for GM. It had numerous advanced features for the time, such as a rain-sensing hardtop actuator, post-war aircraft-inspired styling, heated seats and a 12-volt electrical system at a time when every vehicle operated on 6 volts. After completing numerous auto show circuits, the 1951 Le Sabre concept became Earl's personal vehicle and saw regular road use.
Earl's aircraft-inspired styling became a staple for General Motors, creating taillight fins as a defining styling cue of the 1950s. General Motors and Earl pushed fighter-jet styling to the limit, with their 1956 Firebird II Experimental concept. The gas-turbine powered Firebird II not only looked like something out of "The Jetsons" with its enclosed all-glass cockpit and center tail fin, but it was also equipped with cutting-edge technology like 4-wheel disc brakes and independent suspension. The Firebird II was also compatible with GM's speculative technology, The Highway of the Future, the earliest functional autonomous car concept. The highway of the future was a collaboration with General Motors and RCA, using radio technology and magnetic strips embedded in roadways to guide automobiles at speed. Although it was successfully demonstrated, it was never adopted, likely due to the costs of widespread implementation. This successful proof-of-concept was enough for GM to cement their status at the cusp of innovation in design, as well as technology.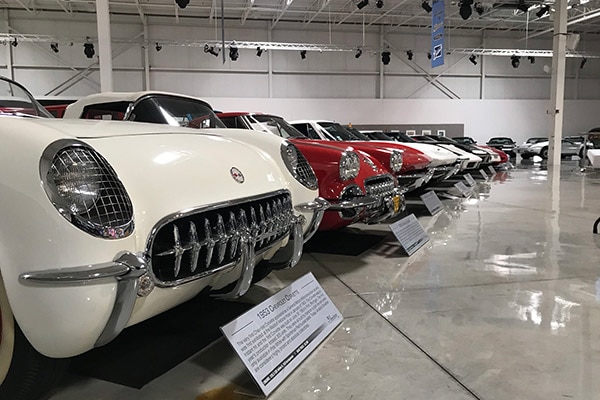 At GM's Heritage Center, there is a large display of Corvettes, showing the evolution of the sub-brand from the original 1953 Corvette to the present day. While the Corvette was groundbreaking for General Motors, offering a sports car moniker named after the light, maneuverable class of U.S. naval ships, it was the Corvair which GM used as their experimental sports car platform, with many concepts to show.
Corvair was an experimental brand for General Motors. Straying from a tried and true, and very American front-engined, rear-wheel-drive format, the Corvair used an air-cooled, rear-mounted engine, borrowing the concept from European automakers of the time — such as Citroen, Porsche, Renault and Volkswagen. While the Europeans used rear-mounted flat four engines, GM opted for a flat six. In the development of the Corvair, General Motors mounted their flat six into a Porsche 356, before Porsche even did it themselves, and back when the 356 was just a glorified VW Type 1 Beetle.
While I have previously written about the production Corvair Monza, its European influences carried over into the many Corvair concepts at GM's Heritage Center. A standout in the collection is the 1962 Corvair Monza GT Concept. This metallic silver concept is small, streamlined and rear-engined, with a fixed windshield/doors that open like the cockpit of a fighter jet. The following year, GM produced another Corvair Monza SS concept. While similar in size and format, the 1963 concept is open-topped with a roll bar and low speedster-style windshield. While these concepts were designed in-house, General Motors also commissioned Corvair concepts from Italian design houses Bertone and Pininfarina.
In addition to concepts pointing to Corvair's sporting ambitions, the brand was also used for GM's electric cars concepts of the late 1960s. With the help of newly-developed lead acid batteries, in 1966, GM debuted the Electrovair concept based on the Monza Sedan. With a range of 40 to 80 miles, it was proof of concept for technology that's gaining acceptance only today. General Motors did not stop there with the Electrovair.
Also in 1966, GM successfully developed and tested the first hydrogen-electric vehicle, the Electrovan. Based on a GMC Handivan, the entire cargo area was occupied by fuel cells and tanks for hydrogen and pure oxygen. The Electrovan achieved a top speed of 70 miles per hour, with a range of 120 miles, it was a major achievement at the time. However, fuel cells were incredibly expensive, and the technology occupied the entire van — and without an infrastructure, it was again just a concept.
With a keen eye for the future, General Motors produced many concepts ahead of their time — and I'll cover more in a future post.
MORE FROM OVERSTEER:
Here's Why the Koenigsegg Agera RS Is Worth $10 Million
I Bought the Most Unreliable BMW Ever Made
Autotrader Find: 1990 Subaru Legacy With a Landau Roof