Car News
GMC Sierra, Chevrolet Silverado Ace NHTSA Crash Tests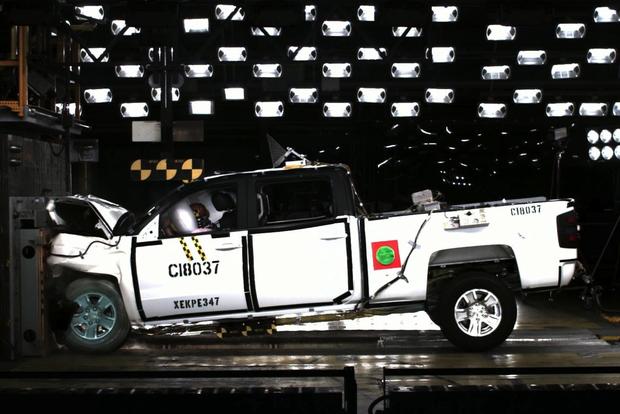 Sierra, Silverado earn five stars in NHTSA tests
GM trucks become the first pickups to get five stars
Silverado and Sierra totally redesigned for 2014
The all-new 2014 Chevrolet Silverado and GMC Sierra have received 5-star crash-test ratings from the National Highway Traffic Safety Administration (NHTSA). That's big news, since the trucks are the first to earn a 5-star rating under the government's new, stricter crash-test standards.
According to NHTSA, the trucks' overall 5-star rating comprises two 5-star ratings and a 4-star rating. The overall rating averages those three, which is why a vehicle doesn't need to receive five stars across the board to earn a 5-star overall rating.
NHTSA says the trucks earned five stars in both front- and side-impact tests. The 4-star rating came in the government's rollover test, which measures roof strength in a rollover accident. The overall score suggests the trucks may have been on the brink of a 5-star performance in the rollover category, as well.
By earning 5-star overall scores, the Silverado and Sierra became the first pickups to receive a perfect crash-test rating from NHTSA. Each of the GM trucks' full-size pickup rivals -- the Ford F-150, Nissan Titan, RAM 1500 and Toyota Tundra -- earned four stars overall in government crash tests.
But the Silverado and Sierra haven't pulled off their perfect crash-test feat quite yet. NHTSA's 5-star ratings apply only to 4-door crew cab variants of the pickups. The government agency has yet to test regular cab and extended cab models, which may fare slightly worse in side-impact crash tests.
The 5-star performance is especially impressive since it came under NHTSA's new, stricter crash-test standards. Adopted in 2011, the latest standards added new tests and debuted the rollover rating.
The 2014 Chevrolet Silverado and GMC Sierra went on sale this summer. Both trucks are completely redesigned inside and out, and both offer entirely new V6 and V8 powerplants.
What it means to you: The Sierra and Silverado prove you don't have to compromise on safety if you want a pickup.