I recently drove a used 2006 Bugatti Veyron with an asking price of $999,999. That review is coming later today, but in the mean time, I started thinking: What five cars would I rather have for a million bucks? The Veyron is amazing, sure, but I'd spread out my million on a few vehicles — and so, today, I'm going to show you exactly how I'd spend a million dollars if I was buying five vehicles — although my choices actually add up to a bit under $800,000.
2011 BMW 1 Series M (Valencia Orange) – $69,990
The 2011 BMW 1 Series M is one of my favorite vehicles, and I'd only have it in Valencia Orange. An ultra-limited edition that was made for just one model year, the 1M is rare and special while also being fantastic to drive and perfectly sized. This particular 1M is offered by Enthusiast Auto Group in the Cincinnati area with just 14,475 miles for $69,990.
North American Specification Land Rover Defender 90 (AA Yellow) – $69,995
The North American Specification Land Rover Defender 90 was sold in 1994, 1995 and 1997 — and it was offered in "AA Yellow" for all three of those years. I'd prefer a 1997 model, which I already have, for its easier-to-daily-drive automatic transmission, but there aren't any yellow '97 Defender 90 models on Autotrader, so I went with this. It's offered by Platinum Motorcars in the Detroit area with 72,900 miles for $69,995.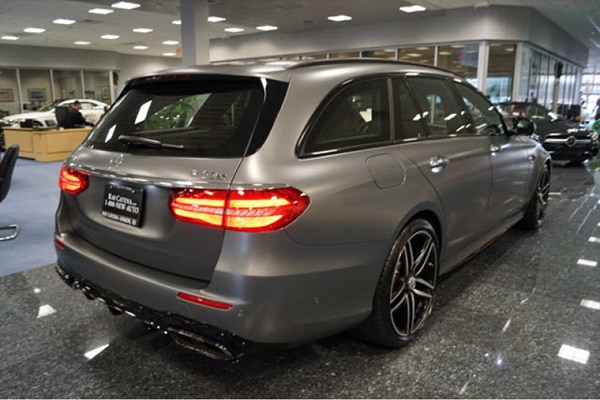 2019 Mercedes-AMG E63 Wagon – $125,095
Since I have to get a "daily" car within my million-dollar limit, there has to be one practical choice — and while I love the Bentley Bentayga, I think I love the new AMG E63 wagon more. I'd take basically any color except black, and I'd prefer one without black wheels, which is rare in today's world where black wheels are a popular trend. I chose this example for its desirable (to me) silver wheels. It's offered by Ray Catena Mercedes-Benz in northern New Jersey for the MSRP of $125,095.
1997 Porsche 911 Turbo (Arena Red) – $120,088
The "993" Porsche 911 is my favorite version of the famous sports car, the Turbo is my favorite model and Arena Red is surely the best color. Although 993 Turbo models shot up in value in the last few years, they're starting to come back down — and this particular example is well-priced at $120,088 with 45,000 miles and an unusual (and special) interior. It's offered by Wholesale Mt. Juliet in the Nashville area, and it's listed with a one-owner Carfax report.
2006 Ford GT (Heritage Edition) – $369,950
The Ford GT is my all-time favorite sports car that isn't a Porsche Carrera GT, and the "Heritage Edition" color scheme is the best one of all. Although ultra-low mile Heritage Ford GT models can sell for $500,000, I'd get one with some miles so I wouldn't feel guilty about driving it. This particular example has traveled 11,600 miles, and it's listed by Prestige Imports in Miami for $369,950 — and it's a great way to round out my list of five.
MORE FROM OVERSTEER:The Rolls-Royce Drophead Coupe Is the World's Most Opulent ConvertibleHere's What Happens When Project Cars Go Completely WrongKilling the Original Jeep Grand Wagoneer Was a Big Mistake — Or Was It?