Trends are cyclical. What used to be cool 25 years ago is cool again now — and what's cool now will likely be cool again in 25 years. This holds true in design, fashion, branding — you name it. Automobiles are no exception. Notice the rising values of such mid-1990s vehicles as the Land Rover Defender, Toyota Supra, Jeep Grand Wagoneer and Acura NSX? This isn't a coincidence — these vehicles are all in the midst of that magic age where they're now desirable again.
This leads me to wonder: What's next? What soon-to-be-cool-again vehicles are out there that we've been overlooking for the past 15 years? I'm glad you ask, because I've just so happened to put together this list of currently cheap used enthusiast cars that I suspect will be fashionable again in the near future, making them prime for tasteful restoration, and preservation, today.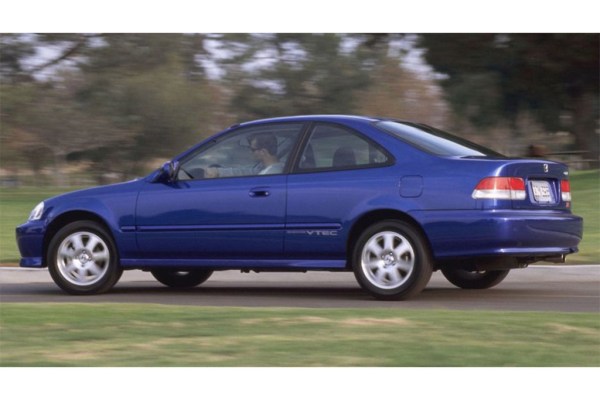 The sixth-gen Civic Si featured a 5-speed manual transmission mated to a 160-horsepower DOHC 4-cylinder engine with Variable Valve Timing & Lift Electronic Control, better known as VTEC. It's nearly impossible to find one in stock condition; the majority have been modified beyond recognition and are now held together with paper mache made from Monster Energy Drinks and old Pep Boys ads. But with around 30,000 produced (not to mention about a zillion sixth-gen Civics produced altogether), there are enough around that bringing one back to its original luster shouldn't be too difficult a task, thanks to wide parts availability. Who could resist a perfect sixth-gen Civic Si in that iconic Electron Blue Pearl? Find a used Honda Civic for sale
Also Consider: 1992-1997 Honda CR-X Del Sol
With the price of 60-Series Land Cruisers on the rise, it's safe to say that the 80-Series will be soon to follow. While the 80 was produced from 1990 to 1997, a 1995-1997 model, known to enthusiasts as the "FZJ80," is the used 80 Series to get, as it will include niceties like standard airbags, a modernized dashboard and a more powerful engine.
While any well-maintained FZJ80 should fit the bill, I'd look for a 1997 40th Anniversary Edition. A total of 4,744 were made for the U.S. — and given the bulletproof nature of the Land Cruiser, most seem to still be on the road today. They came in two exterior colors: a gorgeous gray-green called Antique Sage Pearl, which was exclusive to the 40th Anniversary Edition, and the less common Dark Emerald Pearl. Also unique to the 40th Anniversary Edition was a two-tone brown interior, black-pearl-colored emblems and "40th" badges all around. Find one with the optional locking front and rear differentials and you'll instantly become the envy of every Land Cruiser fan out there. Fewer things would make me happier than to see one of these beasts brought back to showroom condition. Find a used Toyota Land Cruiser for sale
Also Consider: 1996-1997 Lexus LX450
1997-1998; 2000-2001 Acura Integra Type R
The Integra Type R was sold in the U.S. in 1997 and 1998, skipped the 1999 model year, and then returned for 2000 and 2001. You can tell the model years by the color of the vehicle; white means it's a '97 or '98; yellow or black means 2000 or 2001. Yellow is the color to get, though, as it has become synonymous with the Type R thanks to heavy use in Acura's marketing materials for the 2000-2001 run.
The Type R wasn't just a trim package with special colors: it also benefitted from some serious engineering efforts in the way of weight reduction and improved rigidity — and it managed to pump out 195 horsepower from a 1.8-liter non-turbocharged engine. Overall, 3,823 Type R models made it to the U.S. over its 4 years of availability, with each one reportedly sold at a loss. Today, it's hard to find one for under $20,000 — but they're out there, and even the highest-mileage example is worth whatever time and effort it takes to bring it back to showroom form. Find a used Acura Integra for sale
Also Consider: 1995-1999 Mitsubishi Eclipse
The XJ's been talked about a lot on Oversteer. The cat is already more or less out of the bag on these — they're well on their way to becoming collectibles, and the most desirable examples have already begun to appreciate.
But what about the thousands upon thousands out there that aren't so perfect? With its bulletproof 4.0-liter inline 6-cylinder engine and tough solid axles, a rust-free example that's a little worse-for-wear cosmetically might be just up someone's alley. Surely there are enough sitting around in junkyards that parts sourcing shouldn't be difficult — and combined with their mechanical simplicity, an XJ restoration could very well be a worthwhile, economical project. I'd recommend a later, updated 1997-2001 model, optioned with the venerable 4.0-liter. Find a used Jeep Cherokee for sale
Also Consider: 1993-1998 Jeep Grand Cherokee ZJ
The original 1970s Ford Bronco is already quite rare and highly collectible. Later models sold in large volumes — and the 1990s Bronco has yet to even sniff the popularity it had as a new vehicle.
Given the equity in the brand name, however, I imagine this will change with time — especially when Ford debuts its new interpretation of the Bronco for the 2020 model year, as I would expect it to lean heavily on the earlier models in the PR and marketing onslaught that will accompany the launch. A 1992-1996 model is probably the ticket here, and I'd have a hard time buying one in any color but white. The Juice is loose! Find a used Ford Bronco for sale
Also Consider: A 1985-1990 Ford Bronco II
Chris O'Neill grew up in the rust belt and now lives in Salt Lake City, Utah. He worked in the auto industry for a while, helping Germans design cars for Americans. On Instagram, he is the @MountainWestCarSpotter.
MORE FROM OVERSTEER:
There Is a Batmobile Tumbler For Sale on Autotrader
The Hyundai Galloper Was a Rebadged Mitsubishi Montero
Video | I Bought the Cheapest Chevrolet Corvette Z06 in the U.S.