Minivans aren't for everyone — so someone mercifully created 3-row SUVs. If you need three rows to haul the family or your stuff, there are a ton of great options. Here are five of my favorites that are actually kind of cool — and will keep you out of minivan purgatory.
2018 Dodge Durango AWD SRT
I'll start with my favorite of the 3-row SUVs, the Durango SRT. I drove it not too long ago and declared it the coolest 3-row in the world. Doug will tell you it's some big Mercedes-Benz GLS AMG or something, and we'll get to that. But for the pure cool factor, the Durango SRT ticks off all the right boxes for me. In particular, the 6.4-liter HEMI V8 with 475 horsepower and 470 lb-ft of torque does it for me in a big way. It's no Hellcat motor — but since Jeep already put that in the Grand Cherokee, it wouldn't be a big surprise to see it show up in the next Durango.
Still, even without 707 hp, the SRT really provides a surreal driving experience. Three rows, a big HEMI, and a surprisingly well-equipped interior … I love this thing. This particular low mileage used 2018 SRT could be yours for under $50,000. So stop by Davie, Florida, and check it out. If you want a new one, there are plenty out there under $55,000! Find a Dodge Durango for sale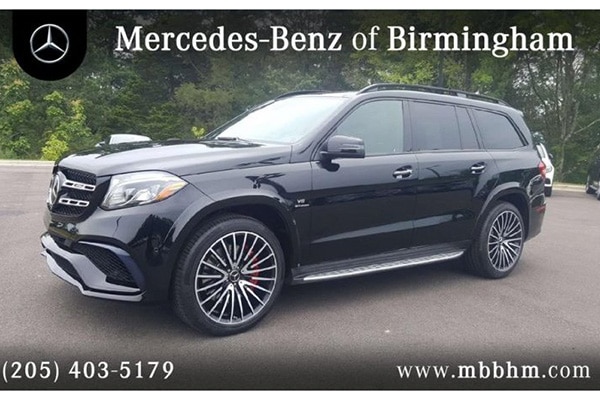 2017 Mercedes-Benz GLS 63 AMG 4MATIC
OK, so here it is, and yeah it's pretty cool too. The Mercedes-AMG GLS 63 is quite a vehicle. Brand new, here on Autotrader, you're talking $126,150 starting MSRP — and it tops out around $133,000. That's more than twice the price of the Durango, but you get a lot of great stuff. I found this certified pre-owned 2017 GLS AMG for a much more reasonable $76,691. That's still a lot of money, but the AMG 5.5-liter twin-turbocharged V8 engine produces 577 hp and 561 lb-ft of torque. So, wow! It's available at Mercedes-Benz of Birmingham in Alabama with 47,728 miles. Find a Mercedes-Benz GLS 63 for sale
2020 Kia Telluride FWD SX
And now for something completely different! Sure, it's not a tire-shredding monster like the first two, but I think the new Kia Telluride is pretty awesome. The styling is slightly derivative, the front looks like a GMC Yukon, the rear looks like a Volvo XC90 and the side reminds me of a Bentley Bentayga. But, I really like all of those SUVs, so I don't care. This is a loaded SX model available at Kia of Austin, but there are plenty to choose from (most under $50,000) since they're starting to hit dealer lots. I'm supposed to get a press loaner Telluride in a few weeks, so I can deliver a more formal opinion. For now, I think it's pretty cool. Find a Kia Telluride for sale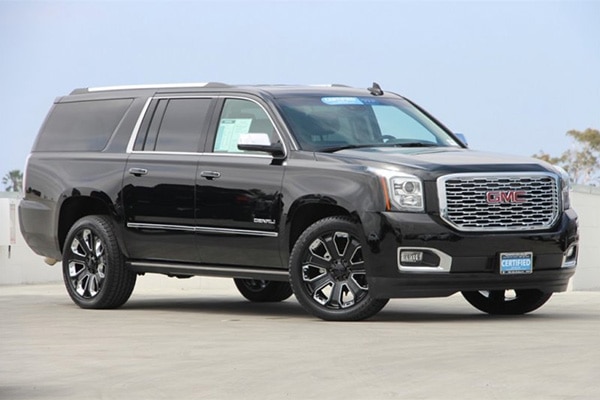 2019 GMC Yukon XL 4WD Denali
So we go from the Kia that looks like a Yukon to an actual Yukon. This spot could easily be filled with the latest Tahoe or Suburban, but I've always liked how the Yukon looks — so I used it. This GM platform has provided a reliable 3-row alternative to the minivan that I've always appreciated. Although my 2011 model threw a rod and grenaded the engine, which I did not appreciate, but your results may vary. It's still cool.
This CPO 2019 Yukon XL 4WD Denali has it all. Breaking down the name, it's an XL, so it's bigger (Suburban sized), it's got 4-wheel drive (obviously), and Denali means top-of-the-line. These come absolutely loaded, this particular one at Suburban Buick GMC Cadillac in Costa Mesa, California, is offered at $72,000 with just over 6,000 miles! That'll save you about $10,000 off of a comparable new version. Just get it in black, it's the coolest. Find a GMC Yukon XL for sale
2016 Tesla Model X Performance
There's "cool" and then there's "pulling up with Falcon Doors" cool. It's hard to argue that one of the best SUV parking lot spectacles (if that's a thing) is the arrival of a Tesla Model X. My kids think the rear doors extending out and up is just about the coolest thing they've seen, and I tend to agree. Plus it's stupid fast. The Model X isn't cheap, but like the rest of these cool SUVs, it's available in the $75,000 range or less. This Model X Performance only has just over 25,000 miles, and it's for sale in the Chicago area at $69,957.
So, there are five great 3-row SUVs that I personally think are pretty cool. At least cooler than a minivan. Plus I found all of them in black! You may disagree, and that's OK. There are a ton of other great options, post your favorites that I may have missed in the comments! Find a Tesla Model X for sale
MORE FROM OVERSTEER:
Video | The LaFerrari Is the $3.5 Million Ultimate Ferrari
Video | The Hyundai Equus Is the Best Bargain Luxury Sedan Ever
These Are the Most Expensive Ferrari Models for Sale on Autotrader