While they were popular years ago, convertible SUVs are a rare breed these days. Of course, the Jeep Wrangler is just as successful today as it has ever been, but other convertible sport utility vehicles from the likes of Nissan, Suzuki, Toyota, and Land Rover have all come and gone over the years, leaving buyers with very little to choose from in this unique segment. Here we'll touch on five good used options for anyone looking to buy a convertible SUV in 2019.
Jeep Wrangler
The Wrangler is probably the best-known convertible SUV. Every Wrangler comes with a removable roof, and both hard and soft tops are available. The soft-top is generally more affordable and less cumbersome to operate. The hard-top on the other hand is quieter and more secure, but it can be somewhat complicated to remove on older models.
While there are loads of options on the used market , an all-new Wrangler was introduced for the 2018 model year and costs between $30,000 and $60,000. Buyers who just want a simple, modern off-roader will probably be content with a two-door Sport S model, and there are currently over 350 listed for sale on Autotrader. Used Wranglers hold their value quite well, but they can still be found for as little as $10,000 in decent condition if you can tolerate some serious mileage on the odometer. This four-wheel drive example for sale in Connecticut is a 2008 model that comes with a manual transmission. It's listed for $11,000 with 92,000 miles on the odometer. Find a Jeep Wrangler for sale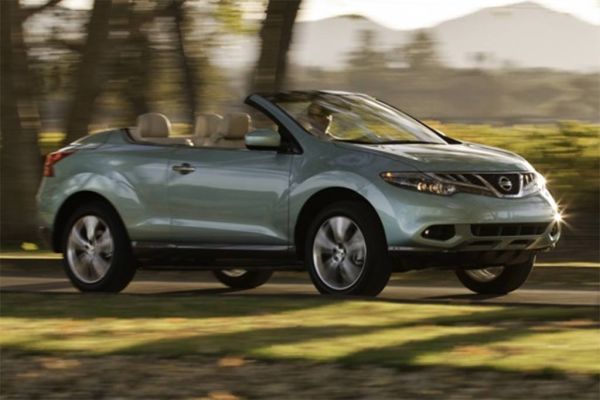 Nissan Murano CrossCabriolet
Everyone thought it was a joke when Nissan came out with the Murano CrossCabriolet, but you've gotta give the company credit for deviating from the norm and trying something new. The vehicle is based on the second-gen Murano, which was sold from 2009 to 2014. Nissan chopped off the vehicle's roof and eliminated two doors to create this funky, high-riding roofless SUV.
Aside from adding more structural bracing to make up for the lack of the roof, the CrossCab shares the rest of its underpinnings with the regular 4-door fixed-roof Murano, and under the hood is a 3.5-liter V6 that puts out 265 horsepower. Sales lasted for four model years, from 2011 to 2014. This one is listed for sale on Long Island and comes with reasonably low miles and a reasonable asking price of $19,000. Find a Nissan Murano CrossCabriolet for sale
Range Rover Evoque Convertible
Land Rover introduced the Evoque back in 2012 as an entry-level alternative to its bread-and-butter Range Rover and Range Rover Sport flagship models. Targeting a younger crowd, the first-generation Evoque was offered in 4-door and 2-door body styles, but a convertible version formally went on sale for the 2017 model year. The Evoque convertible was short-lived though, as it was cancelled after 2018. A used Evoque Convertible with reasonable miles should cost you around $40,000-$50,000. This one listed for sale in New Jersey should fit the bill. Find a Land Rover Range Rover Evoque for sale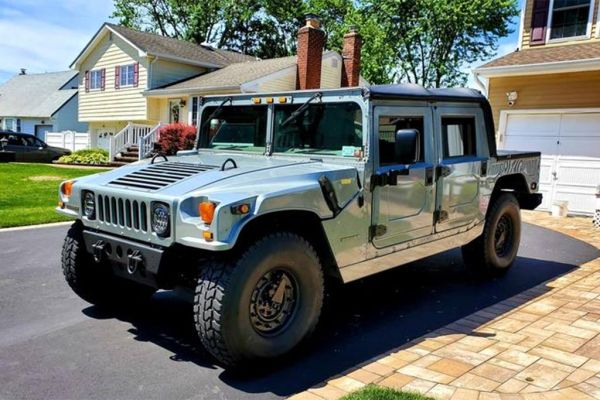 Hummer H1 Convertible
The militaristic Hummer H1 is not your average 4×4. Sold simply as the 'Hummer' until GM bought the Hummer brand in 1999, the H1 comes with portal axles, locking differentials, a central tire-inflation system, excellent approach and departure angles and more. Several different body styles were offered, and among them was a convertible. Given the wide range of model years and equipment, the pricing for a used Hummer H1 can be all over the place. Here's a 1995 open-top model for sale on Long Island that looks to have had some upgrades, and it's listed for a reasonable $39,000. Find a Hummer H1 for sale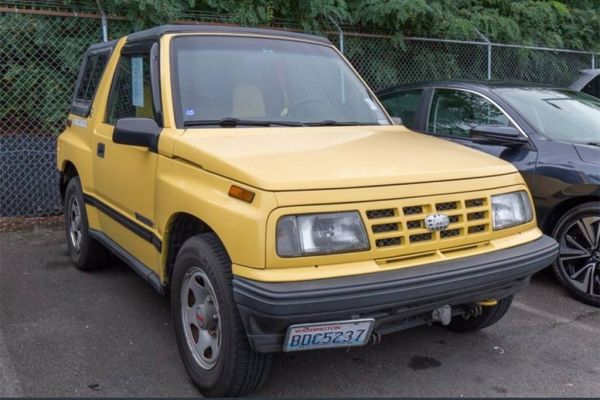 Chevrolet/Geo Tracker
While they've all long been discontinued, compact two-door SUVs with a removable rear roof section were popular in the 1990s. Among them were several offerings from Suzuki, Chevrolet, Geo, Kia, and Toyota. If you're looking for one of these semi-convertable SUVs today, your best bet would probably be an old Chevrolet or Geo Tracker, though there are only a few listed for sale on Autotrader. Even though it doesn't offer FWD, we like this yellow one listed for $6,000 in Tacoma, Washington. Find a Geo Tracker for sale or Find a Chevrolet Tracker for sale or
MORE FROM OVERSTEER:
Autotrader Find: 1985 Jeep Cherokee 4WD With 35,000 Miles
Here Are My Favorite Older Infiniti Models
Video | The Infiniti Q50 Red Sport 400 Should Be Better