In the world of rare BMWs, there's unusual stuff (like, for instance, a modern manual 3 Series), and there's rare stuff (like a 750iL Protection), and then there are the five cars I'm listing below, which I'll classify as "ultra-rare stuff." You have never heard of these cars. Unless, perhaps, you have heard of these cars, in which case I'm highly impressed, and also you know too much about BMWs. But for the rest of you, here are five rare BMWs you probably didn't know about.
BMW 3 Series Baur Convertible
Yes, this is a real vehicle — though it's probably best considered a weird aftermarket job rather than a factory vehicle. The partnership of German convertible manufacturer Baur and automaker BMW goes back to the 1970s, as Baur created (at BMW's request) fixed-pillar convertible versions of the 2002 and the early 3 Series models — all of which are rare, but not tremendously so, as you'll usually see at least one at any decent BMW show. But then the partnership ended, and Baur took things into their own hands, creating a convertible version of the E36 3 Series sedan without BMW's help. The photo above shows one of these Baur E36 3 Series convertible — a BMW 3 Series sedan with a convertible top, which was basically a cloth soft-top that dropped down behind the rear seats. These were never sold in the U.S., though they're rapidly approaching the 25-year line, meaning they can soon be legally imported. Find a BMW 3 Series for sale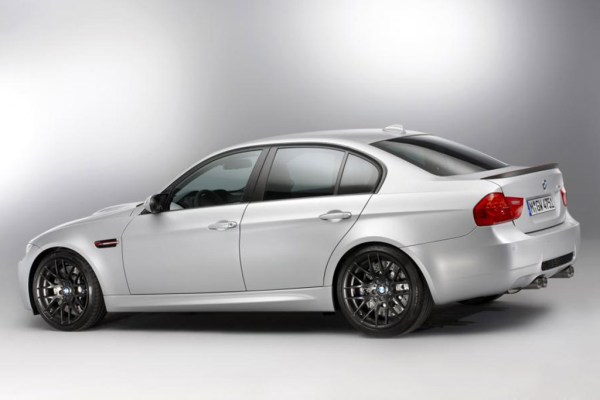 BMW M3 CRT
The BMW M3 CRT was an ultra-ultra-ultra-ultra-limited-production version of the V8-powered "E90" BMW M3 sedan, with "CRT" standing for "Carbon Racing Technology." The M3 CRT was much lighter than the regular M3 sedan on account of the liberal use of carbon-fiber pieces, and BMW says they saved 155 pounds over the normal version — not an insignificant amount. Only 67 units of the M3 CRT were made, and today they command big money; one was recently reported to be for sale with an asking price of $300,000. Find a BMW M3 for sale
BMW X3 Manual Transmission
Most car enthusiasts know BMW offered a manual transmission in 6-cylinder versions of the early BMW X5 — even here in the United States. What most car enthusiasts don't know is that BMW also offered a manual in U.S. versions of the early X3. The X3 came out in 2004, and BMW offered a 6-speed manual in both the base-level 2.5i model, with 184 horsepower, and the sporty 3.0i model, with 225 horses. The 2.5i version only lasted for two years (2004 and 2005), and that's where most manual sales were; the 3.0i was too expensive for most buyers to want three pedals. They're incredibly rare, but they're out there — and you might be surprised to know the stick-shift X5 isn't the rarest manual BMW SUV. Find a BMW X3 for sale
BMW X5 LM
The BMW X5 LM is a regular ol' early-2000s BMW X5, except it has a V12 engine under the hood. The V12 was a racing version of the same engine that was used in the McLaren F1, and BMW used it in their LeMans Prototype race car, which won the 24 Hours of LeMans in 1999. For some reason, they put this engine in an SUV. I took the above photograph during Monterey Car Week, and I was absolutely shocked to see this vehicle, which had racing tires and a stripped-down interior. I had no idea it existed, and I'm thrilled they made it — even though they only ever made just one. Find a BMW X5 for sale
BMW Z8 Alpina
Most car enthusiasts know the BMW Z8, which was a gorgeous high-performance convertible made throughout the early 2000s. Many car enthusiasts don't know of the Z8 Alpina, which was a "luxury" or "touring" version of the Z8 made only in its last year of 2003. While modern Alpina cars are sporty versions of the brand's vehicles, the Z8 Alpina was the opposite: It was, indeed, a luxury build, and it replaced the Z8's standard 6-speed manual and 4.9-liter V8 with a 5-speed automatic and a 4.8-liter V8. The result was 375 horsepower instead of the standard 400, along with a more relaxing ride and driving experience — and some unusual wheels that set the car apart from the regular Z8. Today, the Alpina holds a premium over the regular Z8, mainly due to its rarity: Only 555 were built, and only in the final model year. Find a BMW Z8 for sale
Doug DeMuro is an automotive journalist who has written for many online and magazine publications. He once owned a Nissan Cube and a Ferrari 360 Modena. At the same time.
MORE FROM OVERSTEER:
How Does the RAM ProMaster Not Have a Third Brake Light?
The Original Porsche 911 GT3 Was So Wonderfully Subtle
The Porsche Panamera Turbo Is the Ultimate $150,000 Luxury Sedan