I've always felt that the best era for BMW was the early 2000s, when BMW was making gorgeous cars with excellent lines, great performance, beautiful interiors and wonderful engines. A lot of people agree with me, which is why BMWs from this era seem to be increasing in value — and today I'm showing off the five best BMWs from the early 2000s currently listed for sale on Autotrader.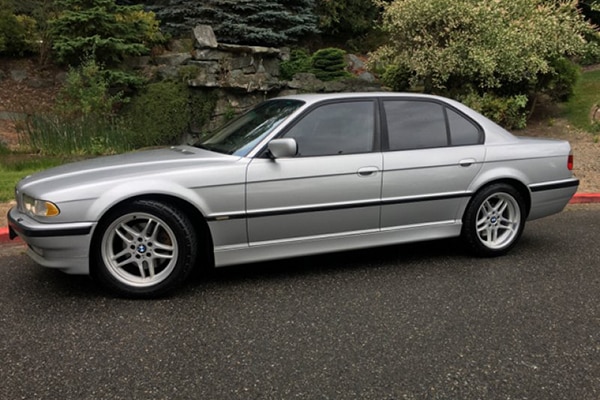 The "E39" BMW 7 Series, which was made from 1995 to 2001, is the best-looking 4-door sedan ever made — and the "M Sport" models, which were offered in 2000 and 2001, were the best of the best, with gorgeous wheels and a perfect look. I especially prefer short-wheelbase "M Sport" models, which this one is — and it's currently offered with 123,000 miles by Mudarri Motor Sports in the Seattle area for $8,880.
The BMW M Coupe is one of the most interesting BMW models of all time, as it was essentially a high-performance hatchback version of the popular Z3 Roadster. This M Coupe uses the less powerful "S52" engine, with 240 horsepower, which was replaced in 2001 by a 315-hp "S54" powerplant — but I selected it anyway because I love this color, which perfectly fits the car. This M Coupe is offered with just 52,000 miles for $29,995 by Elite Motors in Virginia Beach.
The "E39" BMW M5 is becoming a highly sought-after collectible, with many people believing it to be the best M5 ever created — the perfect combination of right sizing, an excellent interior, handsome styling and an analog driving experience. This 2002 M5 is finished in blue with a black interior, and it's traveled just shy of 90,000 miles; it's currently offered by Bobby Rahal Motorcar Company in the Pittsburgh area for $21,550.
The original BMW X5 doesn't have much of a following, but it was one of the great BMWs of the early 2000s — a simple, sporty luxury crossover with a clean design and excellent sizing. Although there was no "M" version of this X5, the powerful 4.6is stood in for an X5M, boasting 340 hp and a 6.5-second 0-to-60 time. This particular X5M is finished in beautiful Estoril Blue, and it's offered with 143,000 miles by Hilbish Ford in Kannapolis, North Carolina, for just $5,995.
The BMW Z8 was the pinnacle of the early 2000s BMW experience, with its gorgeous styling and big V8 up front. The closest "modern BMW" has ever gotten to a supercar, the Z8 has appreciated a bit in value over the years — no surprise, as it's certainly a special car, and it's quite rare. This 2001 Z8 is offered by Marshall Goldman Motors in the Cleveland area with 5,600 miles, and it's listed for $208,900 — big money, of course, but very much in line with other Z8 models.
MORE FROM OVERSTEER:
Here's Why the Original Tesla Roadster Was a Total Failure
Here's Why the Pagani Huayra Is Worth $3 Million
Which Cars Do Doug DeMuro and Tyler Hoover Want to Own Most?