If you thought all exotic sports cars were "high-performance versions," you might be surprised to learn there's a thriving market in high-performance versions of exotic cars — cars that perform even better than the supercars on which they're based. I've reviewed one such car today, the McLaren 600LT, but here's a list of five more excellent "high-high-performance" exotic cars you can buy on Autotrader.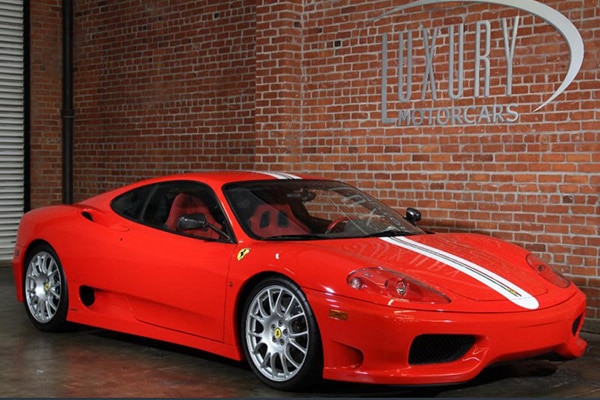 2004 Ferrari 360 Challenge Stradale – $179,900
The Ferrari 360 Challenge Stradale was among the earliest "high-performance versions of a high-performance car," as it was a lightweight, track-ready version of the Ferrari 360 Modena that went on sale back in 2004 — around the same time Porsche began bringing GT3 models to the U.S. This particular Challenge Stradale looks gorgeous in red with a central white stripe, and it's currently offered by Luxury MotorCars in Sacramento, California, with 25,000 miles for $179,900.
2017 Lamborghini Aventador LP570-4 SV Roadster – $599,950
The Lamborghini Aventador was a special supercar — all supercars are, of course — but the SV Roadster is even faster than a normal Aventador, boasting 730 horsepower to the standard 690 hp. The Aventador SV is also rarer than the usual Aventador, and it boasts some added extras, like a huge wing in back, along with lower production numbers than the standard Aventador. It's currently listed by Prestige Imports in the Miami area with 2,755 miles for $599,950.
2008 Lamborghini Gallardo Superleggera – $124,951
The Lamborghini Gallardo Superleggera was one of Lamborghini's first modern experimentations with a high-performance version of an exotic car. A lightweight, track-focused Lamborghini Gallardo, the Superleggera was a special car — and this 2008 model is offered by Lamborghini Palm Beach in Palm Beach, Florida, with 26,200 miles for $124,951.
2012 Lexus LFA Nurburgring Edition
The Lexus LFA was an ultra-rare, ultra-thrilling supercar that remains one of the rarest and most exciting exotic cars in recent years. While the standard model was incredibly exciting, the Nurburgring Edition was even more impressive, touting an additional 10 hp (bringing the total to 563 hp) along with a quicker transmission, weight reduction and some aerodynamic improvements. This is the only Nurburgring Edition currently for sale on Autotrader, and it's listed by Fort Lauderdale Collection in South Florida. While the asking price isn't included in the listing, it's probably far more expensive than a standard LFA — especially considering it's traveled just 1,607 miles from new.
The McLaren 675LT is the high-performance version of the impressively fast McLaren 650S supercar. It touts more power (666 hp versus 640 hp in the 650S) and boasts better brakes and impressive weight reduction over the standard 650S. Zero-to-60 miles per hour happens in just 2.9 seconds, and the top speed is an amazing 205 mph — and this particular bright green example is offered in San Diego by O'Gara Coach, the local McLaren dealership, with just 5,500 miles for $269,999.
MORE FROM OVERSTEER:
Here's Why the Koenigsegg Agera RS Is Worth $10 Million
I Bought the Most Unreliable BMW Ever Made
Autotrader Find: 1990 Subaru Legacy With a Landau Roof