This week, we continue our theme of revealing cars that sport various vanity license plates in each state by checking out which cars have the FERRARI personalized plate across the country. Believe it or not, it isn't always on a Ferrari. In Connecticut, for example, it's on a huge Freightliner truck. See the Ferrari models for sale near you
Here's the situation: We checked out FAST license plates, we checked out SLOW license plates, and now we're checking out FERRARI license plates. Personally, I thought virtually all these plates would end up on a Ferrari, but that isn't the case. The license plate returns to a vehicle in 29 states, and it's only on a Ferrari in 18 of them. The other 11 are a bit surprising.
Not so surprising is Florida, which has disappointed us from the start. Its FAST vanity plate is on a sort-of-fast C5 Corvette, its SLOW vanity plate is on a mediocre Chevy Cavalier, and its FERRARI vanity plate is on a 2011 Volkswagen Golf TDI. Connecticut is similarly disappointing. FAST was on a Honda Accord, and FERRARI is on a Freightliner truck. In Michigan, FERRARI is on a Pontiac Vibe.
One of the more interesting ones is in Arizona, where FERRARI is on an Alfa Romeo 4C — perhaps someone just traded in a Ferrari and transferred the license plate. I can only imagine how confusing this is at gas stations. ("What kind of Ferrari is it?" "It's actually an Alfa Romeo!" "Oh, a Ferrari Alfa Romeo?") In Ohio, FERRARI is on a 1984 Pontiac Fiero — I'd bet anything this Fiero was turned into a Ferrari 308 replica.
As for actual Ferraris bearing the FERRARI vanity plate, the best is in Maine, where the plate is on an ultra-rare 512 TR. Louisiana, once again, scores big with FERRARI on a 1986 Testarossa (FAST was on a Lotus Esprit, and SLOW was on a Mark IV Supra), while the surprise of the bunch, with the most valuable Ferrari bearing the plate, is in West Virginia. Who knew anyone in West Virginia owned a 458 Italia?
Here's the full list, and remember, just because your state doesn't have a car listed doesn't mean the plate is available. It's more likely the plate is on a car made before the 17-digit vehicle identification number arrived in 1981, or your state doesn't offer 7-character vanity plates. Find a Ferrari for sale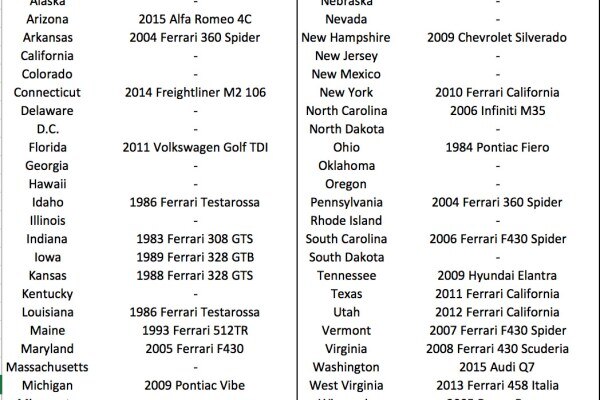 MORE FROM OVERSTEER:
Here Are All the Cars You Told Me to Buy
I Drove a Ferrari Challenge Race Car On the Street … and It Was Horrible
5 Ridiculous Pickup Trucks That Actually Exist