If you've ever looked into purchasing a Dodge Viper, you're probably aware that new ones are pretty expensive. And indeed, a new Viper starts around $89,000, with those ACR models costing well over $100,000, likely because it isn't cheap to manufacture a wing the size of a rural water-treatment facility.
But the Viper doesn't have to be expensive — and here's some proof. These are the five cheapest Viper models listed for sale on Autotrader, each in varying states of, well, Viperness. Enjoy!
1995 Dodge Viper RT/10 (Partially) – $6,000
You're looking at the cheapest Dodge Viper currently listed for sale on Autotrader, listed for $6,000 at Les Auto Sales in the Birmingham suburb of Leeds, Alabama. Or, at least, you're looking at most of it. This is a 1995 Viper RT/10 in rather rough shape, described in the listing as a "JUNK VIPER," with some parts present, but clearly not all (for instance, the driver-side door appears to be missing). The listing seems pretty firm on the price, noting "NO OFFERS, RATHER YOU PAY ME AND GET IT OUT OF MY SIGHT." There's probably $6,000 worth of parts here, if you're willing to put in the time to save this Viper, which was involved in a serious accident in Wisconsin in 2011. Find a 1995 Dodge Viper for sale
1995 Dodge Viper RT/10 – $18,500
This 1995 Viper RT/10 is the cheapest (running) Viper on Autotrader. Offered for just $18,500 from a private seller in the Seattle suburb of Auburn, Washington, this Viper has covered an almost unbelievable 96,000 miles — including about 40,000 since the seller purchased it about 10 years ago. Actually painted Emerald Green, this car has been wrapped in a rather fetching white, and the ad says the car was a daily driver for about four years before sitting for the last few years. The Carfax report notes one accident from the fall of 2009. Find a 1995 Dodge Viper for sale
1994 Dodge Viper RT/10 – $23,995
The next-cheapest running Viper on Autotrader is this '94 RT/10 that's traveled just 37,000 miles since it was originally sold new in Missouri almost exactly 22 years ago. Soon after it was delivered, it was involved in an accident (that should be the Viper credo) and earned a Missouri salvage title — likely a reason for the cheap price. Nonetheless, the listing says this car has a new clutch and lots of maintenance records, along with a few key upgrades. The ad also notes that, despite the early accident, the condition is pretty good — and based on the images, I'd have to agree. This one is offered by a private seller in rural Roscoe, Illinois, for $23,995. Find a 1994 Dodge Viper for sale
1995 Dodge Viper RT/10 – $24,500
The next-cheapest Viper on Autotrader is possibly the most interesting, if only due to the paint color: It's an odd shade of "chameleon" color-changing paint that looks like a different color depending on where you're standing and where the light is hitting the Viper. The color was never a factory option, and the ad suggests it was a $13,000 upgrade — a big deal if you like the look. The ad also notes this Viper has custom suede seats, though no interior picture has been provided. The car's mileage is reasonable, at just 29,000, and the Carfax report is accident-free — and it's currently offered by a private seller in rural Celina, Ohio, for $24,500. Find a 1995 Dodge Viper for sale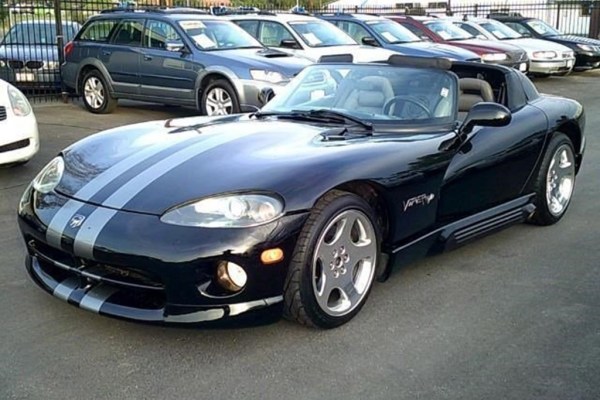 1994 Dodge Viper RT/10 – $24,995
You might be sensing a trend here: The 1994 and 1995 Viper RT/10 are the cheapest models you can buy. This one is no exception, as it's a '94 RT/10, finished in black with a gray interior and silver stripes. Offered by Hoffman Auto Group in Sacramento, this Viper is just $24,995 — with the low price likely a result of a minor 2002 accident on the Carfax report, nine reported previous owners and a surprising 62,000 miles. Still, this appears to be a good driver-quality car, with a fairly nice exterior and a well-kept interior. Find a 1994 Dodge Viper for sale
MORE FROM OVERSTEER
Here Are All the Cool Cars I Saw During One Day in Monaco
Can These Old Luxury Performance SUVs Climb a Ski Mountain?
Ask Doug: Why Do People Put Their Top Down and Their Windows Up?