Although most people associate "Ferrari" with "expensive" — and rightfully so — not every Ferrari is especially pricey. Some used models can be surprisingly cheap to buy — though servicing, maintenance and repair costs will likely add up. Still, if you want to buy a Ferrari without spending a fortune, here are the five cheapest used Ferrari models currently listed for sale on Autotrader.
1982 Ferrari Mondial 8 Coupe — $29,900
The Ferrari Mondial has always been considered the "cheap" Ferrari, as it was the somewhat awkward-looking entry-level model throughout the 1980s. The Mondial Coupe, despite its rarity over the Cabriolet, has always been less valuable still, as this 1982 Mondial 8 shows. This is the cheapest Ferrari listed for sale on Autotrader, offered with an asking price of $29,900 with 31,591 miles from College Auto Sales in Miami.
Although Ferrari's midengine, V8-powered models tend to be exceptionally desirable, the 348 — which was made from 1989 to 1995 — has always been hailed as something of a black sheep. Performance and styling don't quite cut it in the modern era, and ownership costs are high — and that has prevented the 348 from reaching high values. This particular 348 is a targa-topped "ts" model, and it's traveled a relatively high 55,775 miles, leading to its relatively low asking price of just $41,900 from Imports Unlimited in Wallingford, Connecticut.
1986 Ferrari Mondial Cabriolet — $42,500
The Ferrari Mondial Cabriolet isn't dramatically more valuable than its Coupe counterpart, as this listing proves. This 1986 Mondial is offered by a private seller in the Cleveland area, and it's listed for just $42,500 — not a bad price for a midengine Ferrari with just over 23,000 miles, as this one reportedly has. This Mondial also touts the typical "Ferrari colors" of red with a beige leather interior.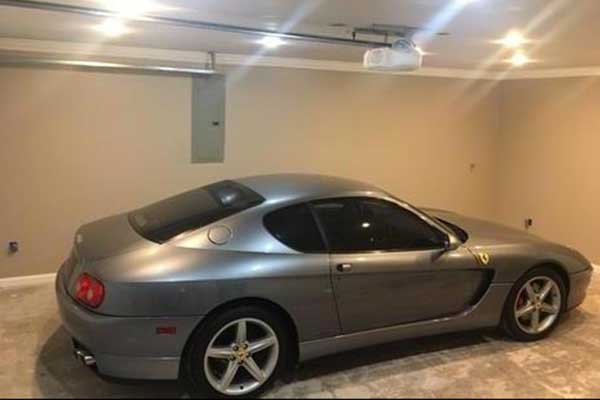 The Ferrari 456 is one of the brand's least-valuable V12-powered models. A predecessor to the 612 Scaglietti, the 456 was sold from 1992 to 2002, and later versions — like this one — are called the 456 "M" for Modificata, as they received minor revisions from the earlier cars. This particular 456 is offered by a private seller in Houston for $43,800, which is a nice price for a 456 — especially with the desired manual transmission. Mileage stands at around 50,000, which is high for one of these — and which explains why the pricing is relatively low.
1981 Ferrari 308 GTS — $45,000
The Ferrari 308 was the brand's first midengine V8 model, beginning a lineage that now carries through to the highly popular 458 Italia and 488 GTB. The 308 GTS was highly desirable when it debuted, and it's still sought after today, though high production numbers have always kept values from shooting up. This 1981 308 GTS is a relatively high-mileage example, having traveled about 63,000 miles, and it's offered by a private seller in Macon, Georgia, for $45,000.
MORE FROM OVERSTEER:
Video | Here's Why I've Already Spent $28,000 on My 2005 Ford GT
This Chrysler PT Cruiser Looks Like a London Taxi
Autotrader Find: Never-Titled 1997 Plymouth Prowler With Matching Prowler Trailer