Back in the 1990s, there were many exciting and thrilling Japanese vehicles offered on the U.S. market. Since then, Japanese cars have remained exciting, but in a smaller percentage: it's almost like the Japanese brands got together and realized they couldn't keep making crazy sports cars, and they had to focus on vehicles that would appeal to larger numbers of people. Fortunately, in today's list, I'm going to take us back to the 1990s and highlight a few of the coolest 1990s Japanese cars currently listed for sale on Autotrader.
The Acura NSX was undoubtedly the coolest Japanese sports car of the 1990s, and this is an unusually nice example. A 1999 model, this bright red NSX touts the t-tops that were added to later NSX variants, along with a tremendously nice black interior and a manual transmission. Most importantly, it boasts just 12,800 miles. It's currently offered for sale by a private seller in Camarillo, California, northwest of Los Angeles, for $99,500 — a price that would've been unthinkable years ago, but one that doesn't seem so crazy in today's world of collector car appreciation.
The Mazda RX-7 was surely the most beautiful Japanese car of the 1990s, and also undoubtedly one of the best, with a lightweight chassis and an unusual — but rewarding — turbocharged rotary powerplant with 255 horsepower. This 1994 RX-7 is finished in the nicest color, bright red, with just 36,000 miles, and it's offered by a private seller in Winfield, Illinois, in the Chicago suburbs, for $39,000.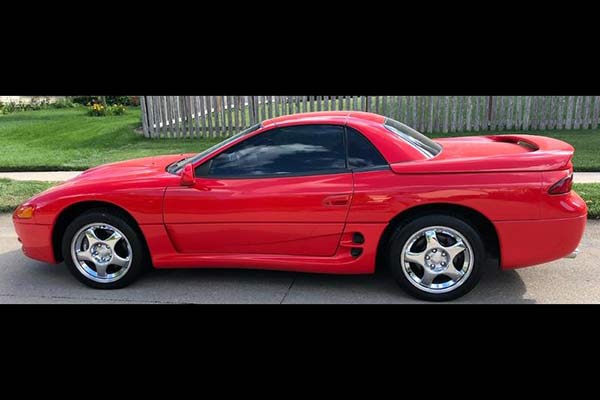 1995 Mitsubishi 3000GT VR-4 Spyder – $31,000
The Mitsubishi 3000GT VR-4 was one of the coolest 1990s Japanese cars, as it boasted a twin-turbocharged engine, all-wheel drive, four-wheel steering, and active aerodynamic bits. Beginning in 1995, there was also a convertible model, the 3000GT Spyder, which boasted a highly advanced (for the time) folding hardtop. These cost huge money back in 1995 — $75,000 in "1995 dollars" — but this one is offered by a private seller in Omaha with just 38,000 miles for a mere $31,000.
1991 Toyota Land Cruiser – $27,500
The "80 Series" Toyota Land Cruiser was offered from 1990 to 1997, along with a Lexus version, the LX 450, which was available in 1996 and 1997. Often regarded as the best Land Cruiser, the "80 Series" is difficult to find today in nice shape — but this example is a clean, well-kept 1991 model with just 130,000 miles. It's a right-hand drive Land Cruiser, however, as it was imported to the United States from Japan — a bonus for some, and a drawback for others. Either way, it's offered by a private seller near Charleston, South Carolina, for $27,500.
1993 Toyota Supra Turbo – $75,000
The Toyota Supra Turbo is often regarded as one of the top 1990s sports cars, perhaps second only to the supercar-baiting Acura NSX. The Supra, which was sold here from 1993 to 1998, is incredibly hard to find in nice condition, especially in desirable "Turbo" form, especially with a manual transmission. This one checks all the boxes, boasting a stick shift, a turbocharger, and excellent condition. It's offered by a private seller in the New York City area with 83,000 miles for $75,000.
MORE FROM OVERSTEER:
Here's Why this Porsche Speedster Isn't Worth $200,000 – Because It's a Volkswagen
Yes, I Really Do Need That Many Cup Holders
Here's Everything That's Broken On My Cheap V12 Mercedes-Benz SL600