Good news: It's Jeep Wrangler day here on Oversteer. In just a few minutes, I'm going to tell you what I think of the all-new 2018 Jeep Wrangler — and as a little prelude, I've decided to list the craziest Wrangler models currently listed on the site. Unfortunately, this doesn't include the 6-wheel-drive Wrangler I recently featured, as it appears that one may have sold. But I still found five crazy Wranglers worth showing off to everyone who wants to see the most unusual Wrangler models you can buy today.
The Cheapest: 1995 Jeep Wrangler – $1,995
The cheapest Jeep Wrangler on all of Autotrader is this 1995 model for just $1,995. Before you get excited about a crazy Wrangler deal, be forewarned that the roll cage has been removed and it doesn't appear to have an interior — or a roof. In fact, it's odd how much the Wrangler looks like a pickup (and like the original military Jeeps) when it's just a body and a windshield. It's worth noting this Wrangler also appears to have some rust spots, which makes sense since the Carfax report shows it was in snowy Massachusetts and upstate New York until 2010. It's currently offered for sale by East Coast Auto Source in the small town of Bedford, Virginia. Find a 1995 Jeep Wrangler for sale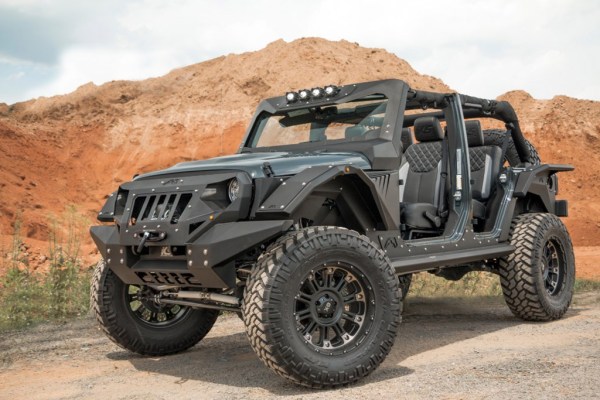 The Craziest: Highly Modified 2017 Jeep Wrangler – $105,750
Undoubtedly the craziest Jeep Wrangler on Autotrader now that the 6-wheel-drive Wrangler is gone, this 2017 Wrangler barely even resembles a Wrangler anymore. The doors have been removed, and the rest of the Wrangler is covered in excessive body work and aftermarket panels to completely alter its look and appearance. This conversion was likely very pricey, and it isn't offered for cheap: it's available with just 412 miles for an amazing $105,750 from a private seller in rural New Columbia, Pennsylvania. Find a 2017 Jeep Wrangler for sale
The Most Expensive: 2016 Jeep Wrangler Pickup Conversion – $109,500
This is the most expensive Wrangler currently listed for sale, and it's no surprise it's so expensive: not only is it a relatively new 2016 model, but it's a 4-door pickup conversion — a pricey job — and it features a 6.4-liter Hemi V8 under the hood, with 475 horsepower. It's traveled just 3,800 miles since new, and it's offered by a private seller in Maylene, Alabama, near Birmingham, for a whopping $109,500 — big money, but still likely less than this would've cost when it was sold new by AEV, who converted it into a pickup truck. Find a 2016 Jeep Wrangler for sale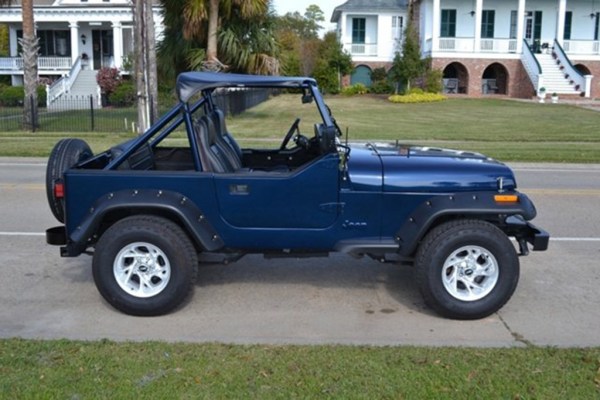 The Oldest: 1987 Jeep Wrangler – $11,995
The Wrangler was officially called "Wrangler" with a redesign for the 1987 model year after years going by the decidedly less lovable "CJ" name. There are a few 1987 Wrangler models listed on Autotrader, and this one seems the most well-preserved — a dark blue example with only aftermarket fenders, wheels and tires listed for $11,995 with 143,000 miles. It's offered by Auto Direct in Mandeville, Louisiana, just across Lake Ponchartrain from New Orleans. Find a 1987 Jeep Wrangler for sale
The Time Capsule: 1995 Jeep Wrangler With 19,800 Miles – $15,995
There are a surprising number of well-preserved Wrangler models for sale on Autotrader, but this might just be the nicest of them all. It's a 1995 Wrangler, finished in Emerald Green Pearl Metallic over a beige cloth interior (described as "saddle") with just 19,841 original miles. It's largely undriven, doesn't appear that it's ever been modified, and it's offered for $15,995 by Ryan Friedman Motor Cars in Valley Stream, New York, on Long Island just outside New York City. According to the Carfax report, it was sold new in the Hamptons, where it remained with its original owner until a few months ago — likely as a second car when the owner happened to be at the house for the weekend. Find a 1995 Jeep Wrangler for sale
MORE FROM OVERSTEER:
Video | The Jeep Grand Cherokee Trackhawk Is the World's Most Powerful SUV
So Where Exactly Is the Lamborghini Urus's Fuel Door?
Remember When Lotus Debuted 6 Concepts at the 2010 Paris Auto Show?