If you're interested in a modern minivan, you may be dismayed to learn you practically have four choices: the Chrysler Pacifica, Honda Odyssey, Kia Sedona or Toyota Sienna. Those are all great vans — but many years ago, there used to be dozens of minivan options with some interesting variety. Today I'm showcasing five of the weirdest cheap minivans for sale on Autotrader — some of which are unusually well preserved with shockingly low mileage.
2003 Chevy Astro With 34,000 Miles
Although the Chevy Astro was always marketed as a traditional minivan competitor, it was different from most minivans. For one thing, it was rear- or all-wheel drive — fairly common when the Astro came out in the 1980s, but unusual by the time it died in the mid-2000s. It was also boxy and trucklike, with an upright driving position. This particular Astro is the nicest one on Autotrader: It's a 2003 model with just 34,000 miles, offered for $7,900 by All Star Car Outlet in the Chicago area. Find a Chevrolet Astro for sale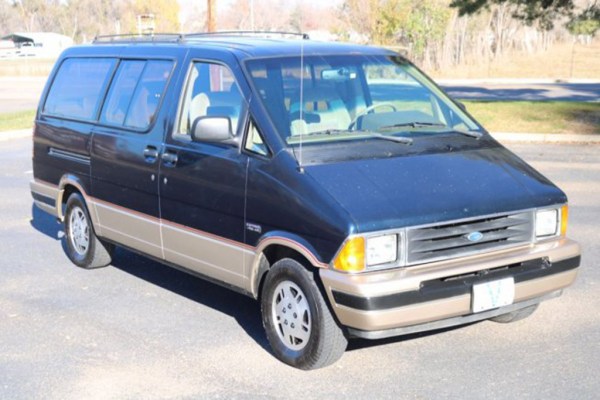 1991 Ford Aerostar 4WD
Like the Chevy Astro, the Ford Aerostar was a rear- or 4-wheel-drive minivan with more of an upright driving position than most vans. This particular Aerostar is a 4-wheel-drive version, which is no surprise as it's being sold in Colorado. More surprising is the perfectly preserved interior and the tree graphics on the seats — combined with the fact that someone managed to save one of these in the first place. This one is offered by Victory Motors in Longmont, north of Boulder, for $4,999. Find a Ford Aerostar for sale
1995 Oldsmobile Silhouette
The Oldsmobile Silhouette hails from the era of the General Motors "dustbuster" vans — so named because their bizarre shape was said to resemble a dustbuster. The Silhouette was the most luxurious of the dustbuster triplets, with the two "lower-end" models being the Chevy Lumina APV and the Pontiac Trans Sport. Although this Silhouette has traveled 153,000 miles, it's in nice shape, with a luxurious red interior and a well-preserved exterior. It's offered by a private seller in the Washington suburbs of Portland for just $3,500. Find an Oldsmobile Silhouette for sale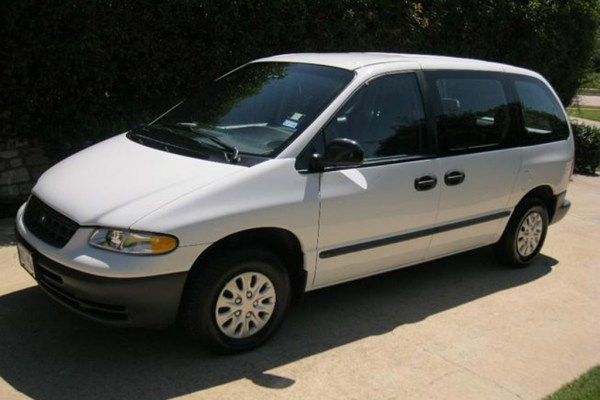 1997 Plymouth Voyager With 21,000 Miles
Although the Plymouth Voyager isn't really a "weird minivan," this particular example is. That's because this 1997 Voyager has traveled just 21,000 miles since new — unusual for a vehicle designed to be heavily used as family transportation. Offered by a private seller in the Dallas area for $10,500, this Voyager is probably the nicest one left — and the interior is especially well preserved. The Carfax report shows it was owned by one owner, and notes good service history. Find a Plymouth Voyager for sale
1991 Toyota Previa With 401,000 Miles
The Toyota Previa was certainly a weird minivan, as it featured a midmounted engine whose oil you changed by lifting up the driver's seat. It also had a bizarrely styled dashboard, a hilarious exterior egg shape and rear seats that could swivel entirely around — while you were driving. Apparently, it was also pretty reliable, as this 1991 Previa has covered 401,000 miles since new, with the Carfax report showing an unbelievable 49 service records going back many years at a Toyota dealership in Texas. It's currently offered for just $1,977 by Contemporary Automotive in Tuscaloosa, Alabama. Find a Toyota Previa for sale
Doug DeMuro is an automotive journalist who has written for many online and magazine publications. He once owned a Nissan Cube and a Ferrari 360 Modena. At the same time.
MORE FROM OVERSTEER:
There Is a Batmobile Tumbler For Sale on Autotrader
The Hyundai Galloper Was a Rebadged Mitsubishi Montero
Video | I Bought the Cheapest Chevy Corvette Z06 in the US