The formula for AMG cars has always been relatively similar: Take a regular Mercedes-Benz, give it some enhancements in every conceivable area, keep it relatively subtle and sell it for a premium. That doesn't often lead to weird or unusual vehicles — but there are some exceptions. The five Mercedes-Benz AMG models shown below are the most interesting AMG cars on Autotrader — and they're all a little bit different from your typical AMG fare.
2003 Mercedes-Benz CL 55 AMG With 215,000 Miles
AMG cars aren't known for high-mileage reliability — but this CL 55 has made it 215,000 miles since it was sold new back in 2003. Offered by a private seller in the Flint, Michigan, suburb of Davison, this CL 55 is showing 215,505 miles on the odometer — and it looks pretty nice, considering the outlier mileage. This CL 55 is offered for just $6,950 — but no VIN is listed, so I can't play detective and see exactly who added so many miles. Find a Mercedes-Benz CL 55 AMG for sale
The Cheapest: 2000 Mercedes-Benz ML 55 AMG for $1,500
This is the cheapest AMG model currently listed for sale on Autotrader. Don't let the look fool you: Despite the "regular" M-Class wheels, this is indeed a 2000 ML 55 AMG, which was Mercedes-Benz's first AMG SUV in North America. The ML 55 isn't highly desirable, and this one has covered serious miles — nearly 180,000 — leading to a low asking price of just $1,500, from Kinney Motors in South Rutland, Vermont. Based on the Carfax report, this ML55 has spent its entire life in climates that get heavy snow (it was sold new in Quebec), suggesting it's lived a harder life than most. Find a Mercedes-Benz ML 55 AMG for sale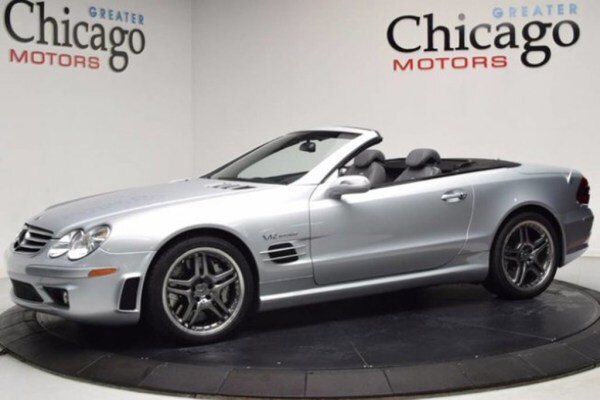 2006 Mercedes-Benz SL 65 AMG With 17,000 Miles
Most AMG models aren't saved or preserved as collector cars, as they aren't as collectible as true exotics from better-known brands like Ferrari or Lamborghini. But this one was preserved surprisingly well: It's a 2006 SL 65 AMG, and it's covered just 17,000 miles since new. Given that the SL65 isn't known for being especially cheap to own, this is one way to keep costs down: Just don't drive it. It's listed for sale at Greater Chicago Motors in Chicago, with an asking price of $43,995. Find a Mercedes-Benz SL 65 AMG for sale
2006 Mercedes-Benz SLK 55 AMG With 230,000 Miles
It's almost hard to believe how far this car has traveled since new. This is a 2006 Mercedes-Benz SLK 55 AMG, and it's currently listed by a private seller in Fort Lauderdale with an unbelievable 230,000 miles. Admittedly, 230,000 miles isn't especially unbelievable for some vehicles — but a tiny 2-seat Mercedes-Benz convertible with a big, thirsty V8 wouldn't exactly be my choice for high-mileage driving. This SLK 55 is offered for just $11,900, which is a good deal for anyone willing to roll the dice on the mileage. Find a Mercedes-Benz SLK 55 AMG for sale
2014 Mercedes-Benz SLS AMG Black Series
The Mercedes-Benz SLS AMG was a pretty cool exotic sports car — but the Black Series version is on a different level altogether. Only 132 were built for the United States, and the Black Series model had some impressive benefits over a regular SLS — like more power, upgrades under the skin and distinctive exterior elements. This Black Series, offered by Mercedes-Benz dealership RBM in Atlanta, is especially desirable, as it's covered just 2,988 miles since new — hence the asking price of $499,900. Find a Mercedes-Benz SLS AMG for sale
Doug DeMuro is an automotive journalist who has written for many online and magazine publications. He once owned a Nissan Cube and a Ferrari 360 Modena. At the same time.
MORE FROM OVERSTEER:
There Is a Batmobile Tumbler For Sale on Autotrader
The Hyundai Galloper Was a Rebadged Mitsubishi Montero
Video | I Bought the Cheapest Chevrolet Corvette Z06 in the US