Throughout the 1990s and early 2000s, most automatic-transmission gear levers were roughly the same: You shifted from P to R to N to D, and there was L at the bottom if you were going down a hill. That was it. In the late 2000s, automakers began experimenting with some, uh, other stuff — and it's blossomed to an onslaught of weird. I recently spent some time at the New York Auto Show photographing the nine weirdest gear shifters in the car industry — and here they are, in alphabetical order.
Chrysler Pacifica Dial
The Chrysler Pacifica's shifter dial isn't that weird; many automakers have started moving to rotary dials for shifting in recent years, as it frees up space in the middle of the car for additional cupholders or storage. The weird thing about the Pacifica's dial is that it's literally an inch away from the stereo volume knob and approximately the same size. When you go to turn down the music, make sure you don't shift into park! Find a Chrysler Pacifica for sale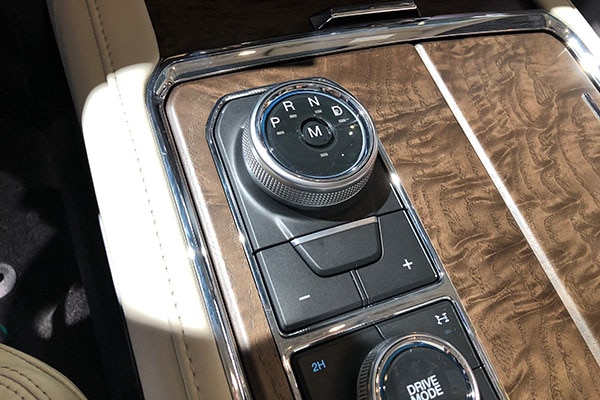 Ford Expedition Dial and Buttons
The Ford Expedition's shifter dial is a little unusual because you access manual mode by pushing a button in the middle of the circle — sort of the donut hole of the transmission-lever world. But that's not why the Expedition makes this list. Instead, it's the little "+" and "-" buttons below the dial: That's how you shift gears manually. Forget pushing a lever or pulling back on a paddle — if you want to change gears in the Expedition, just push a little button. Find a Ford Expedition for sale
GMC Terrain Buttons
The GMC Terrain is a nice small-to-midsize crossover, and it's a good value for the money. But it's not especially unusual in any way … except for the shift lever. While most other crossovers in its class use traditional gear shifters, the Terrain uses this odd array of buttons and switches mounted below the climate controls. Oddly, you push "Park" and "Neutral," but you have to pull levers for "Reverse" and "Drive" — and shifting gears is done with tiny buttons above and below the "L" button on the far right. Find a GMC Terrain for sale
Hyundai Nexo Buttons
This is the gear lever from the new Hyundai Nexo, and it's a bit strange in that it's just a group of four buttons on the center control stack, arranged a bit haphazardly: "Drive" and "Reverse" are separated, which isn't typical, while "Park" and "Neutral" are in the middle. Like the Chrysler Pacifica, the Hyundai Nexo suffers from a potential problem of confusion: The shift buttons are the same size and shape as other controls in the center stack. Find a Hyundai Nexo for sale
Lincoln Continental Buttons
The Lincoln Continental's gear selector absolutely earns a place on this list, as a quick glance in the interior wouldn't even reveal where the gear selector is located. It's not in the middle, it's not a dial … instead, it's a group of five buttons directly next to the infotainment system. You'd initially think this is where they put the buttons to let you change between different navigation-system functions, but that's not the case; these are for shifting gears. Find a Lincoln Continental for sale
Mazda MX-5 Miata Manual Imitator
I love the Mazda MX-5 Miata's automatic shift lever, because, well, it's supposed to look like a manual. Perhaps designed to trick people into thinking you got the more "exciting" manual when really you didn't want to shift gears, this shift lever has all the trappings of a manual: a microphone-like shaft with a circle on top, nice contrasting leather stitching, even a little silver circle in the middle that looks like the pin you'd use to pull up for reverse. Only one problem: It's actually an automatic. Find a Mazda MX-5 Miata for sale
Nissan Leaf Weird Circle
The Nissan Leaf's gear lever is so weird and unintuitive that Nissan had to add a diagram above the gear lever to show the driver how to use it. Essentially a circle inside a sort of fluid gear-selecting area, its operation is actually pretty simple once you get the hang of it — but a quick glance at it when you first climb inside a Leaf, and you'll probably think you've stepped into some weird future automobile. Find a Nissan Leaf for sale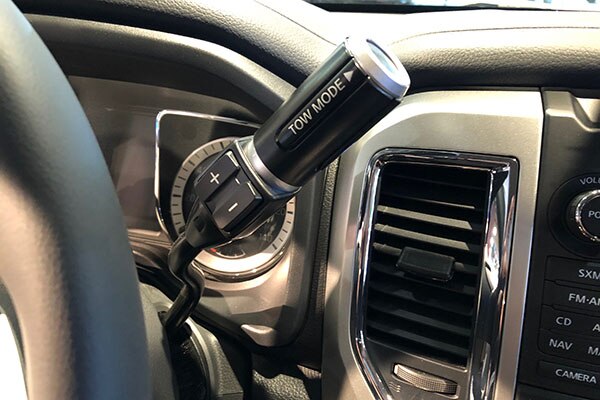 Nissan Titan Column Shifter
A column shifter in a pickup truck isn't that weird, but I've always felt the Titan's shift lever stands out because of its manual-shifting capabilities: To shift gears manually, you press tiny, little buttons located on the gear lever stalk. This is true of a few cars on this list, and I find it so strange, as manual shifting used to be such an involved endeavor, coordinating between your hand and your feet. Now, you push a button no larger than a penny, and your gears change. Find a Nissan Titan for sale
Volvo XC40 Crystal Gear Lever
The Volvo XC40's gear lever isn't especially interesting in operation, but it's certainly weird in style. The XC40's (optional) gear lever is crystal, made in conjunction with well-known glassworks firm Orrefours. It's gorgeous, but it's certainly odd — and it's very heavy and substantial to pull, letting you know you aren't using a stupid, everyday plastic shift knob as you put your XC40 in gear. Find a Volvo XC40 for sale
Doug DeMuro is an automotive journalist who has written for many online and magazine publications. He once owned a Nissan Cube and a Ferrari 360 Modena. At the same time.
MORE FROM OVERSTEER:
Here's Everything I Hate About My Cheap Ferrari F355
Video | The BMW M760i Is the Most Expensive BMW Ever
Autotrader Find: 1989 Cadillac Allante With 1,600 Miles