In this edition of Coolest Cars I Saw Last Week, we'll take a look at a modular compact from the 1980s, a re-purposed European military vehicle, and a large Japanese sedan that — despite what you may think — isn't a Lexus LS400.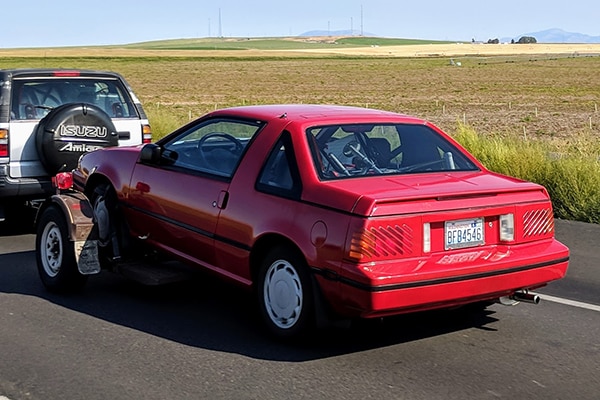 Here's a 1987 Nissan Pulsar NX SE. Dubbed the "EXA" in Japan, the Pulsar NX was sold from 1986 to 1990 and was essentially a 2-seat version of the Sentra. The most interesting thing about the Pulsar was its unique modular construction, conceived at Nissan's San Diego design center, which allowed for configurability on par with the Jeep Wrangler.
The Pulsar had T-top roof panels, and was available with two different rear hatch designs. The first was the concave design seen here, which gave the vehicle a coupe-like profile. The second, available as an accessory and only in gray, was marketed as the "Sportbak," which gave the Pulsar a shooting-brake profile with rear windows shaped like those found on the first-generation Pathfinder. The Pulsar could also be driven without either of the two hatches for a full open-air experience. Altogether, this modularity meant that the Pulsar could be driven as a fully-enclosed coupe, a fully-enclosed wagon, a targa-style coupe, a targa-style wagon, a fully-open coupe with both T-tops and the rear hatch removed or with the T-tops in place, but without the rear hatch, or in a pickup-esque configuration for which there really isn't a proper name. It was a neat idea at the time.
There was also a canvas soft top available that could be deployed to cover the Pulsar's hind quarters if you found yourself driving around hatch-less and a rain storm emerged. Altogether, the Pulsar is one of the most fascinating Japanese cars to come out of the 1980s, and you seldom see them around. As an added bonus, this one was being towed by an Isuzu Amigo, which offered its own, albeit less interesting, configurability. I can't imagine how miserable it must be to tow with an Amigo.
Pictured above is a Mercedes-Benz 1017-based adventure vehicle. Note that this isn't an Unimog, though I assumed it was at first. The 1017 was a military-spec version of the NG or "New Generation" chassis cab trucks offered by Mercedes from 1973 to 1988. A version of the NG was in fact offered in North America as the "LP" series for a brief period starting in 1985. The militarized 1017 was offered in two variations: a standard 1017 and an all-wheel-drive-equipped 1017A. It looks like either model wore the "1017" badge — and, given its big tires and overland motif, I'd assume this one to be a more capable 1017A model. It wears EU license plates from Austria. The W tells us it's registered in "Wien," known to us English speakers as Austria's capital city of Vienna.
This one might throw you for a loop. It's a Japanese market first-generation Toyota Celsior. Indeed, don't be mistaken: this is not a Lexus LS400. As the Lexus brand wasn't introduced to the Japanese market until 2006, Toyota-badged versions of early Lexus products were offered there instead. The first in this line of vehicles was the Celsior, which was sold from 1990 to 1994, and only through Toyota's "Toyopet" stores.
For the most part, identical to the LS400 sold in the U.S., the Celsior was responsible for introducing two world firsts: a high-performance air suspension with twin-tube shock absorbers and active dampening, and a GPS navigation system with voice instructions, which debuted for the 1992 model year. Given that the example pictured here had the navigation system, we know that it's a 1992 or later model. Given the 25-year gray market import threshold, this could be either a 1992, a 1993 or even a very early production 1994 model. Celsior sales lasted until the 2006 model year, when the Lexus brand was finally introduced in Japan.
Chris O'Neill grew up in the Rust Belt and now lives in Salt Lake City, Utah. He worked in the auto industry for awhile, helping Germans design cars for Americans. Follow him on Instagram: @MountainWestCarSpotter.
MORE FROM OVERSTEER:
The Rolls-Royce Drophead Coupe Is the World's Most Opulent Convertible
Here's What Happens When Project Cars Go Completely Wrong
Killing the Original Jeep Grand Wagoneer Was a Big Mistake — Or Was It?