Last week I had the pleasure of driving a 2018 GMC Sierra Denali in beautiful Southern Utah, to Zion National Park. When GMC gave me the keys to the Sierra, it was hooked up to a trailer carrying two Polaris RZR side-by-sides which we used to have some fun in some sand dunes on the way to Zion. It was a great experience and I got to see some fantastic scenery, but there was one part of the scenery inside the truck that really bothered me.
When I climbed into the driver's seat of this Sierra Denali for the first time, I was welcomed by fancy heated and cooled leather seats, some lovely wood interior trim and high-end materials all around that would make it easy to forget I was in a GM pickup truck. But the reminder that I was driving just that came hard and fast as soon as I looked at the gauges.
The gauges in this $60,000 luxury pickup truck from 2018 look exactly the same as the ones in my old 1998 Chevy Blazer that could probably be purchased on the used market right now for the price of a Slap Chop. Sure, it had a fancy customizable digital screen in the middle of the display, which my Blazer from 20 years ago definitely didn't have — but even that screen had the same old GM truck font. It's a font that is decidedly dated, and it just seems extremely out of place in such a genuinely fancy workhorse.
Yes, I know complaining about the font of the gauges is quite nit-picky, but I think the font matters. Doug has touched on this a little bit in his Kia K900 video and I think it bears repeating. Gauges are one of the first things a driver sees when they get in the vehicle. If I'm at a GMC dealer shopping for a truck that costs as much as a well-appointed German luxury sedan, I don't want to be reminded of the old Blazer I drove in high school. Sure, "heritage" is one thing, and it's very marketable (as GM knows better than anyone) — but is that gauge font that's been around since the mid-1990s really a fond part of GMC history that drivers in 2018 want to hang on to?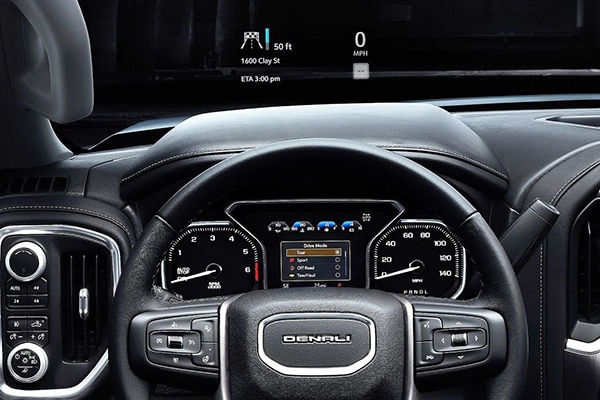 But, you're thinking, this is the outgoing 2018 model. This truck will be obsolete in a few months when the all-new 2019 Sierra starts hitting dealers this fall, right? Wrong. New truck, same font. Granted, the gauges in the 2019 Sierra (pictured above) look more modern and a little more polished than the current-gen model, but GMC soldiers on with that same old font.
The 2018 GMC Sierra Denali is a very nice truck — and I've seen the 2019 Denali in person, which is an even nicer truck that's loaded with luxurious appointments and useful technology. But when a brand new $60,000 luxury vehicle reminds me of my old hand-me-down SUV, something is wrong.
MORE FROM OVERSTEER:
The Early Chrysler LX Cars Aren't Aging Well
Video | Here's Why the BMW i3 Isn't Worth $50,000
Here Are the Cheapest Electric Cars For Sale on Autotrader