New Year's Eve: It's not a night known for good decision-making. But when the driver of a white Toyota Prius C decided to hit my neighbor's Cadillac ATS at 10:47 PM on New Year's Eve, he didn't account for a few key variables. Well, when I say "decided," it was likely that this hit and run was a decision made under the influence of alcohol, smartphones or perhaps just inattentiveness — or maybe all three! Regardless, here's how it went down and why being a car enthusiast is awesome. Oh — and why social media can be pretty great, too.
Normally, at that hour my wife and I would be asleep — but having just finished a living-room dance party, we were wide awake when we heard the ubiquitous metal and plastic on metal and plastic "crunch." We made it outside in time to see a small white car sitting motionless in the intersection. What we couldn't see in the dark was that the black Cadillac ATS across the street, belonging to my friend and neighbor, had been badly sideswiped. The Toyota driver mashed the gas and the little hybrid quietly departed the scene. We were not able to read the license plate. Curses!
We did get the color, make and model. We called the police and woke the neighbors.
The perp made the crucial mistake of several leaving bits of his car behind. The police officers arrived and were helpful; but without a plate, they weren't going to be able to do much. This wasn't a high priority on New Year's Eve. I dutifully collected the pieces and saved them for … something.
What came next was a $500 deductible for my neighbor and a driveable, but badly bashed, Cadillac — and we were still no closer to finding the Prius driver. We both spent time circling our massive neighborhood, with no luck. I inspected the broken pieces, finding a Toyota-labeled 10-digit number and barcode on the fender liner. A mechanic buddy of mine said you can find the year, make, model and trim level with a number like that. But, as I learned, it's not likely that you can find a VIN number.
Another dead end.
So I turned to social media, posting on a neighborhood Facebook page as well as a local DC enthusiast group. I posted pictures of the broken pieces and asked for photos of the car if anyone came across it. I was careful to warn them against vigilante justice.
Just as I was asking Alexa to turn off the living room lights to end New Years Day, my phone buzzed. Roughly 23 hours after the accident, I received a private message from a Facebook user. She basically said "The car you are looking for is parked on my street, let me know if you want photos." At first I replied with "Yes, please," but then I realized that wasn't good enough. I hopped into the Toyota Tacoma TRD PRO I'm driving right now and took off. I didn't even call my neighbor yet, for fear that this promising lead was another dead end.
After navigating a maze of streets and a construction crew tending to a water-main break, I pulled over, turned off the lights and went out on foot. My head was on a swivel in the single-digit weather. I don't know if it was the cold or my excitement, but I started getting a full-body shiver.
It was a dead end, and there was no sign of the car.
But wait, this is 15th Street, and I want 15th Road! Back into the Tacoma, thumbing the heated seats to their max — I had to find this car.
Down another block, wait … that might be it! A white Prius C was parked on the street just as the Facebook hero had said. On my first pass, it was impossible to see the passenger side; I swung around and pulled in six spots behind our suspect's vehicle. Lights off, I left my (ironically) white Toyota running.
I was a ball of emotion. Was this the white Prius C I was looking for? It had to be. I had two phones in my hand, one to take photos, one to light up the front end of the car I was now approaching. Meanwhile, I was trying to blend in, to not draw any attention to myself. Clearly the driver of this car makes bad choices and might be waiting for this shoe to drop. I eagerly rounded the front bumper, iPhone flashlight aglow.
There it was.
That is not how a Prius C is supposed to look. I lined up the shot, careful to get the full license plate in view and started snapping pictures. Vindication! Justice!
I finished my photo shoot and went back to the warm truck, feeling great. I called my neighbor, waking him up with the good news. He thanked me repeatedly and 10 minutes later, he was pulling up next to the suspect car, parking the Prius into what may be its final parking spot in the neighborhood for a while. We waited for the police and told the responding officers our amazing story.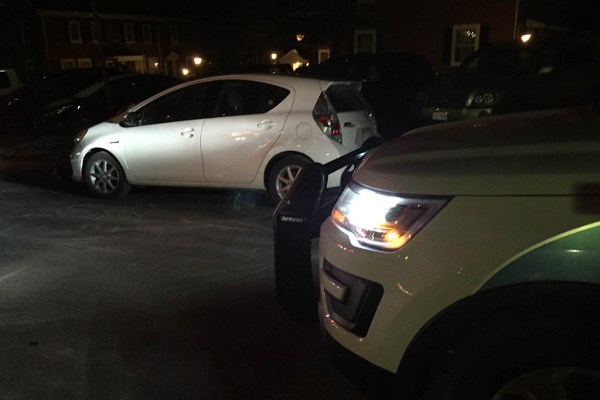 One officer asked if I could go get the pieces that I collected from the scene, while he would "try to make contact" with the owner. I raced back to my house and retrieved the bits of the broken Prius. When I returned, I found the owner chose not to answer his door, or his phone, so a tow truck had been called.
In what I would describe as my favorite moment of the long weekend, my neighbor placed the largest broken bumper piece up to the suspect car, and it was a perfect match. We followed that up with another piece, and the officer satisfylingly said "Nice detective work, gentlemen!"
In the end, the perp was caught by vigilance, car knowledge and social media. Justice for 2018! Find a Toyota Prius C for sale
Based in Northern Virginia, William is professional writer and editor and acts as the Editor-in-Chief of Right Foot Down. He misspent most of his youth on tracks in the Mid-Atlantic, as well as killing cones in parking lots, and he once taught at a teen performance driving school.
MORE FROM OVERSTEER:
Autotrader Find: One-Owner First-Generation Cadillac Escalade
Video | I Buried My 1983 Chrysler Lebaron
Here Are the Most Interesting Maserati Models For Sale on Autotrader