toplist
How Much Truck Can You Get for $30,000?






You might be shocked to learn just how far $30,000 can go in the world of pickup trucks. While it's easy to find a loaded mid-size truck for that amount, many buyers will be surprised to discover that a $30,000 budget will also include well-equipped versions of several full-size pickups. We've provided six examples of mid-size and large trucks that give buyers brawny engines, impressive features and excellent capability for under $30,000.
Chevrolet Silverado LS 4WD Extended Cab
Thanks to several strong incentives, the Silverado can be had with an extended cab, four-wheel drive and a long list of standard features for just a hair over $30,000. The base price of a four-wheel drive Silverado LS with an extended cab is around $34,000 including shipping-but the automaker's current offer of $3,500 cash back on the truck means it will cost just over $30,000 after rebates. So truck shoppers on a budget can get the benefits of four-wheel drive and Chevrolet's roomy extended cab without settling for the stripped down Work base model. Instead, they can opt for the Silverado LS, which offers remote keyless entry, power windows and locks, satellite radio, a chrome front bumper and GM's useful OnStar telematics system.
Ford F-150 STX 2WD SuperCab
For truck shoppers with a budget in the $30,000 range, the F-150 STX is easily the best value in the F-Series lineup. Although its base price of $30,435 including destination slightly exceeds our price cap, Ford's current incentives-including up to $2,500 cash back-help keep it affordable. Compared with the stripped down F-150 XL, we prefer the STX because of its longer list of standard features: it adds cruise control, remote keyless entry, an iPod hookup, power mirrors, power windows and power locks for less than $2,000 compared with the truck's base trim level. It also includes the automaker's roomy SuperCab configuration and a 302-horsepower V6 that's rated for towing more than 6,000 pounds. And while the pricier XLT adds foglamps and automatic headlights, we find it hard to justify the truck's $840 price jump-especially since we're already stretching our budget.
Ram 1500 Express 2WD Crew Cab
While its base price of around $31,500 including destination may seem daunting, a Ram 1500 Express Crew Cab is easily available for under $30,000 after factory incentives that provide up to $3,200 cash back. That's great news for buyers interested in a full-size crew cab pickup. The Ram 1500 Express is one of the best deals on the market and the top value in the truck's lineup. That's because crew cab versions of the pickup offer a long list of standard features not found in competitors, including an iPod connection, heated power mirrors, automatic headlights, an AM/FM/CD player and power door locks. The Express package makes the truck even more appealing, adding the Ram's signature 5.7-liter Hemi V8, dual exhausts, foglamps and 20-inch alloy wheels.
Nissan Frontier PRO-4X 4WD Crew Cab
With a base price of around $31,500 and manufacturer incentives of $2,000 back on all 2012 models, truck shoppers interested in a well-equipped mid-size pickup can get an upscale Nissan Frontier PRO-4X well within a $30,000 budget. And while the mid-level Frontier SV, which starts at $29,135 with four-wheel drive and a crew cab, is certainly less of a financial stretch than the PRO-4X, we think the off-road-oriented model earns its higher price. In addition to including four-wheeling goodies like skidplates, off-road suspension and hill ascent and descent control, the PRO-4X also offers upscale features like Bluetooth, steering wheel audio controls, foglamps and a Rockford Fosgate stereo with an iPod hookup. The PRO-4X also includes four full doors and four-wheel drive that is teamed to Nissan's 261-horsepower 4.0-liter V6, making the truck highly capable whether cruising on the pavement or tackling a muddy trail.
Toyota Tacoma PreRunner 2WD Double Cab V6
Many truck shoppers consider the Tacoma the best choice for buyers interested in a pickup with legendary reliability and durability. We agree-and we think the PreRunner Double Cab is the best value in the truck's reasonably priced lineup. With a base price of $25,390 including destination, the PreRunner Double Cab easily fits into our budget, leaving buyers ample room for options. We'd add the popular $1,705 SR5 package, which is headlined by a rear-view camera and steering wheel audio controls. We'd be very tempted to also include the $1,930 navigation system, which comes with a JBL stereo and Toyota's new Entune information and entertainment system. Even with those luxurious options, we'd still remain under our price cap, and we'd have no regrets about buying one of the best mid-size trucks available today.
Toyota Tundra 2WD Double Cab Long Bed 5.7L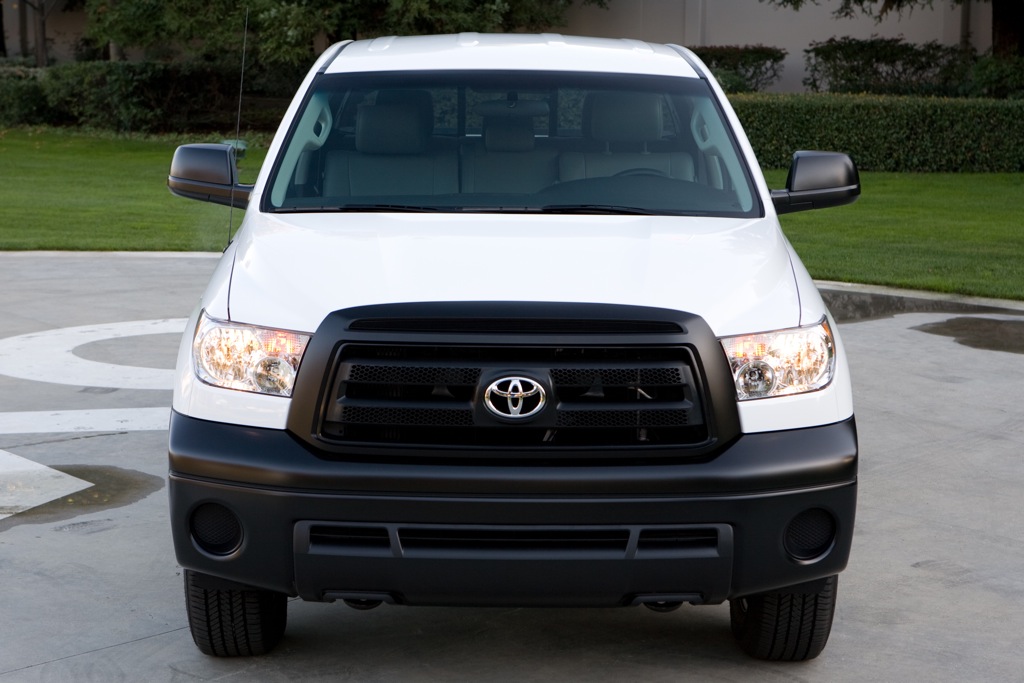 Truck shoppers interested in a durable, brawny full-size truck with an eight-foot bed would be wise to check out the muscular Toyota Tundra. Starting from just $30,695 with destination, the long-bed Tundra Double Cab easily falls into our price range after incentives from the automaker, even with its mighty 381-horsepower 5.7-liter V8. Buyers will also enjoy the truck's long list of standard features, which includes dual-zone climate control, cruise control, remote keyless entry, curtain side airbags and 18-inch wheels. A crew-cab CrewMax model can be had for just $1,200 more, but it's hard to ignore the great deal provided by the roomy extended-cab model with the Tundra's largest engine.
What it means to you: If you shop around for great deals and incentives, you may be able to find even better prices than these on some of the latest pickup trucks.