I visited Amsterdam recently, and one of the things that immediately surprised me — from the moment I started walking around the city with my wife — was the cars. I figured the cars would be a bit dreary; a bunch of tiny, gray, diesel-powered hatchbacks, like in much of the rest of Europe, but instead I was impressed with the variety. I already told you about the converted Mercedes-Benz G-Wagen pickup I saw, but I also happened upon another phenomenon: imported American-market cars.
They were everywhere. They don't sell full-size pickups, or most large SUVs, in the majority of Europe, but it's apparently legal in the Netherlands to import basically anything you want — and people were taking full advantage. One man asked me why I was so interested in his Ford Explorer — and he explained to me that there are several companies in the Netherlands devoted solely to importing cars from North America, since the automakers themselves won't do it.
I've been to many European countries on many separate trips, but I've never seen such a high concentration of American-market cars before — so I decided to start grabbing VINs to run Carfax reports on them later and find out how they got to the Netherlands. Here are 13 American-market cars I spotted in Amsterdam — and the Carfax reports to go along with them.
2008 Acura MDX
This was one of the more unusual American-market cars I spotted in Amsterdam — if only because there are so many cars already sold in Europe that would be better suited to European driving duty, with diesel engines and more reasonable sizing. It was also unusual because it's bizarre to see an Acura outside North America, as the company basically only exists for our market. This one was sold new into Vermont before moving on to a second owner in the wealthy Boston suburb of Brookline, Massachusetts. It was exported in June 2014, only three years into the second owner's time with the car, suggesting to me that their job transferred them to Amsterdam — and they brought their MDX along. Note the small rear light at the back of the bumper — a rear fog light required on all vehicles in Europe. Find a 2008 Acura MDX for sale
2008 Audi A4 Avant
This is one of my favorite Amsterdam sightings, simply because I never would've noticed it was anything special if not for the "Fletcher Jones Audi" plate frame from the Chicago area. Needless to say, you don't see a lot of those in the Netherlands. This car was sold new by Fletcher Jones Audi and registered in Chicago, but it was then shipped to the Netherlands when it was just a year old. Once again, I'm surprised someone would go to the trouble of buying a car in the States and shipping it to Europe — which surely requires some adjustments to the car, including a new speedometer — but it was certainly an interesting sight on Amsterdam's streets. Find a 2008 Audi A4 Avant for sale
2008 BMW 328i Convertible
This 328i Convertible is a US-market car — something I never would've noticed, except for the temporary California registration still attached to the windshield from BMW of Mountain View in the San Francisco Bay Area. The Carfax report says it was sold new in the Bay Area in April 2008, and owned in Saratoga and Mountain View until at least mid-2011. At some point after that, it found its way to Amsterdam. Given the presence of high-tech companies in that area, and specifically Mountain View, I'm guessing this person was transferred for work and brought along the BMW — but we'll never know for sure. Find a 2008 BMW 328i convertible for sale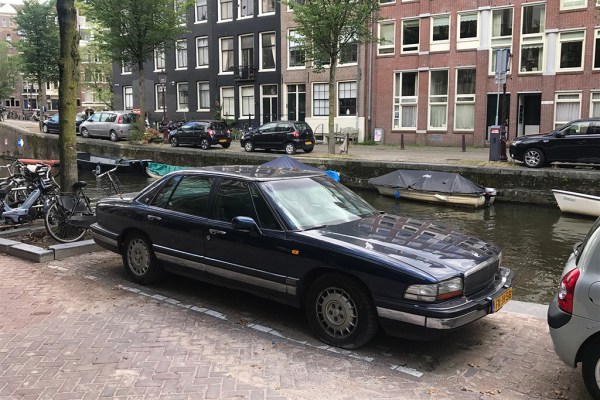 1991-1996 Buick Park Avenue
When I saw this car, I was shocked that someone would go to the trouble of importing a Buick Park Avenue to Amsterdam — but it appears that's exactly what they've done. Like the other cars on this list, I collected the VIN by taking a picture of the VIN plate in the base of the windshield — but, unfortunately, it doesn't pull up a Carfax report. That suggests this Park Avenue was initially sold overseas, or that the VIN has been tampered with. Find a Buick Park Avenue for sale
2007 Cadillac Escalade EXT
The Cadillac Escalade EXT was shockingly popular in Amsterdam, and I saw no fewer than five of them. I suspect this is because it's the most American car in existence: A vehicle that's not only huge, with a massive engine, but also a Cadillac, and also a pickup truck and also covered with over-the-top styling cues. If you want a very American car, you want an Escalade EXT — and nothing else will do. This particular Escalade EXT also has a very American history: It was sold new in Florida (of course), and the first owner had it for about a year and a half (and 27,000 miles) before it went to auction in late 2007. Although the Carfax report doesn't show it, it must've then been shipped to the Netherlands. Find a 2007 Cadillac Escalade EXT for sale
2006 Chevy Silverado Flatbed
There are a lot of commercial vehicles in Europe — but not many 2006 Chevy Silverados. In fact, the most popular pickup I saw in Amsterdam was the Dodge Ram (which was surprisingly common), followed by the Ford F-150, with the Silverado far behind. This person, however, happily decided on a Silverado, which was sold new in January 2006 by Simpson Chevrolet in Garden Grove, California. It was driven in California for at least two and a half years (and at least 52,000 miles), but the final Carfax event is transmission filter replacement and a fluid check at Wayne's Automotive in Ontario, California. Now, it's sitting on the canals of Amsterdam. Sadly, that Tacoma — also a US-market vehicle — had its VIN plate blocked by some papers, so I couldn't check out its story. Find a 2006 Chevrolet Silverado for sale
1995 Dodge Ram Conversion Van
This 1995 Dodge Ram Conversion Van was a ridiculous sight in Amsterdam, and (fortunately) the only US-market conversion van I saw — though I did catch a few old Mercedes and Volkswagen vans that looked like they could've contained full beds, or at least overstuffed furniture and a VCR. This Ram Van has a long history in the States: It was sold new in Boynton Beach, Florida, in September 1995, and it was driven there until 2003. The second owner purchased it in October 2003, with 84,000 miles, and registered it in Point Pleasant Beach, New Jersey — and that's the last event on its Carfax report. I wonder if anyone who made this Ram Van ever dreamed it might someday be driving around Amsterdam. Find a 1995 Dodge van for sale
2013 FIAT 500e
Electric cars are very popular in the Netherlands, thanks to government subsidies, priority street parking for plug-in vehicles and what appeared to be free charging stations throughout the city. The FIAT 500e, however, isn't sold outside California — so someone in Amsterdam must've wanted one really badly (note the California license plate still attached behind the Netherlands plate). This 500e was sold new in West Hollywood in October 2013 and was immediately exported to the Netherlands to await its eager new owner. Find a 2013 FIAT 500e for sale
2004 GMC Yukon Denali
Like many vehicles here, the Yukon Denali is an unusual choice for Europe, as it uses a massive 6.0-liter V8 that guzzles $8-per-gallon fuel — and because it's pretty massive, too. But this particular example came straight to Europe: It was sold new in August 2003 by Patriot Buick GMC near Philadelphia, and shipped almost immediately to the Netherlands, arriving in early 2004. Note the small side turn signal installed on the front fender behind the rear wheels; this (like the rear fog light on the Acura MDX above) is required by law in Europe, and must be added to imported cars that don't already possess it. Find a 2004 GMC Yukon for sale
2001 Lexus RX 300
The Lexus brand is very popular here in North America, but it's still trying to break into Europe, where buyers are (unsurprisingly) more comfortable with European luxury vehicles. While you do see some modern Lexus models in Europe, this generation RX 300 was never even sold there — and it was made more unusual by the original New York state inspection sticker still grafted into the windshield. Interestingly, the Carfax report doesn't reveal a long history in New York: it was sold new into Manhattan in April 2001 and shipped to the Netherlands a year later. Find a 2001 Lexus RX 300 for sale
1988 Mercedes-Benz 560SL
Although a 1980s Mercedes SL-Class wouldn't necessarily throw off an "American market car" red flag, I noticed this one had a "Park Place" badge on the trunk — the longtime Mercedes-Benz dealer in Dallas. I collected the VIN and discovered it was, indeed, sold new in Dallas in 1988 — and then owned in Kansas City (1994-1995) and Florida (1995-2003) until it had accumulated over 76,000 miles. In August 2003, it was shipped to the Netherlands, never to return. Although it may seem odd that someone in Europe would go to the trouble of importing a German car, exchange rates have made this more favorable over the years — and the V8-powered 560SL model, considered the top of the line, was a lot more common in the States than elsewhere in the world. Find a 1988 Mercedes-Benz 560 SL for sale
1989 Mercury Colony Park
This Mercury Colony Park station wagon was one of the most out-of-place American-market cars I saw on my entire trip to Amsterdam. It stuck out roughly three feet past everything else in this angled parking spot, and its massive 5.0-liter V8 would be a bear to fill up in a place where gas costs something like eight bucks a gallon. And yet, the Carfax report shows that it was manufactured and shipped to its original dealer on May 23, 1989, purchased and immediately shipped overseas — meaning it's been burning that expensive European fuel for nearly 30 years. I can't imagine why anyone would want to own this in Amsterdam, but I loved seeing it. Find a 1989 Mercury Colony Park for sale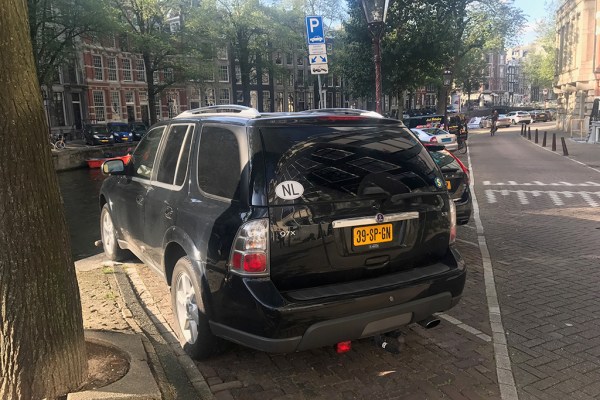 2008 Saab 9-7X
Certainly the strangest of this bunch is this 2008 Saab 9-7X, which was a very cynical SUV — offered only in America — that was basically just a Chevy Trailblazer with a Saab badge and some other small modifications. These things sold horribly in North America, with buyers largely recognizing the General Motors underpinnings — something that kept away most Saab fans. But this person apparently really wanted this 9-7X, as it was never driven in the United States and sold directly into Europe after leaving the factory in Ohio. I'd love to meet this person and ask them why, why, WHY they'd want a 9-7X — especially because this isn't even the sporty "Aero" version, but rather the gas-guzzling (and still underperforming) 5.3i. Find a 2008 Saab 9-7X for sale
EDIT: As explained above, this actually IS a European-market example, likely sold new in Europe.
MORE FROM OVERSTEER:
The Mercedes-Benz E63 AMG Wagon Is the Ultimate Family Car
Here's What It's Like to Drive a Grumman LLV Mail Truck Every Day