Acura is a name you are likely familiar with. Here in North America, they sell nice cars with Honda reliability and beaks for grills. Acura has been around since the mid-1980s, and they've made many memorable cars — like the NSX and Integra. What many people don't realize, though, is that Acura was initially made for North America only. The brand have since expanded into a few other markets, such as Russia, China, Mexico and Hong Kong. However, in Europe and Japan, Acura doesn't exist. That doesn't mean the cars they produce aren't sold around the world — it's just that they wear Honda badges instead.
This brings me to the Honda Vigor that I recently drove. No, not the Acura Vigor, which was sold in the USA between 1991 and 1994, but the Honda version sold in Japan. In Japan, this was the third generation of the Vigor, badged as a Honda and originally nothing more than a fancier Accord. While there are very few visual differences, it's actually about three inches skinnier and six inches shorter than the Acura.
It was powered by a 2.0-liter 158 horsepower engine in Japan and a 2.5-liter 187-hp version here in the USA.
This 1990 Honda Vigor was borrowed from my friends at Carter's Cars in South Burlington, Vermont, which appears to be Vermont's source for now-legal-to-import-from-Japan things. This Vigor is probably the nicest one still in existence. Inside and out, it's nearly perfect — and since the car has only traveled 33,000 kilometers (20,500 miles) in its 28 years, that's not difficult to believe.
While walking around and playing with this car, I came across a few neat little things. First, the power antenna. Yes, it has a power antenna — and not only does it still work, it has a trick. You see, the Vigor has a rear lip spoiler to make it look even more excellent. With the antenna extended, the spoiler would hit it and get in the way of opening/closing the trunk properly. So, if you pull the trunk release while the antenna is up, it will automatically lower itself, and rise again once the trunk is closed.
Inside the car, most everything is as you would expect from 90s Honda. I say "most" because of the climate control situation. Unlike pretty much every other car made, it's separated into two parts. One is the automatic section, and it sits high on the dash, directly next to the air vents, within easy reach. This one allows you to control a few things, such as temperature, defrost and whether you want fresh or recirculated air. The other is to control things manually, but it's hidden. At the top of the center stack and above the radio is a smoked plastic cover. Pushing on that cover reveals the ability to adjust the fan speed, A/C and air directionality manually.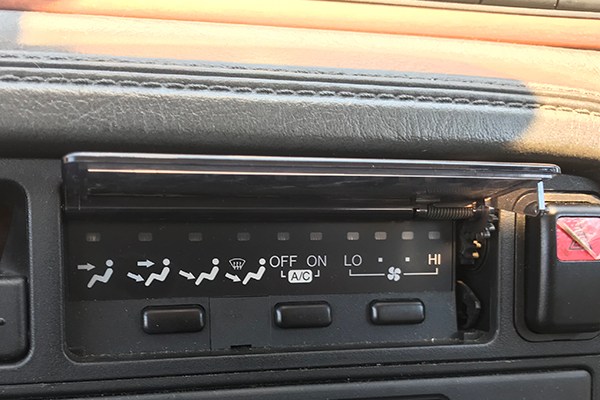 The interior is a nice place to be. The seats are reasonably supportive and made from a cloth that felt, well, let's use the word robust — by which I mean it felt thick and tough, like it would hold up pretty well if an impromptu knife fight broke out in the backseat. The dash design, once you figure out the climate controls, is wonderfully uncomplicated, and everything is within reach. The duller finish on the "wood" that surrounds the dash and door panels even feels nicer than the hard, shiny "wood" found in other cars. It feels like a place you could easily spend a large number of miles.
Once I was on the road, I was further surprised by this car. I was expecting it to feel old and outdated — and while it may feel old compared to the current midsize Acura, if you compare it to cars available at a similar price point, it will hold its own. Automatic climate control, cruise control, plenty of room, a 5-speed manual transmission, decent fuel economy and power. Though it may fall short on some items, like Bluetooth, airbags or other safety equipment, it's also not weighed down by them. Because of that, the 158-horsepower engine made the car feel like it had much more. It pulls hard in first and second gear and it still delivers decent fuel economy.
The one thing I did struggle with in this car was the tachometer. Not its location or legibility, but rather the fact that I just couldn't trust it. The redline said 7,000 rpm — but when the needle indicated about 4,000 rpm, the engine sounded like it was spinning at speeds normally reserved for Formula 1 cars and about to grace me with an expensive fireworks display. Its accuracy seemed fine lower in the rpm range, it was just when you put your foot down, where it didn't seem to climb with the same ferocity as the engine note. Speaking of engine notes, it's hard not to enjoy the warble of a 5-cylinder engine. Like Subaru's unequal-length exhaust, it's a distinctive sound that's easy to pick out of a lineup. Who wouldn't want an engine that sounds like half a Gallardo, anyway?!
I drove several unusual cars at Carter's, and this car seemed like the most livable. As in, you could buy it, drive it like a Honda for hundreds of thousands of miles and enjoy it! Dare I say it? Yes, I dare: why buy a new Mirage when you can buy this Japanese market Honda that was otherwise sold in the American market after gaining a few pounds under the alias Acura for way less? Why indeed.
MORE FROM OVERSTEER:
The Early Chrysler LX Cars Aren't Aging Well
Video | Here's Why the BMW i3 Isn't Worth $50,000
Here Are the Cheapest Electric Cars For Sale on Autotrader