Automakers have long used limited-edition models to stir up interest and tack on a few extra sales. Take a look at the high-end sports car and supercar market and you'll see dozens, likely hundreds, of examples. But even mainstream automakers like Subaru are getting in on the game with the latest "S-Series" car, the Subaru WRX STI S209. Its production run of 209 units is quite small — and even though they're all destined for the U.S., you likely won't ever see one. But I got to drive one recently, and it's everything you, and I, hoped it would be.
Actually, truth be told, Subaru has been in on this game for decades. So let's quickly run through the high-performance Subaru S-Series history, for those who aren't familiar with the fabled Subaru STI (short for Subaru Tecnica International) line of performance cars.
1998 Subaru STI 22B – Credited by some as the spiritual predecessor to the S line, the 22B was quite a car. It commemorated Subaru's three consecutive World Rally constructors' championships in 1995, 1996 and 1997 — and while it didn't carry the "S" badging, it was very special. It even featured a water sprayer for the intercooler, something you'll find on the new S209 as well!
2000 Subaru Impreza STI S201 – The first official S-Series was powered by an EJ20 turbocharged 4-cylinder and featured adjustable suspension. It also came with super light Rays wheels and a big ole wing! It was limited to 300 cars during its production run.
2002 Subaru Impreza STI S202 – The 2002 bug-eye-styled car was lighter — and with 316 horsepower, it was faster than any other Impreza of the day. Production was capped at 400 cars.
2004 Subaru Impreza STI S203 – Powered by another 2.0-liter EJ20 engine, it technically didn't improve on the 316 hp from the S202, but the EJ20 was much torquier and didn't need to be revved quite as much as the previous S-Series. Production was limited to 555 units, a number Subaru fans will all recognize.
2005 Subaru Impreza STI S204 – Using a slightly modified EJ20 that produced a bit more torque than the S203, the S204 also added cool stuff like a titanium muffler and forged BBS wheels.
2011 Subaru STI S206 – After a 6-year hiatus, Subaru skipped "S205" and produced the S206 in 2011. Sticking with the proverbial EJ20, there were only 300 S206s ever produced. Of those, 100 were even more special, as they were built to commemorate the STI's class win at the 2011 24 Hours of Nürburgring.
2015 Subaru STI S207 – The S207 is powered by, you guessed it, an EJ20, but now it was up to 324 hp. Continuing the trend of special editions of special editions, half of the 400 total S207 models produced had big wings to commemorate another class win at the 2015 24 Hours of Nürburgring. So, there are 200 of these S207s, dubbed the "NBR Challenge Package," and half of those were painted a special Sunrise yellow. I think Subaru is getting the hang of this special edition thing!
2017 Subaru STI S208 – Continuing to improve the breed, Subaru added a carbon fiber roof and a host of additional suspension and weight reduction improvements in 2017 to build the S208. 450 were built — and even thought there was no Nürburgring class win to celebrate, 350 of the S208 cars produced still had an NBR package.
So what do all of the Subaru S-Series cars have in common? We never got them here in the United States! That all changes with the S209. It's like Gran Turismo is literally leaping off of your screen and into your driveway. Let's see how it drives.
I'll admit, from a distance I thought that the car Subaru brought to the 2019 Washington Auto Press Association annual rally was just another STI. From a quick glance, the white paint and gold wheels are prototypical STI. It's once you get closer that you notice the special badging and get a little lump in your throat.
As a disclaimer, I didn't get to beat on some poor future S209 owner's car, as the one I drove was part of the press fleet and not part of the 209 production run.
Exterior
So, the S209 doesn't look drastically different than a normal STI. You might be able to spot the flared fenders at all four corners, wider by two inches to accommodate the widened wheel and tire package. The carbon-fiber rear wing and front underspoiler are said to create more downforce and stability. Subaru even notes that the carbon fiber roof isn't just to reduce weight and lower the center of gravity — it's also to improve overall rigidity. You'll find that, like the previous S-Series cars, the list of small and seemingly inconsequential changes are all done to make a car that handles like few others.
Your S209 can be painted any color you want, as long as it's World Rally Blue Pearl with Satin Gray wheels or Crystal White Pearl with Satin Gold wheels. To be fair, those are the two best colors you can get an STI in anyway, so I'm good with it. Wheels are 19-by-9-in forged alloys with 265 mm tires, the widest ever fitted to a factory-produced STI.
It's definitely a boy-racer look, although it comes off a bit more purposeful than the Honda Civic Type-R that I also drove recently. It's clear that the engineers built this thing to go fast. And fast it goes — more on that soon.
Interior
Race cars have an interior solely because they have a driver. It generally serves no other purpose than to make sure the meaty bit behind the wheel has a place to sit. So I'll cut Subaru some slack when I evaluate the interior of what is a pretty expensive car. Sitting in the S209 feels like you're sitting in a pretty normal STI, as the investment in this car was underneath the sheet metal. The ultrasuede-wrapped steering wheel is magnificent, and the Recaro seats are just as great as you would expect (and also have S209 on the headrest). But aside from the red plastic-looking accent strip, also emblazoned with "S209," it looks pretty much like an STI on the inside.
Of note, I am a sucker for a 4-door performance car. I still love the notion that you can comfortably fit four adults as you do four wheel drifts across the dirt, or tarmac or wherever you want. So, bonus points that this car exists in sedan form. I love it.
Driving
We came here to drive this sucker, not poke around the interior. I'll say this up front: this may be the best-handling car I've ever driven. That includes supercars, track cars and the like. It's that good. So, while the exterior and interior may not feel special, the driving experience most certainly is.
Wow … it's good.
To say it's planted would be the understatement of a lifetime, as the S209 was almost incapable of being unsettled. Our test route was a series of switchbacks through a rural area in Maryland. There were several elevation changes and a few blind drops around tight curves, and the more comfortable I became with the road, the harder I pushed the S209. Subaru wizardry kept the car exactly where I pointed it every single time without so much as a tire squeal.
That's likely due to obsessive chassis tuning. Look back at my quick trip through S-Series history and you'll find a very iterative and deliberate approach to everything, especially the suspension. For the S209, Subaru started with STI-tuned Bilstein dampers, new STI front and rear draw stiffeners (I had to look that up — think of a horizontal bar and spring setup that adds stiffness), plus a flexible STI tower strut bar and pillow-ball suspension bushings. If you go deep into the S-Series history, you'll see much of those same components being added, tuned and perfected over time.
It all adds up to something that just doesn't compute with your brain when you're driving the S209 hard. The other cars I drove throughout the day, including the new Z4 and Supra, took some concentration and forethought. With the S209 you just dumbly point the wheel and say "Go that way" and the car is like "Cool bro, let's go."
You'll also notice across the S-Series history that Subaru has kept from entering the horsepower war altogether. Small incremental improvements to horsepower and torque have arrived over time, but nothing drastic. No Hellcat-rivaling twin-turbo beasts have left the STI engineering lab destined for Subaru dealerships. So, does the EJ25 2.5-liter turbocharged 4-cylinder boxer feel powerful? Well, it has 341 hp and 330 lb-ft of torque (the current STI has 310 hp and 290 lb-ft), so it's certainly not slow. Think of the S209 as more open track than drag strip. It won't have a blistering 0-to-60 time — it's around 5 seconds, I believe — but when you plant your right foot exiting a corner, there is just the right amount of acceleration. It's even got an intercooler sprayer in case things get too hot.
So is the Subaru STI S209 worth — wait for it — $63,995? For reference, I went online and built a Subaru STI Limited to the highest spec I could and easily crested $50,000. However, starting MSRP for a regular WRX is $27,485, whereas the STI starts at $36,995 (STI Limited is $41,695), which means that the S209 is $27,000 more than the base STI. What could you add to your new STI for $27K? Quite a bit, I'm sure, but I guarantee it won't be as well integrated and developed as the stuff in the S209. Straight from the STI engineers to your driveway. It's amazing.
What's the future for the S-Series and STI here in the U.S.? There is a likelihood that Subaru will use "STI" like BMW uses "M" or Mercedes-Benz uses "AMG," which could mean STI-tuned Subaru vehicles in showrooms in the near future. If Subaru can leverage the S209 engineering for other Subaru cars, I'm all for that! Find a Subaru WRX for sale
Bonus Pics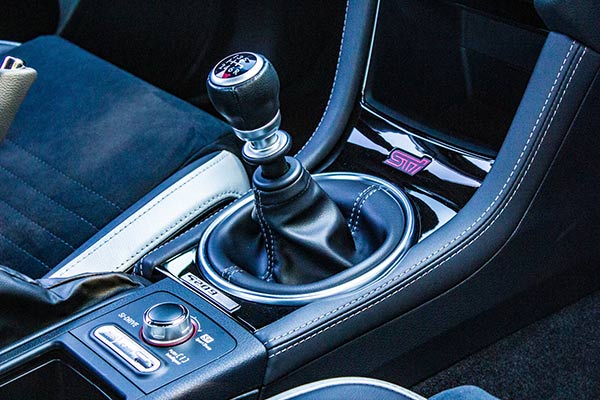 MORE FROM OVERSTEER:
5 Bargain Pickups You've Forgotten About
Video | The 2020 Porsche 911 Type 992 Is the Newest Version of an Icon
Autotrader Find: 1990 Ferrari F40 For $1.5 Million