I recently took a week off from work and went on a short trip to Italy. As I was driving around Montepulciano, my girlfriend alerted me to a classic FIAT in our periphery, and I pulled over to take a few photos. To my delight, not only was there a classic Cinquecento, but a pristine Citroen 2CV as well as Citroen's 70s beach car, the Mehari. Even better, they were all available to rent, along with twelve or so shiny vintage Vespa and Lambretta scooters from the 1950s through the 1980s. I rushed back to my villa and e-mailed the shop, Vintage Tours (vintagetours.it), and they immediately set me up with a 1972 FIAT 500 for the following day.
The following morning, I arrived at the shop, which was staffed by a friendly Italian teenager named Jacob. I filled out a single sheet of paperwork, put down a deposit and got a quick run-down of the car by the cheery teen. My girlfriend climbed in, Jacob took a picture of us in the car for their photo wall, and we were off. For our time in the car, we decided to drive to smaller towns and destinations in the area, opting to use a paper map opposed to a GPS to keep the experience "period-correct."
Getting into the tiny car and becoming accustomed to the controls, I realized how similar it felt to driving a vintage scooter. Many of the FIAT's characteristics felt familiar to me from my own Lambretta, like the loud, durable and unrefined engine in the rear, the lack of tachometer and the closely gated shift mechanism that provides a satisfying mechanical click when changing gears. Those similarities make perfect sense, as the FIAT 500 was borne from the success of the Vespa and Lambretta scooter to meet Italy's evolving post-war transportation needs in a shift from two wheels to four.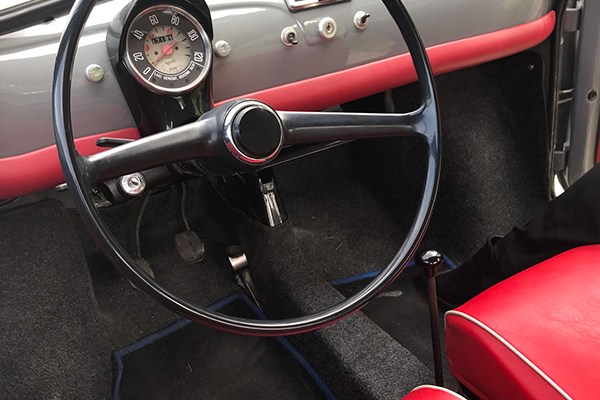 While tiny on the outside and two entire feet shorter than its modern counterpart, there was still adequate interior space. The seats were nicely upholstered in a body-painted interior with a stylish, yet bare-bones utilitarian, degree of finish. As for the controls, there was very little beyond a steering wheel, turn signals, a shifter and an ashtray. There was a sliding fabric soft-top roof, which I assume is to make up for the lack of air conditioning or even a fan. And yet, despite its spartan features and overall lack of refinement, this 2-cylinder car with an output of only 500cc was a joy to drive.
Opting to avoid the highway, I took the FIAT on the twisty country roads of Tuscany. Going up the hills and into the turns, the cartoonishly large steering wheel took a lot of muscle managing the curves, despite the weight biased to the rear. The lack of power steering was no surprise to me, nor were the vague drum brakes, which really took a heavy foot to operate between the closely situated pedals. On steep downhill curves, I needed to rely on engine braking while using the full force of my foot on the brake pedal to slow down.
After navigating a steep mountain pass and arriving at the Abbey of Sant'Antimo (dating back to Charlemagne), I was exhausted yet exhilarated from the challenging drive. While I would find these features (or lack thereof) abhorrent in a modern automobile, I found them quite charming in the tiny FIAT.
Originally intended as a "people's car" — cheap, economical transportation that's durable and easy to repair — the Cinquecento is now a fashionable, cultural icon of Italy. From a country also known for the fastest automobiles in existence, the 500 was not quick — but it felt quick. The roaring rear engine, dated brakes and hilariously small size turned twisty, 30-mile-per-hour country roads into a thrill ride. In modern traffic, the FIAT 500's tiny size truly became apparent — and compared to any modern car, it's undeniably less safe. However, it stands out and turns heads — and the lack of safety and features only add to its thrill and charm. Having since returned from my trip to Italy, my only regret is not putting the tiny car in my pocket and taking it home with me.
MORE FROM OVERSTEER:
The Early Chrysler LX Cars Aren't Aging Well
Video | Here's Why the BMW i3 Isn't Worth $50,000
Here Are the Cheapest Electric Cars For Sale on Autotrader