When I served as a mail carrier for the United States Postal Service for two years, I was always told that if I noticed anything suspicious or questionable while on duty, to let the postmaster know. If the postmaster thought it required further investigation, he or she would get the police involved. As in, the real police.
I say "real police," because there's a law enforcement arm of the USPS called the United States Postal Inspection Service (USPIS). Unfortunately, the USPIS didn't have a big presence in rural Wisconsin, where I delivered mail, but you better believe they have a strong, commanding presence in big cities like New York.
When I was in the Big Apple for the New York International Auto Show, the car that stood out to me most on my trip wasn't one of the amazing cars I saw at the show. It wasn't the Bugatti Chiron, the Ford GT or the classic Duesenberg I saw at the Javits Center. No, it was a white second-generation Ford Focus in "Postal Police" livery that I saw parked on the street.
Look at this thing. Not only does it have the commanding paint job and stripe package, but it's equipped like a real-life police car. It has a siren and everything! I would give anything to see one of these in a high-speed chase with its lights flashing and siren blaring, trying to bring down someone who got caught putting their rent check in their landlord's mailbox.
A quick Google Images search reveals that the postal police has used a wide range of vehicles, from the aforementioned Focus, to more traditional cop cars like the Taurus and Crown Victoria, to SUVs like the Chevy Blazer, Ford Explorer and Dodge Durango.
To find out more about what the postal police does, I did what all responsible journalists do and went to Wikipedia for answers. Apparently, the USPIS deals with "crimes that may adversely affect or fraudulently use the U.S. Mail, the postal system or postal employees."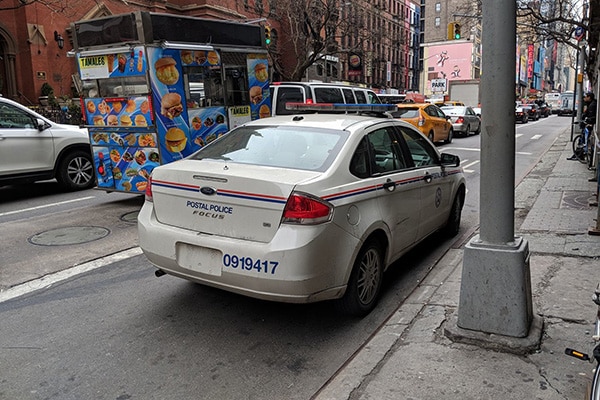 Trying to reuse stamps? Think you can ship a parcel over 13 ounces as First-Class instead of Priority? Nice try, buddy. Not if the postal police and its fleet of Ford Focuses has anything to say about it.
Not only do mail cops get cool badges and the authority to arrest people, but apparently these guys get to carry real guns. To my disappointment, I was specifically told in my mailman training that I don't get to pack heat on my route in case of especially aggressive dogs, but USPIS officers do.
As someone who has driven many miles in a Grumman LLV for the USPS, I think mail cops should have to drive the same Grummans as the carriers they protect — not these fancy-pants Ford compacts that probably have luxuries like airbags, power locks and a clock.
MORE FROM OVERSTEER:
The Ford F-150 Limited Has This Weird Interior Plaque
I Saw This Bizarre Mahindra SUV in New Zealand
Video | The Mercedes-Benz SL65 Black Series Was the Ultimate SL