Recently I traveled to Cuba for a week. I knew the U.S./Cuba borders had relaxed to Americans under the Obama administration, and I needed to visit before troves of American tourists flocked to Cuba for cigars and cheap rum. At the moment, American tourism in Cuba exists in a vague middle ground that isn't completely open to tourism. When I purchased my very inexpensive ($200 round trip) direct ticket from New York City, I filled out a very simple questionnaire explaining my reason for visiting. Of the 12 non-tourist categories of travel, I selected "journalistic activity," such as posting car photos to my Instagram. Other reasons included "professional research," "humanitarian activities" and also "support for the Cuban people."
When I arrived at the airport, I was directed to a special room for Cuba flights. There I paid a $50 fee for an actual tourist visa that was not stapled into my American passport. Upon arrival, my passport was stamped on the last page like a dirty little secret -- and when I left, my tourist visa was revoked like it had never existed.
What drew me to Cuba was my love of 1950s-era American automotive history. The rumble of a carbureted engine and the voluptuous curves of a Chevy Bel Air or a V8 Ford Deluxe is sheer beauty to me. Over the past year on a work assignment, I photographed weekend cars in the Hamptons, a summer community on the eastern end of Long Island. These cars were summer toys. My day-to-day was catching Land Rover Defenders hauling surfboards to the beach, a Porsche 356 on a grocery run, and so on. What I saw in Cuba was dramatically different from catching a Concours-quality European car on Main Street -- but still compelling in its own way.
Unlike the vintage beauties that come out to Cars and Coffee on weekends, every old car in Cuba sees daily use. These cars are taxis, or they belong to individuals and families who maintain and use them. I was moved by their continued usage, the owners' devotion and the mechanical ingenuity that comes with a daily driver that could be receiving letters from the AARP. Nothing was original on these cars. When a part fails beyond repair, a replacement part is sourced from another nonrunning car -- regardless of the brand, country or era of manufacture -- and made to work. The beauty of this dawned on me when I was in a 1950s taxi with working A/C and a steering wheel from a 1990s Citroen. In any other car community, this would be considered blasphemy! In Cuba, however, the ingenuity of local mechanics (albeit a result of economic sanctions) must be a source of pride for the country. Of all of the vehicles I saw in Cuba, the strangest piece of Cuban mechanical engineering was a new Chinese pickup truck with the entire front-end bodywork replaced with that of a 1950s American classic.
Interestingly, there are other cars in Cuba besides American classics held together with chewing gum and rubber bands. Before the collapse of the Soviet Union, a vast number of Russian Ladas were imported into Cuba -- so I saw a lotta Ladas (har har) on my trip. The newest cars that I saw in Cuba were Chinese cars such as Geelys, MGs and Protons. I'd imagine this is because of Cuba's industrial ties with current and former Communist countries.
In Havana, I got around mainly by taking "collectivos," or collective cabs. These were all old American sleds that can be hailed on main avenues. These inexpensive shared cabs will take you in the same direction as other the passengers for a flat fee of 50 cents per person. I likened it to catching a wave. You can also negotiate a direct rate with the driver, and he will not pick up other passengers. On my trip, I booked a ride in a classic Mercury Monterey convertible to Ernest Hemingway's House Museum, Finca Vigia. It was a nice long cruise to the outskirts of town through streets lined with aging art deco buildings that proudly show their minor repairs over the years like battle scars.
The vintage cars in Cuba are cherished by their owners. They are beholden to a life of civic duty, and their aged, rugged beauty is a testament to preserving the old -- not by choice, but out of necessity.
Ford Coupe outside of Cuba's Capitol Building El Capitolio. Notice the Beetle taillights on this car!
A Chevy Wagon in Central Havana.
This car just needs a few parts! Surely it will be back on the road in no time!
This is a masterpiece of Cuban auto repair. This is a Chinese pick-up truck with the entire front end from a 50's American classic!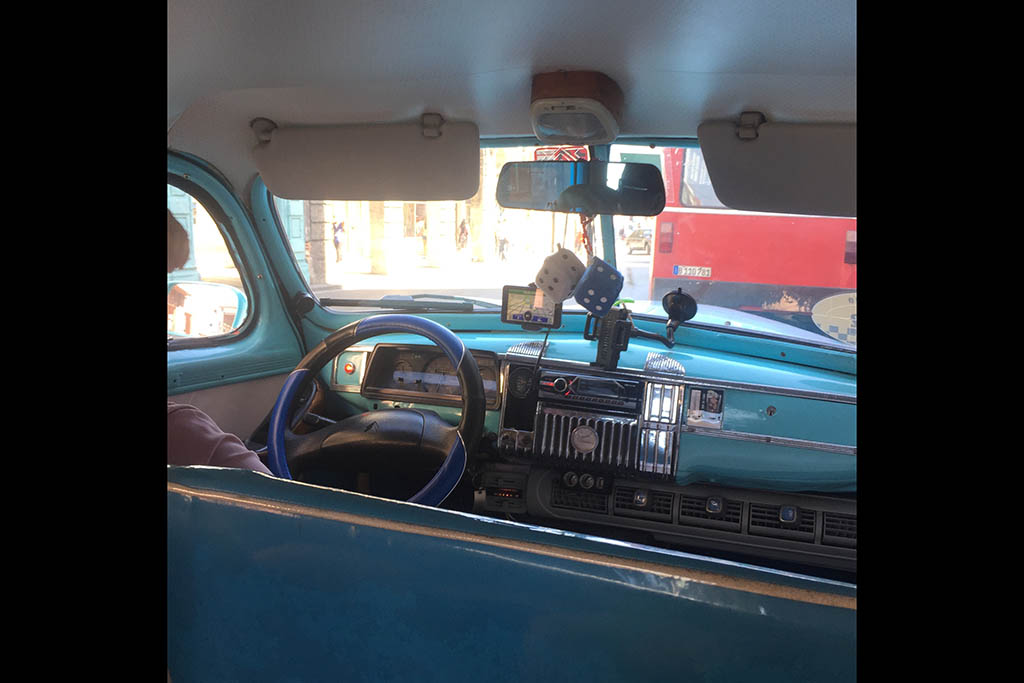 Interior shot from a nicer taxi in Havana. Notice the Citroen steering wheel and the plastic air conditioning vents added below the dash!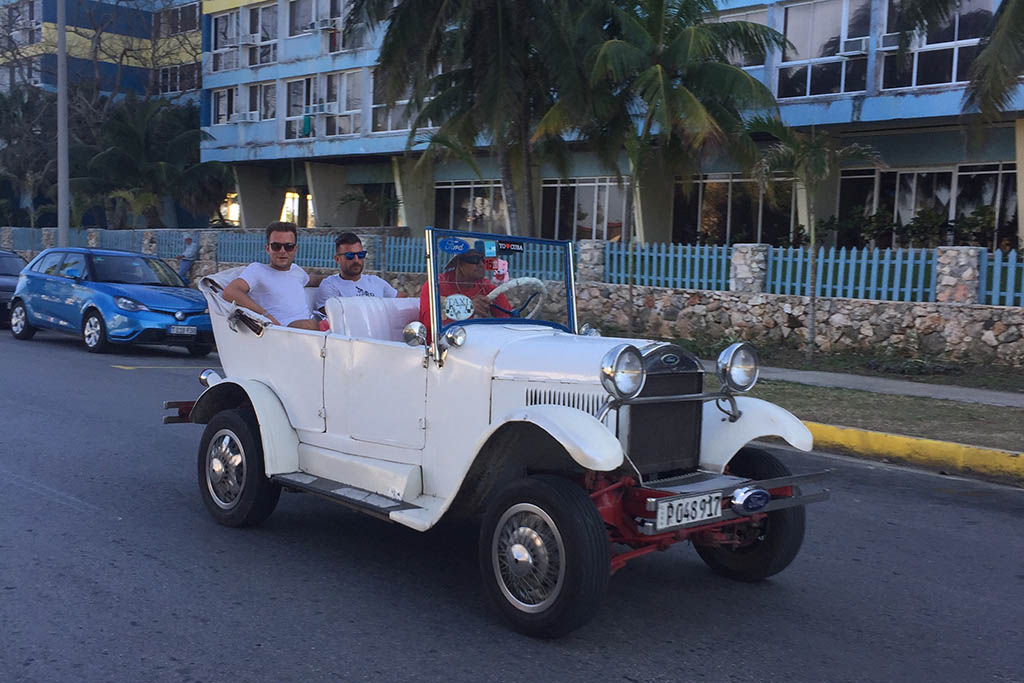 Tourists catching a ride from the beach in a Ford Model A.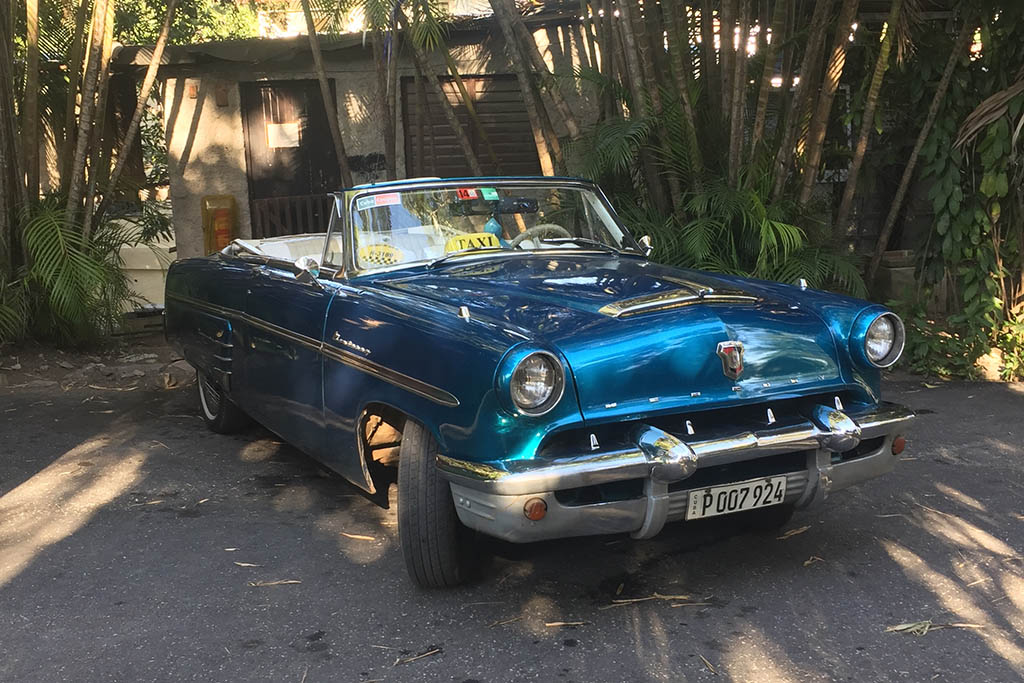 The Mercury Monterrey Taxi that I chartered for a trip.
A Ford Deluxe V8 with some fresh candy paint.