As someone who was born in the 1980s and graduated high school in the year 2000, one would assume that Radwood was tailor-made just for me, right!? Indeed, if you look online, most every discussion about this car show dedicated to the cars of the '80s and '90s has someone that doesn't get it. "Why would you want to purposely drive to a field full of K-cars without the intention of setting them all on fire?" they usually say. But to me, it's glorious — so my brother and I packed up a rental car and drove from Vermont to the New Jersey Motorsports Park to see what it was all about.
What we found was a field full of things that flooded our memory recall functions. Cars our parents had, cars our friends' parents had, our first cars, our friends' first cars, the cars we lusted after back when we were just starting to learn about cars. As with most cars shows, there were also lots of people. They were all relaxed and happy to talk about their cars, dressed in period-correct clothing choices that make you cringe and think: "Uggh, that's how we looked in that stuff??"
But, let's put the wind pants and massive hair behind us and get back to the cars! As best I can tell, this was the first time that a Radwood event was held at the NJMP. None of the crazy exotics, save for a few Porsche 911s, including a rare one modified by Koenig, were there — but, for an inaugural run, it was still great. While I wasn't surprised by the lack of some things, like a Land Rover Discovery — as while I'm sure several set out for Millville, NJ, none actually succeeded — one car's lack of attendance was truly shocking to me. I honestly assumed there would be an entire section devoted to them, but, there was not a single DeLorean in attendance. That notwithstanding though, here are some of the highlights that did come out for our enjoyment!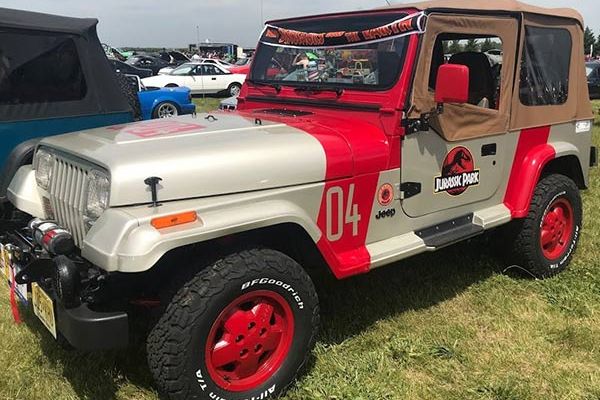 Jurassic Park Jeep
My "Back to the Future" fantasies may have gone unfulfilled, but, this lovely recreation of the Jeeps used on "Jurassic Park" was there to lift my spirits. As one of my favorite movies adapted from a book by one of my favorite authors, I enjoyed taking a walk around this one. Thankfully, it looks like the Dilophosaurus venom stains didn't stain the interior. Either that, or Mr. Nedry's fate was sealed in a different Jeep. That could've been an interesting estate sale, huh?
First Generation Dodge Caravan
This may be the first time in all of automotive history that a Dodge Caravan has been placed on a list of noteworthy vehicles on display at any automotive event. Bear with me, though, as this one is in very, very nice shape with a nice dark red exterior paint and voluptuous red velour inside. More importantly, though, this is the enthusiast-spec Caravan. That's right: under the hood of this baby lies the turbocharged version of Chrysler's 4-cylinder engine making 150 horsepower and 180 lb-ft of torque. That may not be much by today's standards, but it was more powerful than the base-level 3.0-liter V6 — and it had the same power rating and just 5 lb-ft less than the larger 3.3-liter V6.
With some aftermarket support, these vans are capable of becoming surprisingly quick. Making this particular van even more exciting, though, is that it's equipped with the even rarer 5-speed manual transmission.
Autozam AZ-1
Along with the two cars below, this would mark my first time seeing one of these in person. The AZ-1 was built between 1992 and 1994 by Mazda, it used a Suzuki engine, and it was sold as an Autozam only in Japan as part of their kei class small cars. In perhaps the ultimate expression of the economic bubble occurring in Japan at the time, this 3-cylinder turbocharged car that is 129 inches long (for reference, the NA Mazda Miata is 155 inches long) has, as probably its most prominent feature, gullwing doors. I have driven a Honda Beat before, which this is meant to compete against. Unfortunately, it was more expensive than the Beat and the Suzuki Cappuccino — and without the drop top and with an even more cramped cabin, sales were weak. The Beat and the Cappuccino both sold between 28,000 and 33,000 cars, while there were only 4,392 examples produced of the AZ-1. Obviously, they are significantly rarer and their price now does reflect that — so they're quite a bit more expensive than the others. That doesn't change the fact that I want one … or, at least, I want to spend a few hours on a tight, twisty road with one.
Citroen BX 4TC
The Citroen BX was just a simple family car from the 1980s. While they may have been commonplace in Europe, they are certainly a rarity here in the United States — so, just seeing any BX would've been interesting. This BX, however, is exceptionally rare everywhere, not just here. You see, in 1986, Citroen wanted to get in on the Group B rally scene, so they took a BX, turned the engine 90 degrees so it was mounted longitudinally instead of transversely, turbocharged it, and went racing. As per the rules, 200 of them were made for the street — but their lack of success in rallying and, perhaps rather obviously, reliability issues meant that they couldn't even sell all of them. On top of that, many of the 62 that were actually sold were bought back by Citroen and destroyed. Rarified air, indeed.
Volvo 480 Turbo
If you were to take a profile picture of this car and ask anyone who made this car, the last thing to enter their mind would be Volvo — but that doesn't change the fact that this is, indeed, a Volvo 480 Turbo. The car was intended to be imported to the U.S., but, the dollar was weak, and they decided not to. That doesn't change the fact that it's a great looking 3-door, 4-seat hatchback with a turbo and pop-up headlights. Unlike most every other Volvo at the time, these cars were made in the Netherlands — and this was also the first front-wheel-drive car offered by the manufacturer. This one is in exceptionally nice shape, it's left-hand drive, it has about 48k miles on it and it even boasts a manual transmission. To be honest, I had forgotten about these cars' existence for a while — but, seeing one in person has me thinking that I would love to have one someday! A cursory search on European ad sites would lead one to believe that they are very reasonably priced — and perhaps that means that more will make their way to this side of the pond.
So, if you are an automotive enthusiast born in the 1980s or early 1990s, five steps into a Radwood event and you'll realize that you are with your people. If you're outside that range, the atmosphere may be different from what one might expect from a car show, but I can't imagine anyone even remotely interested in cars couldn't find something worthwhile. Maybe there aren't many carbureted V8s running about, but I defy you to not admire a bright red short-wheelbase Audi Quattro or the effort and time that went into putting the heart of a Toyota Supra with a monstrous single-turbo into a Mitsubishi Starion.
What I'm really trying to say is: Go to Radwood. It was a great show, it was worth putting 1,000 miles on a rental car, and I can't wait to go back! Just let me know if you want me to bring your DeLorean down for you next year.
By day, Bill Leedy spends his time selling used cars to folks throughout Vermont and the Adirondacks. By night, he attempts to fight crime and write things about cars (he does one of those things better than the other). He can also be found on YouTube, Facebook, and Instagram under the name Green Mountain Car Guy.
MORE FROM OVERSTEER:
Video | The Subaru Baja Turbo Is a Weird Sporty Subaru Truck
Video | Here's Why the Toyota FJ Cruiser Should Make a Comeback
Autotrader Find: 1992 Volvo 240 With 70,000 Miles