Car News
Infiniti Electric Car Faces Significant Marketing Hurdles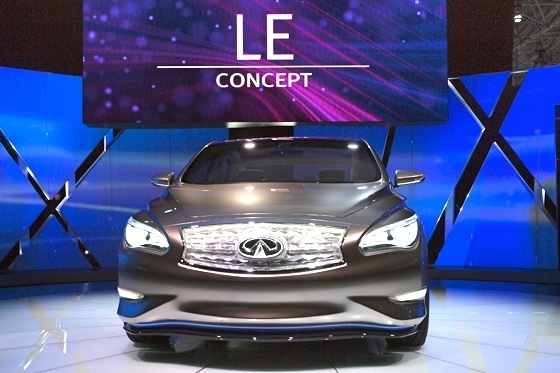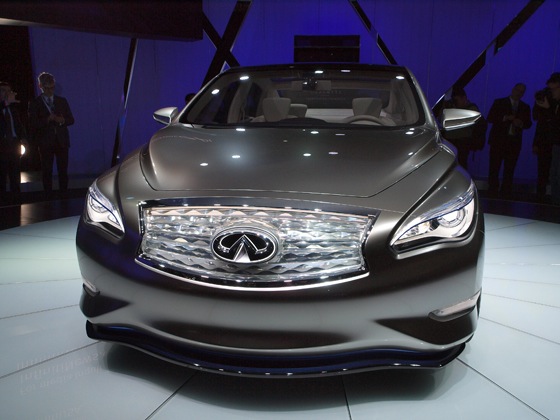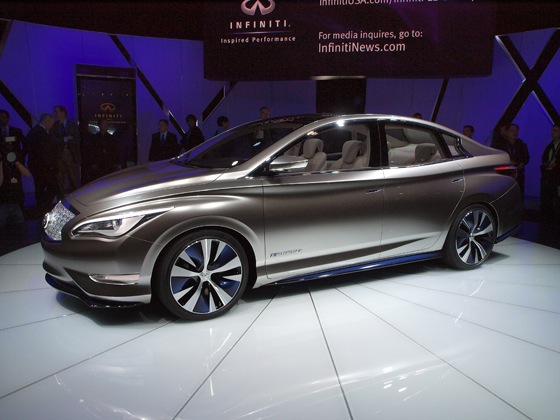 Design meant to be iconic and unique, but not EV-like
Same range as Nissan Leaf may be turn-off to luxury buyers


Over the next two years I'll be representing AutoTrader.com as an "Infiniti EV Insider" in the run-up to the eventual delivery of the production Infiniti EV to consumers in early 2014. As part of a small panel, we'll be given periodic exclusive updates and inside access to the major issues, successes and hurdles the Infiniti EV team has encountered.
I recently had a chance to catch up with Andy Palmer, Nissan/Infiniti's Executive Vice President, and Denise Barfuss, the Infiniti EV Marketing Manager, during the 26th Annual Electric Vehicle Symposium in Los Angeles. We discussed what they view as some of the major design and marketing considerations during the early development of the Infiniti LE concept as it morphs into the Infiniti EV production car.
While vehicles like the Toyota Prius have had great success in the marketplace, much of that car's instantly recognizable design has turned into an incredibly polarizing agent throughout the world. While Nissan has chosen to do a similar thing with the Nissan Leaf, the luxury buyers of the upcoming Infiniti EV are a different group. Building a vehicle that is electric-only with such a distinct design could risk turning them off, but Infiniti thinks it has struck a good balance between uniqueness and luxury.
"A lot of the design language used on the LE concept is the same design language we're using on all of our new cars," says Palmer. "It's true that the LE design language will have some detractors - some people will love it and some people will hate it. It's more extreme, it's more sexy and it's more sensual. You may get a situation where older buyers reject something like that, but Infiniti has always been aimed at the young luxury customer as its core market."
"I hope we get to the point where this car is so familiar, so well known, so desired and purchased so much that we have to worry about it being a polarizing vehicle," adds Barfuss. "At this point we've done the best we can to bridge both the EV world and the luxury world. If we simply made a car that was an Infiniti G, for instance, that had an electric platform but didn't have unique styling, there would be many customers that said it wasn't making the statement they want about their core values. Those are the customers we're aiming at with the LE Concept. We wanted to make an iconic vehicle that didn't scream 'I'm an EV' but that was uniquely recognizable from everything else."
While the LE's look and feel is certainly unique and doesn't have any hint of the "bubble-like" compact design language of what many people associate with EVs, there are other concerns that luxury customers may think about considering an electric car.
For instance, the Infiniti LE Concept is based on the Nissan Leaf platform and shares virtually the same battery pack. It has a much more powerful electric motor to provide a more engaging driving experience, but through improvements in aerodynamics and the inclusion of lightweight materials such as aluminum body panels, Infiniti says it has retained the same driving range as the Leaf - which the EPA certifies at 73 miles per full charge.
It remains a question if that kind of range will be enough for demanding luxury customers who have the money to spend on bigger battery packs - something Tesla, Infiniti's most direct EV competitor, has taken into consideration by offering multiple sizes of battery packs. From Infiniti's perspective, they believe their experience with the Leaf is a good indicator that luxury buyers will accept a range of 70-90 miles per charge as adequate.
"As far as luxury customers wanting more range, that debate will rage on," said Palmer. "Most of the customers of the Leaf fall into the luxury buyer category but they buy the Leaf because they don't have a luxury choice - which may tell you something about their acceptance of the Leaf's range. Time will tell whether it's right or not, but our emphasis has been on reducing the cost of the battery to make it more attainable to more people."
What it means to you: If you're interested in an electric car, but have held off because the current crop of choices aren't luxurious enough or have uninspired designs, the upcoming Infiniti LE is geared towards you.