I got engaged last August. Precisely four seconds after my wife said yes, I started thinking about how I might get Jeep to loan me a Gladiator for the big day.
Of course, the Gladiator wouldn't even be formally revealed to the public for another three months. But all I had to do was ask really, really nicely — and a few days before our wedding, a white 2020 Jeep Gladiator Rubicon was dropped off at my house.
While the coolness factor played a major role in my requesting the vehicle, I had some practical reasons for wanting a Gladiator, too. My wife and I held our wedding in a tiny town outside of Grand Staircase-Escalante National Monument in southern Utah. We had the ceremony on Friday so that we could go adventuring with our out-of-town friends and family on Saturday, which meant the opportunity for some off-road driving — and given that we more or less DIYed a wedding in the middle of nowhere, we had loads of stuff to haul down from Salt Lake City, set up and haul back when the weekend was done.
The Gladiator was made for this.
Hauling Stuff
For whatever reason, I assumed that the Gladiator had unlimited cargo space around back. (And this was actually my third time behind the wheel of one.) I often get stuck in this mindset when it comes to midsize pickups. Of course everything will fit, I figure — we have a truck.
In reality, though, this is nowhere near the case. Sure, there's no roof over the rear cargo area, but space in these trucks is still pretty limited. Part of the reason I asked for a Gladiator for my wedding was that we had loads of stuff to haul down: vases, candles, lights, linens, dogs. You name it, we had to bring it. The night before we were set to head down, we figured that we'd better go out and eyeball the bed of this thing just to make sure we'd be able to fit everything in it.
Boy, were we off.
Out of all of the stuff we had planned on hauling down in the bed, in actuality, the Gladiator's modest five-foot box ended up being able to hold only about a third of it, while we managed to pack maybe another third into the truck's second row — but friends and family had to be enlisted at the last minute to haul down the rest. I know I'm speaking in broad generalities here, but the moral of the story is that these midsize trucks aren't necessarily the gear-swallowers many believe them to be.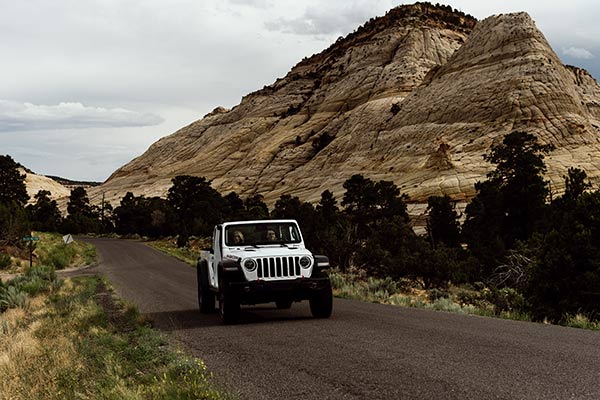 Road-Tripping
Our wedding venue was along Highway 12 in Southern Utah, about four hours south of Salt Lake City. To get there, we did about an hour and a half of freeway driving at around 80 miles per hour, and then about two and a half hours of driving at lower speeds on two-lane backcountry roads. On the highway, the Gladiator can be a little sketchy, largely due to its solid front axle. Due to ongoing construction, there are several sections of the I-15 freeway heading south out of Salt Lake City that are both uneven and require quick lane changes due to re-routed traffic patterns. While it wouldn't have been pleasant in any vehicle, in the Gladiator, these maneuvers were a white-knuckle affair. Once we were through the densely populated areas though and on to quieter backcountry roads, the Gladiator really wasn't so bad. The off-road suspension has its benefits on-road as well, and with creature comforts like heated seats, a heated steering wheel, blind spot monitoring and a great infotainment setup that even includes USB-C ports, the Gladiator is hardly any worse to road trip in than something like a Toyota Tacoma or 4Runner. It even feels a little more stable than the Wrangler on which it's based, mainly due to its added length.
Looking Cool
While the Gladiator served a practical purpose on this long-awaited weekend, it's also one of the most exciting vehicles out there, which in turn served to add to the excitement of the day. If you look at any of these photos (which were taken by our extremely gifted friend and wedding photographer @AlyssaSorensenPhoto), it becomes immediately clear that the Gladiator passes the coolness test. Just look at it against the pale yellow rock of the Grand Staircase. The last thing I did before getting ready to walk down the aisle was remove the Gladiator's roof and doors; which served as a good way to get centered and relieve any last-minute anxiety about the wild ride on which I was about to embark. The fact that this is so simple on the new Gladiator and Wrangler certainly helped; from start to finish the whole process can be done in about 20 minutes, as long as you've got an extra set of hands to help you remove the rather large rear roof piece. With the Gladiator in full beach buggy mode, I could now turn my attention to the main event.
Going Off-Road
The Gladiator rules off-road. On the day after the main event, I took it down a long flowy dirt road that I've now tackled in a modern Toyota Land Cruiser, a new Ford F-150 Raptor, a Honda Passport and a Jeep Grand Cherokee. I was a little worried that the Gladiator's solid front axle would make for a jostling trip over the washboard surface that covered much of the road, but I was pleasantly surprised by how planted everything felt, and the Rubicon-spec Fox shocks devoured the bumps just like they would in a Tacoma TRD Pro, with its independent front suspension.
Also, like any responsible individuals would do, we left the roof and doors off for this excursion — and we were a little surprised by how mellow it was inside the 'cabin' while barrelling down this moderately-maintained dirt road. Contrary to what you might think, driving fast off-road in a roofless, doorless Jeep does not result in the cabin being engulfed in dust. It's only when you slow down and come to a complete stop that the dust cloud overwhelms you and coats the cabin in a faint orange hue.
Conclusion
The Jeep Gladiator is probably the most toy-like vehicle on sale today, but this comes at a cost — literally and figuratively. It's a little louder on the highway given its boxy proportions and removable roof and door panels, and it's not much of a handler when the road gets curvy — and it's a little rougher than your average vehicle when it comes to day-to-day use. Still, the roof comes off, the doors come off, and the windshield can be folded down, it offers an impressive array of available features, and it's capable of driving just about anywhere and over almost anything. All that considered, and it becomes pretty easy to ignore this thing's minor shortcomings. What might be harder to ignore, though, is the Gladiator's price: as equipped, this one came in at a rather alarming $61,000. Jeep knows it's got a hit on its hands, and it isn't giving away all this versatility for free. Still, whether a pickup that's also an off-roader that's also a convertible that's also a beach buggy is worth that kind of coin is up to you. After putting one through its paces during my wedding weekend though, I can tell you one thing for sure: It beats the hell out of a limo. Find a Jeep Gladiator for sale
Chris O'Neill grew up in the Rust Belt and now lives in Salt Lake City, Utah. He worked in the auto industry for a while, helping Germans design cars for Americans. Follow him on Instagram: @MountainWestCarSpotter.
MORE FROM OVERSTEER
Autotrader Find: Imported 1988 Toyota Land Cruiser
5 Great Work Trucks That Aren't Pickups
5 CPO Luxury SUVs That Are Getting Affordable