By now, you've heard all about Fiat Chrysler's Hellcat engine. It's a 6.1-liter supercharged V8 that puts out 707 horsepower. In the Jeep Grand Cherokee Trackhawk, that's enough to send 5,200 pounds to 60 miles per hour in 3.5 seconds. We've all seen the numbers.
But here's the thing. Those are just numbers. Numbers don't tell you the whole story — they're just something we use to conveniently compare cars. The sensation of seven hundred and seven horses being converted into forward motion is something that you cannot fathom theoretically. You can't say, "My GTI has 200 horsepower, so it's like three and a half times … more." No — horsepower isn't something that you can approach mathematically.
Instead, you have to experience it firsthand.
When I first got in the Jeep Trackhawk as a passenger at a press event, it felt like a loud Grand Cherokee. It felt mostly tame, it felt comfortable, it felt familiar. You could easily road trip very comfortably in the Trackhawk. Then Josh Taylor from Right Foot Down accelerated briefly after a light turned green. It was like we dabbled in hyperspace for a second: I thought we were going to end up in the rear of the Giuila in front of us. When we first used launch control, I was sitting in the back writing something. My hand was flung back against the seat — and once the run was over I couldn't stop giggling. When I got behind the wheel myself, it was an incredible feeling to have that much power resting under my foot. The Trackhawk's acceleration is brutal and instant. I don't know if you could ever get used to having that much power just driving around in a normal vehicle. The only thing I can relate it to is those roller coasters that launch you from a stand still.
Honestly, I can now judge my time as an automotive enthusiast in terms of BH and AH: Before Hellcat and After Hellcat. That's because 707 horsepower is life changing — and the sensation of acceleration has been completely redefined. Will Byrd previously asked if a Jeep Trackhawk is worth almost a hundred grand, but my question is different: is a big dose of dopamine and adrenaline on demand worth a hundred grand? I think it might be. Find a Jeep Grand Cherokee for sale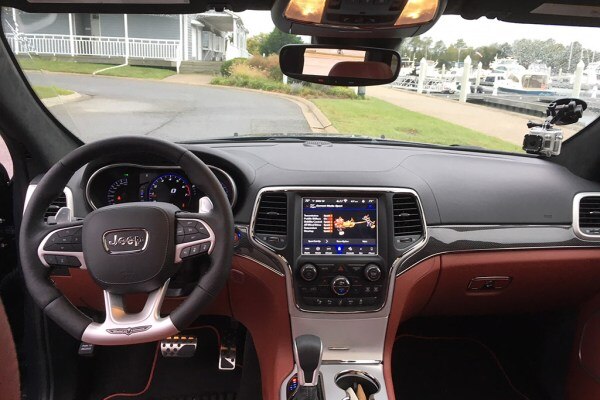 MORE FROM OVERSTEER:
Video | Here's Why the Kia Stinger GT Is Worth $50,000
Daytime Running Lights Are a Good Thing. Or Are They?
Mazda Has Used 4 Different Logos Since the 1980s