Car News
Johnson Wins Rain-Soaked NASCAR Race at Bristol, Logano Wins Coolest Vehicle(s)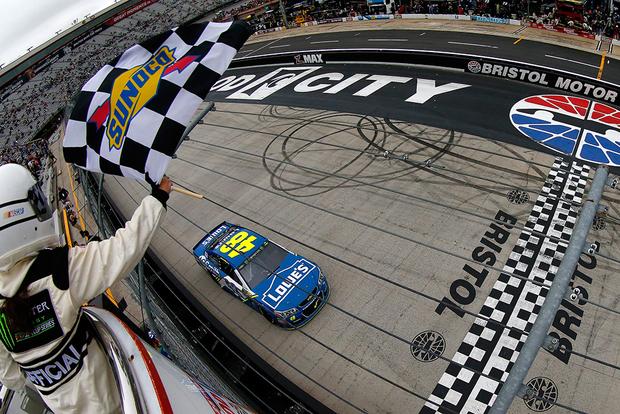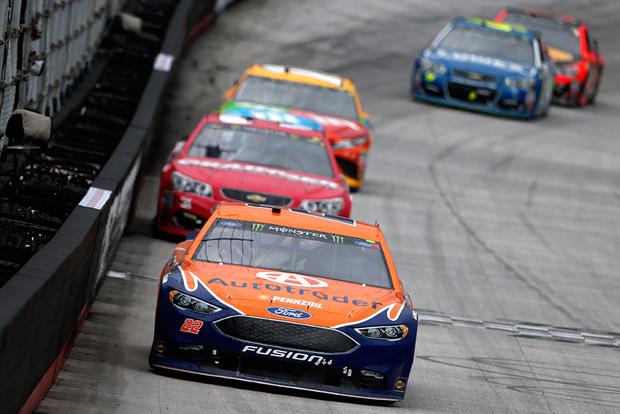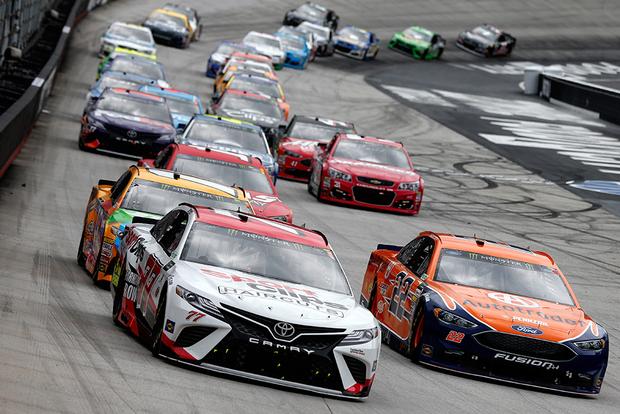 Jimmie Johnson is sneaky.
At the last race of the 2016 season in Miami, Johnson hung around long enough to capitalize on a wild ending to win his 7th NASCAR Cup Series Championship.
On Monday, Johnson quietly led 81 laps and won the rain-delayed Food City 500 at Bristol MotorSpeedway, his second consecutive win and the 11th time in his career he's won back-to-back races.
Less than a month ago, after only a single top-10 finish in the season's first eight races, the hot topic in NASCAR was the question of what Johnson and his #48 car had left in the tank.
Suddenly, he's tied with Brad Keselowski with a series-leading two wins and is sixth in the points standings.
The win was the 82nd victory of his career, the seventh most in NASCAR history. Johnson's next win would tie him with Cale Yarborough for sixth all-time, while two more wins would tie him with Bobby Allison and Darrell Waltrip for fourth most.
The final stage of the race became a showdown between Johnson, Martin Truex Jr., Kyle Larson, Clint Bowyer and Joey Logano. Even though he didn't win, it was also a solid outing for the #22 Autotrader machine.
Logano led 72 laps (fourth most of the field), and his 48 points were the most he's accumulated in any race this season. He currently sits in fourth place in the Monster Energy Series, 14 points ahead of Penske teammate Keselowski.
During my three days at Bristol, all it did was rain -- the only exception coming during a few hours on Saturday afternoon, when NASCAR was able to squeeze in the Xfinity race won by Erik Jones.
So what can you do to pass the time while the Air Titans do their thing on the track? Hang out with Joey in his boss Roger Penske's personal bus and ask him several questions.
Joey steered the conversation to motorsports and driving, starting with his description of an amphibious vehicle he owns that would have been perfect for the conditions at Bristol.
Then we talked about his marriage escape vehicle (a '59 Cadillac convertible which is available on Autotrader right now), and how it ultimately became a custom desk for his office after he fell prey to an online scam, ordering and paying for a desk that never showed up.
Joey lamented how off the track he is more than just the bright-orange Autotrader fire suit, how he gets car sick whenever he's the passenger in a car and how he recently ran over a possum and didn't feel that bad about it because they're so ugly.
The weekend at Bristol marked the culmination of Autotrader's head-to-head charity challenge #Speed4Need, a competition between Logano and Keselowski in a series of speed challenges via Facebook. The campaign raised a total of $23,500 for charity.
You can learn more about Autotrader Team Penske drivers and view the full challenges at Speed4Need.com.