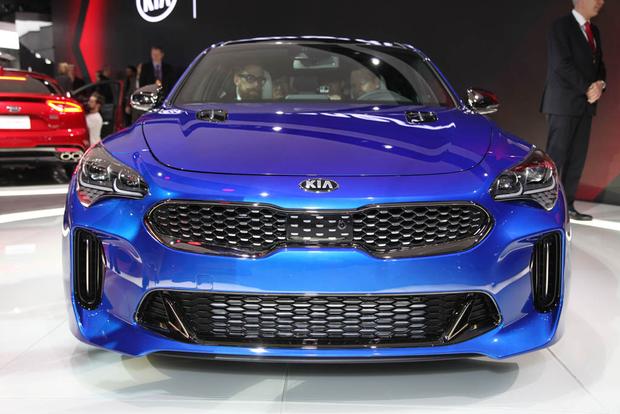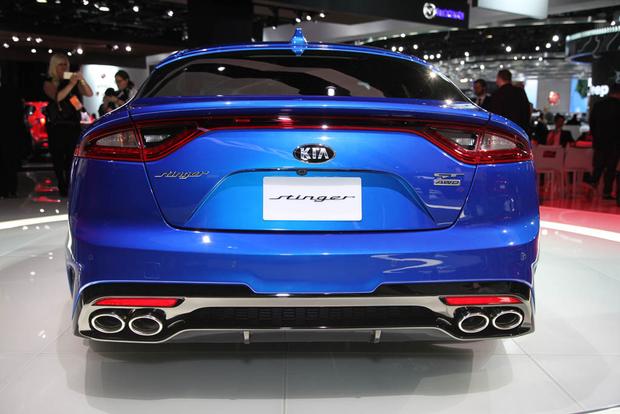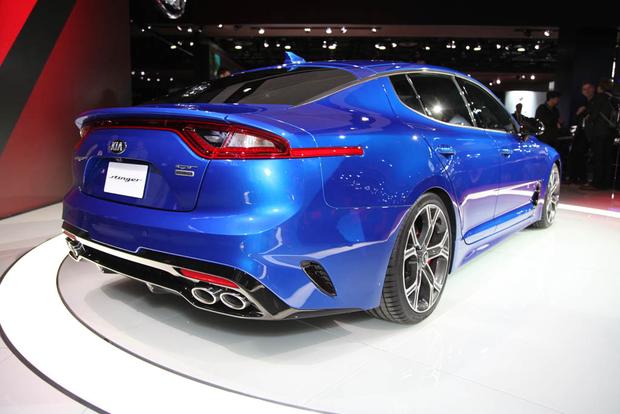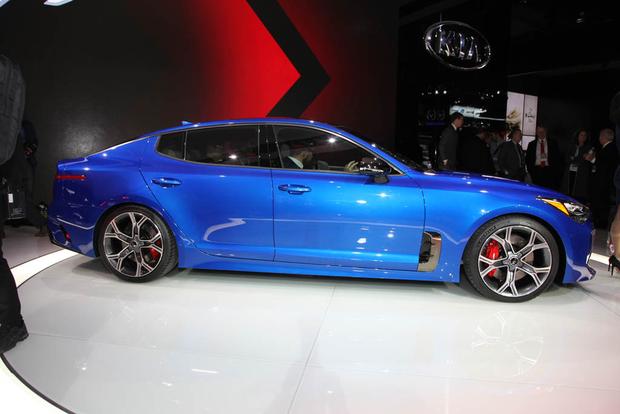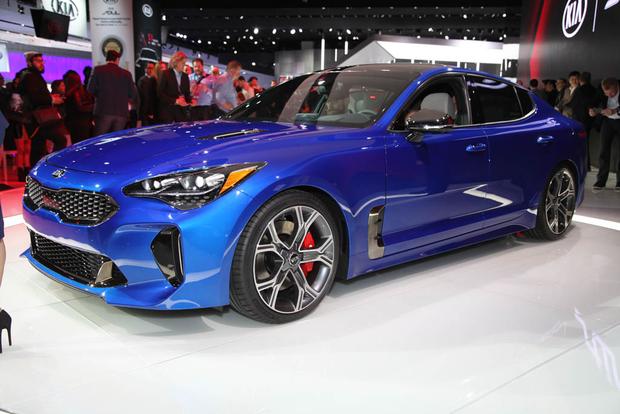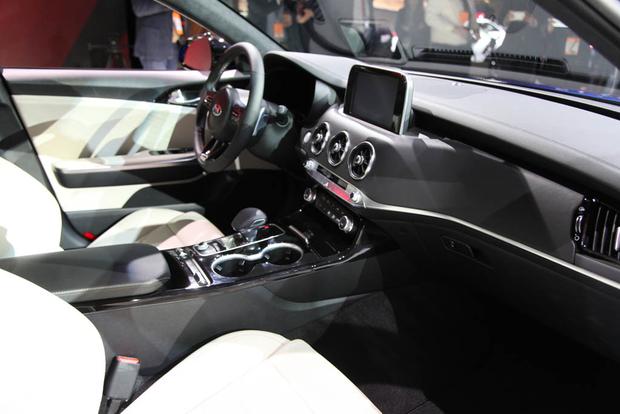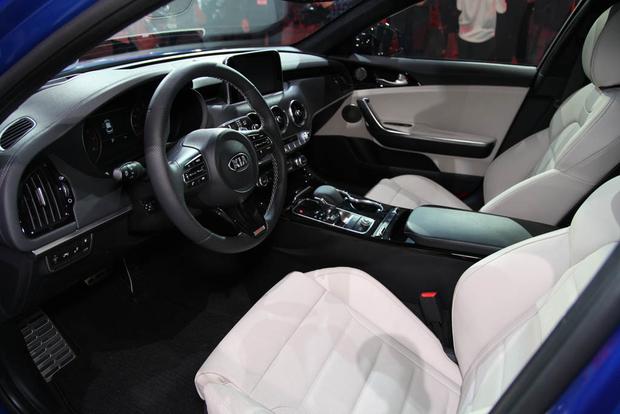 What Is It?
Maybe the biggest surprise at this year's Detroit Auto Show is the Kia Stinger GT, a sporty rear-wheel-drive sedan with gorgeous styling, a muscular powertrain, an excellent interior and performance that may rival the best models from upscale German brands.
We'll start with the exterior, as that's probably the Stinger's most exciting feature. While most Kia models are handsome, if not a little staid, the Stinger GT offers a bold, muscle-sedan-like appearance, with an overall design that seems to combine some of the BMW 4 Series Gran Coupe and some of the Dodge Charger. The wide-mouth grille opening, huge wheels and sloping rear end are all impressive -- and this isn't a concept car. All of these details will make production.
The Stinger GT also delivers an impressive interior, touting excellent materials and a simple, restrained center control stack with an infotainment screen that pops up over three central climate vents. Although final interior dimensions aren't yet known, we do know the Stinger GT uses a rear liftgate instead of a more traditional rear trunk. It also stands at 190.1 inches in length, making it close in size to the Infiniti Q50.
Under the hood, the Stinger offers two options. Base-level Stinger models will use a 2.0-liter turbocharged 4-cylinder engine, which makes 252 horsepower, while the more muscular Stinger GT will tout a 3.3-liter twin-turbocharged V6 with 365 hp and 376 lb-ft of torque. Base models will scoot from zero to 60 in 6 seconds, while the GT will make the run in 5 seconds flat. Rear-wheel drive is standard, and all-wheel drive is optional -- but an 8-speed automatic is the only transmission choice.
How Much?
Kia hasn't yet announced pricing -- and we're really not sure what to expect. With rivals starting in the low- to mid-$40,000 range, we could see the base-level Stinger starting in the high-$30,000 range, with GT models well over $40,000.
When Can You Get It?
Late 2017
Add It to Your Shopping List Because...
It's probably already obvious why you should add the Stinger to your shopping list: gorgeous styling, an upscale interior, rear- or all-wheel drive, a performance-oriented driving experience and a raucous 365 hp in top-spec "GT" trim. Probably the Stinger's only drawback for most shoppers is its Kia badge, which won't equal the high-end nameplates on rival models from Audi, BMW, Cadillac and Mercedes-Benz.
Other Cars to Consider
Audi A5 Sportback -- Long confined to foreign markets, the latest version of the Audi A5 Sportback will reach U.S. shores soon. It's a handsome car with an equally handsome interior -- though it doesn't offer the Stinger's rear-wheel drive or monstrous optional engine power.
BMW 4 Series Gran Coupe -- The 4 Series Gran Coupe is a handsome hatchback that boasts rear- or all-wheel drive, like the Stinger. It boasts a stronger brand name, but not the Stinger's power: The Gran Coupe has just 320 horses in top-level 440i trim.
Chevrolet SS -- Although the SS is a bit bigger than the Stinger -- and not a hatchback -- it's still a luxurious performance car from a brand that doesn't quite have the name recognition of Kia. Drivers who want optimal performance without worrying about brand name will want the SS on their shopping lists, too.
Used BMW M3 -- While the 440i Gran Coupe can't quite deliver the muscle of the Kia Stinger GT, a BMW M3 -- with 425 to 444 horsepower, depending on configuration -- certainly can. Prices are high, though, so you'll probably have to consider a used one in order to get it into Stinger GT territory.