Are you looking for an $85,000 performance sport sedan that isn't the Cadillac CTS-V? Do you think the German brands have become a bit passe? If so, then look no further than the Lexus GS F — a genuinely good performance sedan.
The Lexus GS F may not be the fastest of the performance sports sedans in a straight line, but it's certainly fast enough: Under the hood is a naturally aspirated 457-horsepower 5.0-liter V8 that's mated to an 8-speed automatic transmission, allowing it to sprint to 60 mph in about 4.4 seconds. Even though its main rivals are able to do zero to 60 in under 4 seconds, the Lexus GS F is still wildly capable of getting you in trouble if you aren't paying attention. The power makes on-ramps a particular joy — and unless you're an absolute speed freak, it should be plenty of power for you. See the Lexus GS F models for sale near you
More importantly, the GS F's V8 is also really loud (in a good way), even in the "comfort" drivetrain mode — and in dynamic, it's even louder. It's a strange phenomenon to be driving a loud Lexus, but car enthusiasts will appreciate it. With that said, a lot of this sound is artificially enhanced inside the cabin, as is so often the case these days. As for handling, the GS F is far nimbler than you'd expect a 4,200-pound car to be. It's quite lively in the turns, and it's a genuine joy to drive quickly. In a sentence: You will find yourself smiling while driving this car.
Inside, the GS F gets carbon fiber trim everywhere — and I'm starting to think it's time for this fad to die. Yes, the GS F is sporty, but I really don't think a liberal smattering of carbon fiber adds anything to the visual appeal of an interior unless you're driving something that could be considered a supercar. These trimmings of sportiness also carry over to the gear selector, which teases us by looking like a manual shifter — but it has "PRND" printed next to it. Unfortunately, in today's world you can't really blame Lexus for that decision — we can only blame ourselves. Otherwise, the seats are firm but comfortable, and the dash is crowned by a really good-looking clock. I'm a complete sucker for analog clocks in cars.
All in all, the GS F is a great choice if you want something fast. It's much stealthier than its competitors, which is a desirable trait, especially when you have 457 hp at your disposal. Sure, it's not as fast as the competition — but the GS F's $84,900 base price also makes it cheaper than virtually all rivals. More importantly, it's fun, it's fast, and it sounds great — and that makes it an option worth considering for those in the market for a performance sport sedan, even in spite of the "L" badge on the front. Find a Lexus GS F for sale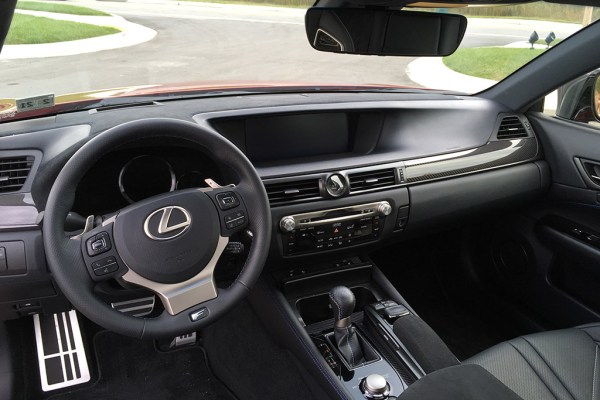 MORE FROM OVERSTEER:
This Is an Actual Working Pickup Truck Made out of Ice
I Took My Porsche 911 With 243,000 Miles to the Drag Strip
I Taught My Friend to Drive Stick Shift in My Dodge Viper (And Then It Broke)