Classic British cars are special vehicles. These tiny sports cars had their heyday in the 1950s and '60s, racing in the 24 hours of Le Mans and carrying on the motorsport tradition that began at the start of the 20th century. They gained popularity after World War II amongst American servicemen, and developed into a market under England's "export or die" policy, emphasizing exports as a main economic driver. While Jaguars are the most mainstream of the lot, Austin-Healeys, MGs and Triumphs are the lesser-known but still common sightings in the moneyed beach enclave of the Hamptons.
Classic British cars are known for their mechanic simplicity. Easy to work on, and nearly every conceivable part is still manufactured to this day. Although simple, classic British cars are not known for their reliability or durability. Corrosion has taken its toll on many surviving examples, necessitating replacement floorpans, body panels and many other structural components of these cars. If not garage-kept, these cars will simply turn to dust, and before you know it, you'll be using your feet to stop like Fred Flintstone. Despite these challenges, there is quite a contingent of them with owners committed to keeping these lightweight sports cars on the road. British sports cars are a perfect match for the Hamptons, as they remain garaged throughout the year, and can be seen on sunny warm days taking a quick jaunt to town or the beach.
Austin-Healey 3000 (Photo by Alexander Dijulio)
Of the classic British cars, I love the look of the Austin-Healeys. The sheetmetal design is very clean, and I love the grille and the uptick in the body above the rear wheel well. In 1952, the Austin-Healey 100 was introduced, aptly named for its ability to reach 100 miles per hour — a major feat of the time. They are distinguished by a large smiley trapezoidal grill and an occasional 2-tone paint job. While initially equipped with a 4-cylinder engine mated to a 3-speed transmission, later offerings had a revised front end and an inline-6 engine with a 4-speed. In 1959, the Austin-Healey 100 was renamed the 3000. The later 100s had a revised grill and were considered a stepping stone to the aesthetics of the 3000. Built from 1959-1967, 42,000 Austin-Healey 3000s were produced and roughly 75 percent were built for export to the United States. Only 5,000 models were built for the United Kingdom, making them more of a rarity at home.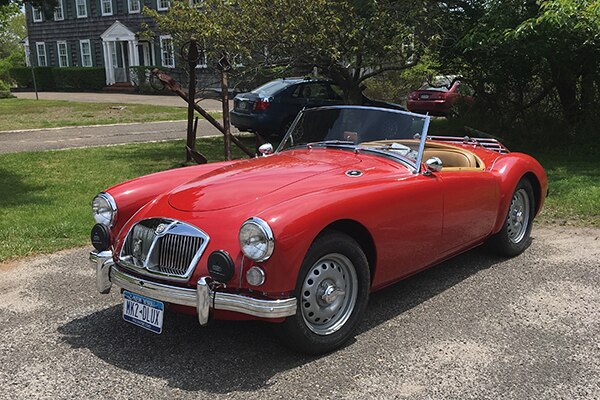 MG MGA MK2 (Photo by Joan)
Morris Garage (MG) is a British car manufacturer that opened its doors in 1924, producing coachbuilt 2-and 4-seater touring cars. Their cars carried a distinct pre-war look that consisted of straight body panels and wide running boards well into the 1950's with the MG TD & TF models. While the veteran-car look of the TD & TF has grown on me over time, the MGA is significant because it ushered in a new streamlined design language to MG's offerings, and was a precursor to their most popular model, the MGB. While I personally do not love the MGB, especially the later version with a mostly rubber front fascia, I do like their Pininfarina-designed shooting-brake version called the MGB GT seen below. Above is a MGA that was captured by my girlfriend near the beach in Amagansett.
MG MGB GT
Did you know that Triumph once made cars? Although their marquee is only lended to motorcycles these days, Triumph produced automobiles beginning in 1923. Of the cars they produced, the TR3 (produced from 1957-1962) is a personal favorite of mine. My father owned one at 19, and occasionally pulls out a black-and-white photograph of it during family dinners. He often tells the story of how he drove by a junkyard and found a hard-top that got him through Ohio winters while in college. I'm certain his affinity for the Triumph TR3 has rubbed off on me, as I long to one day own a model like his own. This modern shown is referred to as a "small mouth," as later models were equipped with a much wider chrome grille that spans the entire front end.
Classic British cars call the Hamptons home because they purely exist for show. They're light and fun to drive, and on paper they're underpowered, unsafe and unreliable. While every modern automobile sold in the United States can hit 60 in under ten seconds, classic British cars are all on the latter end of the spectrum. However, in an open-topped vehicle from the late 50s with optional seat belts, I bet that feels pretty darn fast … and stylish.
MG TD