Car News
Midsize Pickup Matchup: Frontier vs. Tacoma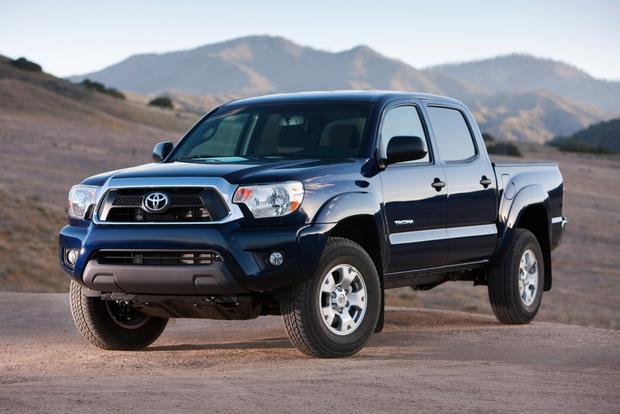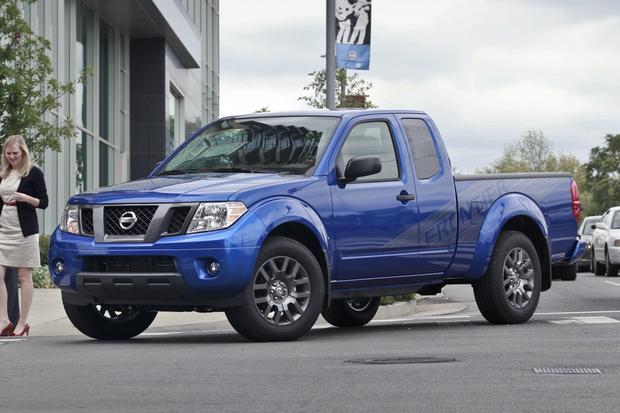 If in the market for something smaller than a full-size pickup, the available choices aren't exactly expansive. News that GM will continue to offer Chevy's Colorado is good for the midsize buyer, but the General is currently a bit player on that midsize stage. Most consumer attention is commanded by the 2012 Toyota Tacoma, while Nissan's scrappy Frontier fights for the leftovers. With the cost of fuel once again going up, however, and an aging population considering an occasional-use truck for perhaps the first time, 'midsize' might just become the 'right size'.
Similar but Different
While examining a spec sheet you could think the Nissan and Toyota are two nearly identical peas in an extended-or-crew cab pod. Both offer standard inline fours or available V6 powertrains, 2WD or 4WD and curb weights between 3,500 and 4,500 pounds. And while the footprints of both are considerably smaller than the full-size alternatives, like most things automotive, these one-time compacts suffer from waistward expansion. Park today's Tacoma beside its immediate predecessor and you'll think it's a before-and-after comparison from the Biggest Loser.
Outside, Toyota's Tacoma is the more bulked-up than Nissan's Frontier, its flared fenders extending some two inches beyond the more tucked-in visage of the Nissan. Subjectively, we find the Tacoma's sheetmetal a tad overdone, while Tacoma fans will regard the Frontier's curves (or lack of same) as undercooked. Both vehicles, when separated from their 2WD work truck roots, have an on-road/off-road presence, one more athletic than most trucks wearing a full-size profile.
Interior Spaces
Inside, the Toyota is again the 'fashionista', with a contrast drawn between its upper and lower dash panels, car-like cloth upholstery and more surfaces crafted from soft-touch plastic. In contrast, the Frontier is fully functional, but there's a cheapness to the surfaces more appropriate to the company's Versa than a $30K PRO 4-X pickup. We did, however, like the Frontier's steering wheel, covered in perforated leather and with an ergonomic shape. The upper/lower glove box works well, with areas for the clean stuff (upper) and dirty stuff (lower). When the road ends, you never know what you might need...
Available Power
Under their hoods you'll find the option of a four cylinder engine or torque-laden V6. The Frontier's 2.5 liter four is good for 152 horsepower and 171 lb-ft of torque, while the comparable Tacoma mill offers 159 horsepower and 180 lb-ft of torque from its 2.7 liters of displacement. Opt for the V6 variants and both deliver 4.0 liters. However, the Nissan trumps the Toyota by 25 horsepower (261 vs. 236) and 15 lb-ft of torque (281 vs. 266). But then, with a fully boxed frame and approximately 150 more pounds to propel, the Frontier can put the extra power and torque to good use.
Road Manners
On the road, both Frontier and Tacoma are adequately comfortable and reasonably composed. If going off road you'll find both are accomplished as well. Still, the aftermarket is friendlier to the Toyota; the Tacoma is better established in North America's outback, and has the aggressive support of Toyota's TRD behind it. And while Nissan's PRO 4-X package moves the off-road needle on the showroom, Toyota is prepping a desert package reminiscent of Ford's racing Raptor which will, once again, up the ante.
Like their full-size counterparts, pricing for the Tacoma and Frontier are remarkably close. Although not directly comparable, a 'Special Value' Frontier Crew Cab (4X2) with a $1,700 Premium package, iPod interface and mats was just under $28,000. Walk over to the Toyota showroom and its PreRunner 4X2 was just over $27K. Historically, the Tacoma will enjoy significantly better resale, but both trucks can be driven 'til they drop.
While Ford considers a replacement for its discontinued Ranger, and Jeep enthusiasts continue to bang the drum for a Wrangler-based pickup, Nissan's Frontier and Toyota's Tacoma represent the cream of this particular crop. Their specs remain stone-axe basic, but their capabilities will typically exceed those of their core constituents. And in a consumer society seemingly overwhelmed by the disposable, these are trucks you can pass along to your (not yet born) children.