Mitsubishi was on a roll in the 1990s. It had the Eclipse, the 3000GT, the Montero. Even the Diamante got people a little excited. When I was growing up in the '90s, though, my favorite SUV was the Mitsubishi Montero Sport. When I saw one at a red light a while back stopped next to a Toyota 4Runner, the Montero Sport's biggest competitor during its era, I suddenly felt a strong compulsion revisit this forgotten SUV.
Compared to the 4Runner, I've always thought the Montero Sport had a much better overall design, from its narrow front grille and headlights to its low-slung, rectangular greenhouse to its single-bar rear taillight. All of its angles are right angles, or at least close to them, in line with Mitsubishi's truck and van design language from the era.
The Montero Sport was built on the same platform as the second-generation Montero, although it measured 7 inches shorter, 7 inches lower in height and was roughly 500 to 1,000 pounds lighter. Two different engines were available: Base models used a 2.4-liter 4-cylinder making 134 horsepower, while the engine you wanted was the 3.0-liter V6, which made 173 hp. Needless to say, power wasn't the priority here. A face-lift for 2001 neutered the look a bit, and I much prefer the 1997 to 2000 models. For 2001, the Montero Sport also swapped its rear leaf spring suspension for a coil sprung setup.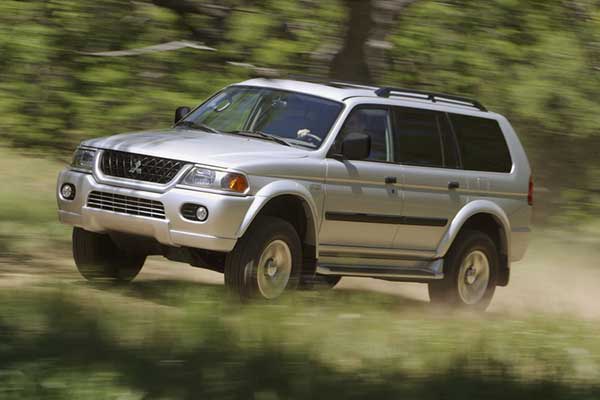 The Montero Sport lasted just one generation here in the United States, replaced in 2004 by the Endeavor crossover, which shared its underpinnings with the Galant and Eclipse. As it's a body-on-frame SUV with a solid rear axle and true low-range 4-wheel drive, a used Montero Sport would make a good off-road build, and examples now sell for significantly less than a comparable Toyota 4Runner.
Right now on Autotrader there are 41 Montero Sports for sale. Eleven are earlier 1997-2000 models, while the rest are updated 2001-2004 examples. Two-wheel drive was offered, and only around half listed on Autotrader come with 4WD. The most expensive 4WD models are priced at around $6,000, while the cheapest are $2,000. If I had to pick one, I'd go with this 1998 model, which is listed for $2,985 and comes with 157,000 miles on the odometer. It meets all of my requirements — it's a pre-2001 example, it comes with 4WD, and it packs the V6.
So there's your refresher on the Montero Sport. Let me know in the comments if you think it's as cool as I do. Long live the Mitsubishi Montero Sport! Find a Mitsubishi Montero Sport for sale
Chris O'Neill grew up in the Rust Belt and now lives in Salt Lake City, Utah. He worked in the auto industry for awhile, helping Germans design cars for Americans. Follow him on Instagram: @MountainWestCarSpotter.
MORE FROM OVERSTEER
Video | My Cheap Ferrari 348 Gets the Most Expensive Exhaust
5 of the Coolest Hummers for Sale on Autotrader
Autotrader Find: 71,000-Mile 1991 Alfa Romeo 164S