A few months ago, I began pestering my editors here at Oversteer to send me to this year's Moab Easter Jeep Safari, the largest gathering of Jeeps in the country. It takes place every year in Moab, Utah, during the week leading up to Easter Sunday. Now in its 52nd iteration, the Easter Jeep Safari is one of Moab's biggest events of the year — and it draws attendees from all over the country with Jeeps of all shapes and sizes from every era of the brand.
The first Moab Easter Jeep Safari was started in 1967 by the local Chamber of Commerce as a way to drum up tourism for Moab. During these early years, the festivities revolved around one trail, in the area south of town now known as "Behind the Rocks." On the Saturday before Easter, attendees would set out onto the trail in their Jeeps early in the morning with guidance from employees of the Chamber of Commerce. The Jeepers would spend all day on the trail with a break for lunch, which was provided, after which they were treated to ice cream dropped by airplane for dessert. Simpler times.
Over the years, Jeep Safari grew and grew, leading up to what it is today — a 9-day celebration of the Jeep brand incorporating over 125 trails and several thousand Jeep owners who descend upon the small, 5,000-person desert oasis that is Moab.
Starting in the early 2000s, the Jeep brand thought it would be a good idea to get in on the fun — and so Jeep began bringing a litter of off-road concepts to Jeep Safari, along with a whole fleet of production vehicles. They use the opportunity to indoctrinate their young employees within their design and product teams, encouraging everyone to immerse themselves in the Moab experience. They also use Moab for new-product testing throughout the year, benchmarking performance on the trails, so it's safe to say that Moab is in the DNA of every Jeep product.
Every year they also invite a few journalists to come along and experience the event. Lucky for me, Autotrader got an invitation this year.
I'd been looking forward to the event for a few months, but I still wasn't sure what to expect as I was leaving Salt Lake City to make the three-and-a-half-hour drive to Moab. It's an easy drive, but also a boring drive; things don't really get interesting until you turn off of I-70 onto US-191, which leads straight into Moab. It's on 191 that the arid desert plains are slowly replaced by the richly-colored red rocks synonymous with southeastern Utah. As the colors start to change and you pass Canyonlands National Park on your right, followed shortly thereafter by Arches to your left, you know you're getting close — and soon you'll be in the 4×4 mecca of America.
Even if you've been to Moab before, chances are you've never seen it like this. CJs, YJs, JLs and JKs — Moab's Main Street is electric. Everything is Jeep, and seemingly everyone for miles and miles is in on the party. Aftermarket parts companies, tour companies, tire companies — anyone with an interest in Jeeps, business or pleasure, is in attendance. It's a full-blown phenomenon, and it's nothing short of heaven on earth for any kid-at-heart like me.
Over the course of the nine days, numerous "trail runs" take place, organized via signs placed at various rally points around town. Every shop in town makes itself available for last-minute Jeep repairs, and some suppliers even get in on the fun, setting up mobile repair stations in parking lots lining the main street. Convoys roam the streets by day, while garage parties kick off in the evening.
The Jeep events themselves were spectacular — I'll have a few articles on Autotrader in the coming days of my experiences at each one — but for now, here are a few additional photos that capture the essence of Moab Easter Jeep Safari.
A sunset view from the Sunset Grille, the former home of Charlie Steen, Moab's first millionaire, who made his fortune when he struck pay dirt during the uranium boom in Southern Utah in the 1950s.
The staging area for the concept reveal.
Jeep design chief Mark Allen giving a presentation on each of his team's concept designs.
Every conceivable configuration of Jeep was represented.
Only in a Jeep.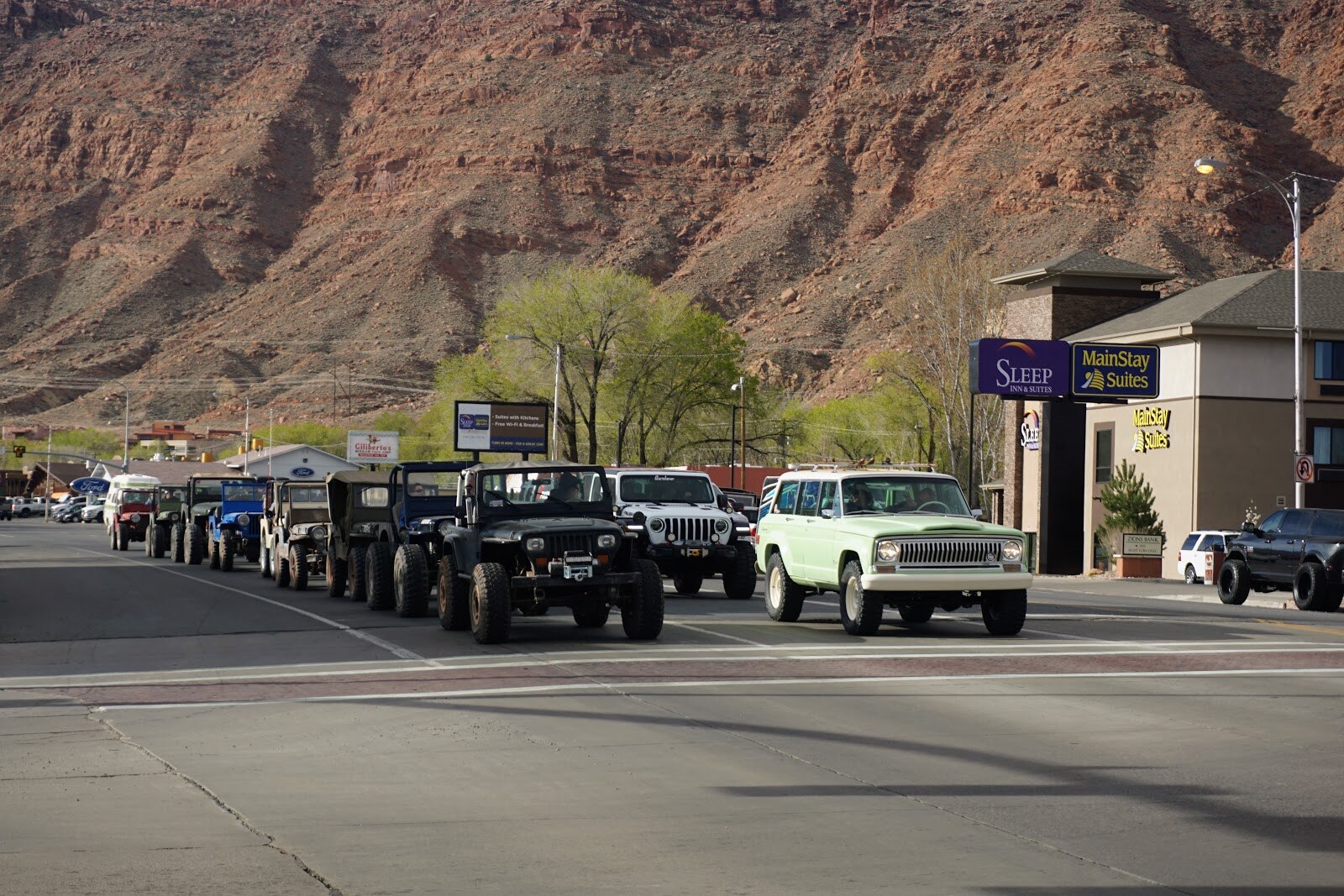 A YJ-led convoy of CJs, along with the Wagoneer Roadtrip concept that was apparently out for a stroll.
A Jeep party wouldn't be complete without a Jeep-themed fire pit. Find a Jeep for sale
Chris O'Neill grew up in the rust belt and now lives in Salt Lake City, Utah. He worked in the auto industry for a while, helping Germans design cars for Americans. On Instagram, he is the @MountainWestCarSpotter.
MORE FROM OVERSTEER:
Please Help Me Find the Buick Roadmaster Estate I Never Should Have Sold
Here Are the Nine Weirdest Gear Shifters in the Car Industry
Video | The Kia K900 Is an Unknown $60,000 Luxury Sedan