I've previously written that my Volkswagen Jetta ute project combines the utility of a small pickup truck with the size, fuel economy and driving experience of a car. I even made the bold claim that it can do most of the things that most people end up using their trucks for in the real world. Now I will demonstrate why I believe that claim is true.
The most obvious job any truck does is carry stuff around. That's why they exist in the first place, with a large cargo area in back at the expense of carrying passengers. Unlike some kit cars, the Smyth Performance Ute isn't just for looks. The bed may be small, but it can still carry cargo such as small appliances, furniture, hay and chicken feed and a random bookcase I found on the side of the road with a "free" sign on it. That bookcase wouldn't have fit in a Jetta wagon — never mind this particular car's original form as a sedan.
I have not modified the Jetta's rear suspension at all, so it's still constrained by factory parameters, gross vehicle weight ratings, and so on. However, replacing the heavy rear end of the Jetta with the aluminum and fiberglass ute kit ended up removing 200 pounds from the back of the car in the end. This means that I can carry about 750 pounds of cargo while complying with the original gross vehicle weight rating.
That's not much less than what the old Ford Ranger and Chevy S10 used to haul. Day-to-day, how often do you really need to carry more than 750 pounds of cargo? Some people do, and a genuine truck is better for them, but not for many people. For most, the size of what they haul, rather than weight, is the most significant limiting factor. Think large flat screen TVs, which don't fit inside a Ferrari but weigh little enough to be strapped to the roof. Just ask Doug.
Another common reason people buy a truck is for towing a trailer. A vehicle with a tough body-on-frame design is considered better than a unibody for towing heavy loads — plus, the heavier the tow vehicle, the heavier a trailer it can safely control.
The Jetta is relatively light and has a unibody, so it won't be towing any race cars, horse trailers or large campers. But that's not to say it can't tow at all. I took the opportunity to install a trailer hitch and wiring while I had wide open access to the area during the build. And for light loads, the Jetta tows great. I've hauled lawn mowers, motorcycles and larger building supplies on our 5-by-8 ramp trailer. I've even towed a larger 5-by-8 enclosed trailer full of equipment for our local Society for Creative Anachronism group. If you think I'm taking too big a risk, consider this: Even U-Haul would allow me to rent a 5-by-8 enclosed trailer to tow with a Jetta, as long as my cargo weighs less than 1,100 pounds.
Not only can the Jetta ute do both of these jobs, it can do them both at the same time. I recently had the opportunity to pick up some free furniture, so I hooked the trailer up to the Jetta to go get it. The sofa went on the trailer, while the comfy chair fits in the bed of the ute. My wife's Ford Flex could have towed the trailer, but the comfy chair probably wouldn't have fit in the back. I was able to haul everything in one trip, thanks to the modified Jetta's utility.
Another major reason people say they need a truck is for hitting the dirt and leaving the pavement behind. But most of the "off-roading" they do is on decently manicured dirt roads, or maybe construction sites. I recently downsized from the 16-inch wheels that came with my Wolfsburg Edition Jetta to a set of stock 15-in wheels from a more basic version, and then I wrapped them with a set of Yokohama all-terrain tires. Naturally, I had the tires mounted with the cheesy white lettering facing outward so the whole world could admire the ute — or, more likely, so the whole world could give it a funny look, scratch their heads, and go: "Huh?"
I decided to explore what turned out to be a new housing development in the earliest stages of its construction. There's not so much a road through it as a winding path over dirt and rocks in far worse condition than any publicly maintained dirt road. I would have had trouble getting through with the basic all-season tires I used to run on the car — but the new all-terrain tires made all the difference. I had no problem maneuvering the ute slowly and steadily from one end of the construction area to the other, through rocks and loose dirt, and up and down some short, steep hills. Even though the Jetta is only 2-wheel drive, I never lost traction or spun the wheels.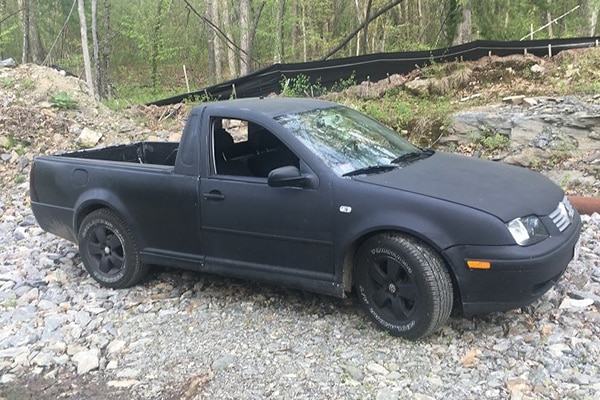 Of course, the Jetta is still not a serious off-road vehicle. It's still front-wheel drive, not 4-wheel drive with a low range like a true pickup truck. It also only has about six inches of ground clearance, despite taller tires and a small lift.
But the Jetta ute works just fine for general everyday use. In fact, it works fine for what most people actually use their trucks for in the real world, while retaining the performance, handling and fuel economy of a VW Jetta. Except for losing the back seat, it really is the best of both worlds.
MORE FROM OVERSTEER:
The Early Chrysler LX Cars Aren't Aging Well
Video | Here's Why the BMW i3 Isn't Worth $50,000
Here Are the Cheapest Electric Cars For Sale on Autotrader