A friend of mine recently sent me a picture of a car he saw in traffic, and asked me to identify it. I was embarrassed to say that I had no idea what it was — but I knew it looked old, weird and Japanese. So I sent the picture to a man who has owned several weird Japanese cars: Doug DeMuro. Of course, he instantly knew that this car was a Nissan Pao. Now, my friend is actively searching for a Nissan Pao for sale — and I really hope he buys one.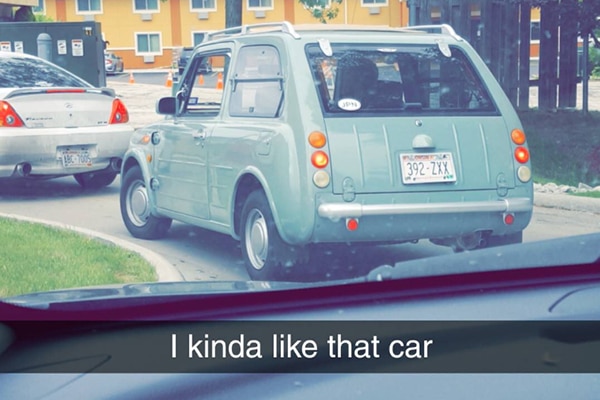 I assume one of the reasons Doug knew what this was is because the Pao is related to his old Nissan S-Cargo van. The Pao and S-Cargo were two of four "Pike cars" built at Nissan's Pike factory, the other two being the Figaro, a stylish convertiblish-coupe, and Be-1, a cute hatch not too different from the Pao.
When I first saw a picture of the Pao, I assumed it was from the 1960s because of its convincingly retro styling. So, when Doug told me it was a Nissan, I was surprised to hear that it was a Nissan and not a Datsun, which is what Nissans were called in the U.S. until the 1980s. Then I learned that the Pao was built from 1989 to 1991, which makes it decades newer than I assumed it was. Also, it was only sold in Japan, which is why the Pao is a rare sight here in the States.
The very authentic old-school styling puts the Nissan Pao way ahead of its time. The retro/modern craze in automotive design began in the late '90s, with cars like the New Beetle — and it really took off in the 2000s with the Chrysler PT Cruiser infecting our streets, and a new wave of muscle cars like the S-197 Ford Mustang and the return of the Dodge Challenger.
If the Nissan Pao was marketed in the U.S., I think it could have been a hit — and it could have kicked off the retro craze 10 years earlier. I'm sure the Pao couldn't have come to the States without some changes to meet safety and emissions standards, but I suspect it's a risk that could have paid off for Nissan.
Even the interior for this thing looks like it's from the '60s — with a simple steering wheel, one big gauge and even a retro-styled stereo, there are only a few things that give away how new this car is, like a tape deck and a couple switches you wouldn't find in an older car. Oh, and I love the compound tailgate where the bottom half folds down and the rear glass folds up. Much cooler than a boring old hatch.
If the Nissan Pao was widely available in the U.S., it would be the darling of hipster car culture today. A few of them will be imported, and they might start showing up at cars and coffee — but for now, the Pao will remain an obscure oddity in the United States. And that might make it even cooler.
MORE FROM OVERSTEER:
Video | The Mercedes-Maybach S600 Is a Crazy $200,000 Luxury Sedan
Autotrader Find: 1993 Chevy Silverado 3500 With 5,700 Miles Somehow
The Honda Acty Is the Fun, Useful Truck America Never Got