In their quest to be all the vehicle for all the people, full-size pickup trucks have turned into serious off-roaders. Every full-size truck-maker now offers a truck with massive four-wheeling capability — so long as the trail isn't too narrow, at least. After all, full-size trucks stretch the better part of 20 feet long, a good five feet more than a Jeep Wrangler.
Here's a look at what tops each automaker's lineup for the 2021 model year, plus the least-expensive way to get behind the wheel of a four-wheel-drive full-size pickup with tremendous capability.
2021 Chevrolet Silverado Trail Boss – $42,995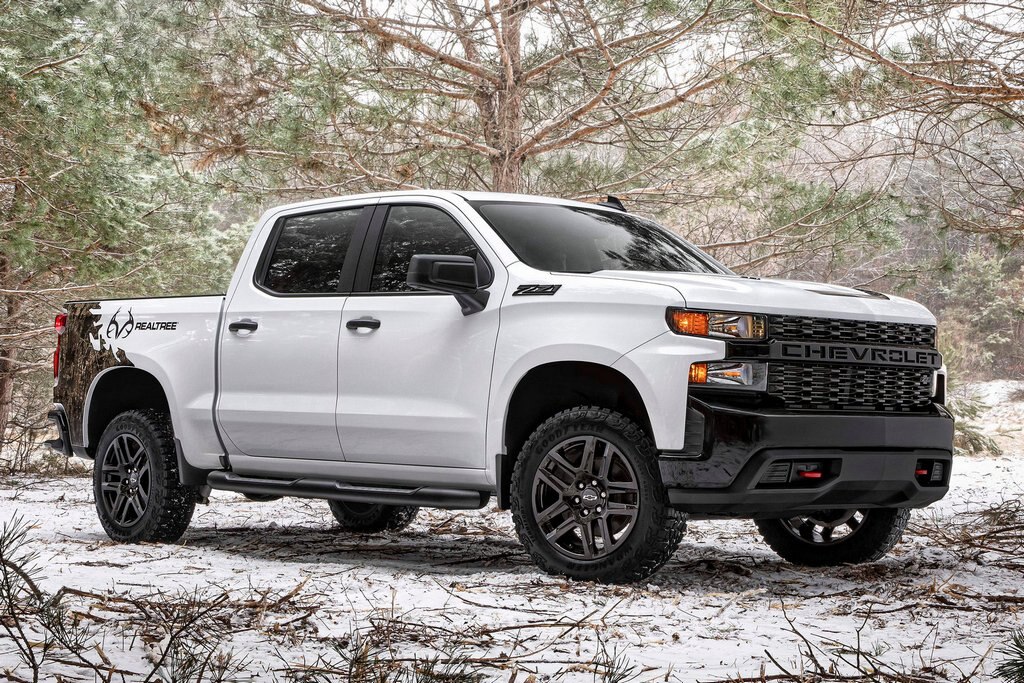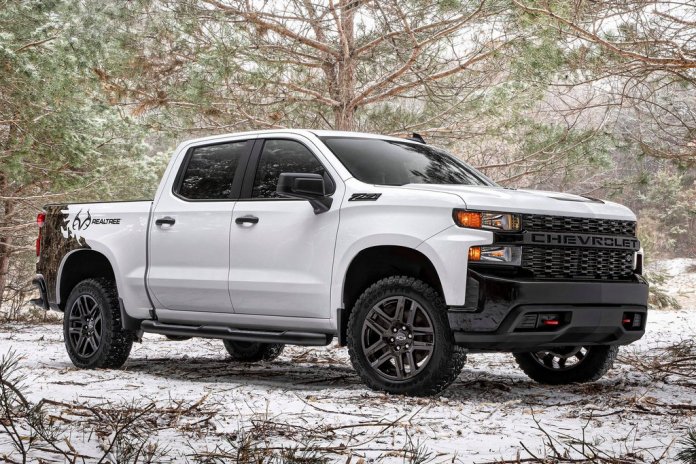 Chevy offers a relatively affordable way to get into off-roading with the Trail Boss package available on its Silverado. For a lunch at Taco Bell under $43,000, the Custom trim level's Trail Boss package adds a 2-inch suspension lift with Rancho shocks, 275/65-18 Goodyear Wrangler Duratrac tires, skid plates, red-painted recovery points, and a two-speed transfer case with an automatic mode.
The budget-friendly Silverado Custom isn't exactly decadent inside and its 285-horsepower V6 is down on power compared to the rest of this list, but it hits most of the bases with a 7-inch touchscreen with Apple CarPlay and Android Auto, a cloth bench seat, and a trailer hitch. To be fair, the Trail Boss Package can be had with V8 power as well as the more lavish LT trim level. But as a basic starting point, the Trail Boss offers tremendous value. Find a Chevrolet Silverado on Autotrader
2021 Ford F-150 Raptor – $TBD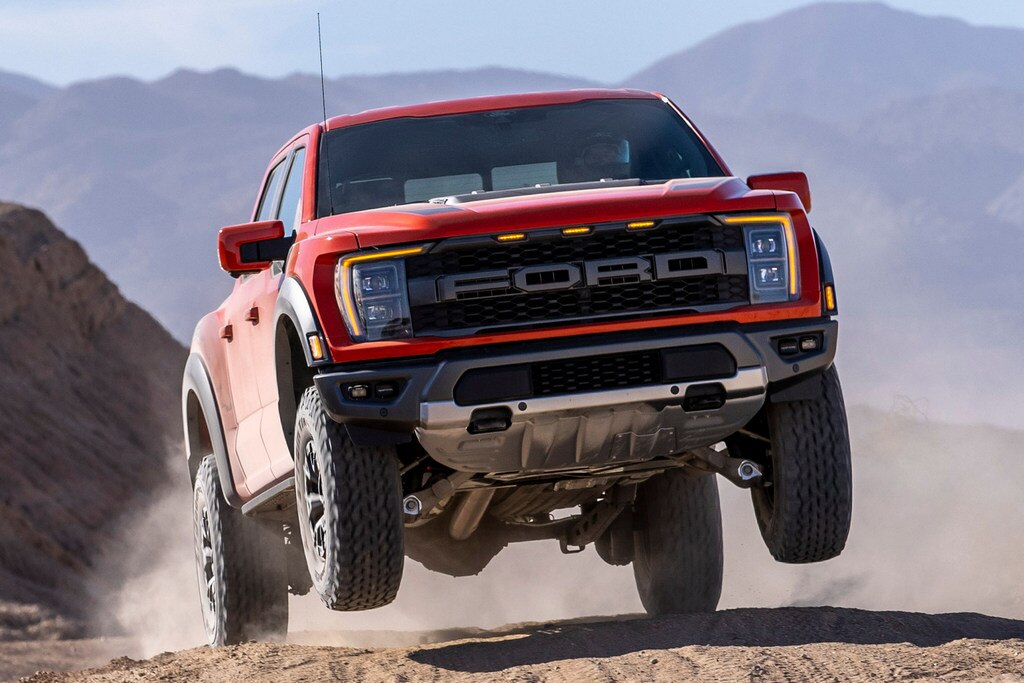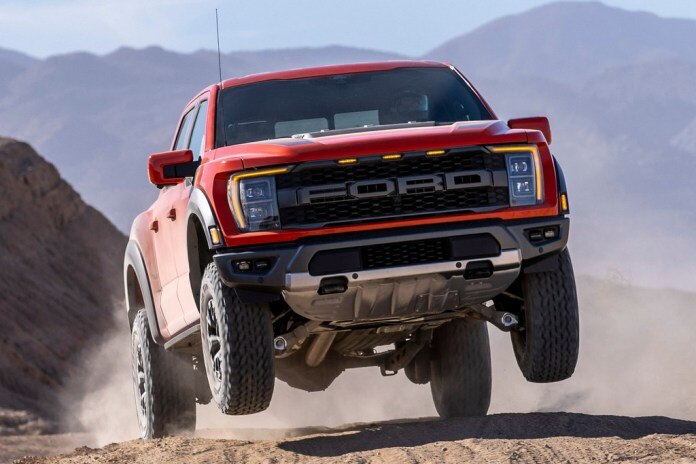 The third-generation Raptor is set to go on sale by the end of 2021, and it promises to be the most capable of its breed. In short: it's a lot more than a raised suspension and chunky tires. The Raptor builds on the standard F-150 with a coil-sprung rear suspension that can accommodate tires as large as 37 inches, enormous Fox shocks with electronic dampers, a slew of drive modes, a limited-slip front differential, a locking rear differential, and even optional extra-bolstered Recaro seats for more support at speed.
When the Raptor first arrived for 2009, it was billed as a high-speed desert runner. Over the years, it has evolved into a highly detail-oriented off-roader. An onboard generator can supply power in the middle of nowhere, while the infotainment system can receive trail maps over the air. Last year's Raptor ran about $55,000, but it's safe to assume the new one will cost closer to $60,000. Find a Ford F-150 on Autotrader
2021 GMC Sierra AT4 – $55,995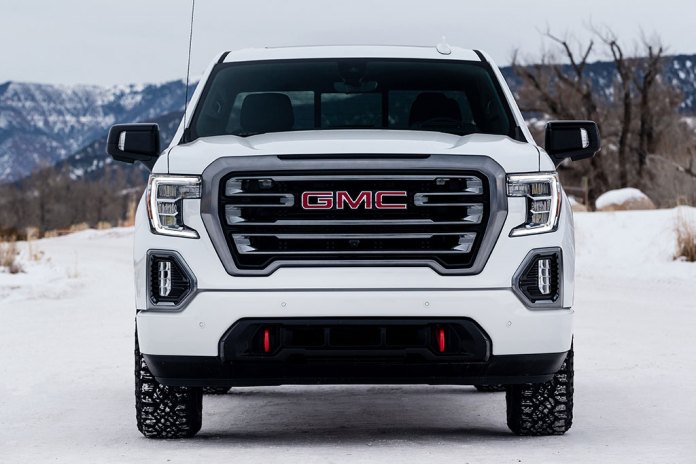 GMC takes sister brand Chevy's Trail Boss package and adds way more features without subtracting capability. The two are functionally identical, though the GMC builds on the mid-level SLT rather than the base truck. Additionally, GMC only offers the Sierra AT4 in Crew Cab form, while Chevy sells an extended-cab version of the Silverado Trail Boss. Also, GMC makes the 5.3-liter V8 standard fare on the Sierra AT4.
Otherwise, the difference is in the details. Chevy now offers the MultiPro tailgate that converts into a workstation or steps to make bed access easier (Chevy calls it Multi-Flex, but it's the same thing), but GMC is the only one to offer a Bluetooth Kicker speaker built into the tailgate. Also, only the Sierra can be had with the durable, rust-proof carbon fiber bed — for a price, of course. Find a GMC Sierra on Autotrader
2021 Nissan Titan Pro-4X – $51,985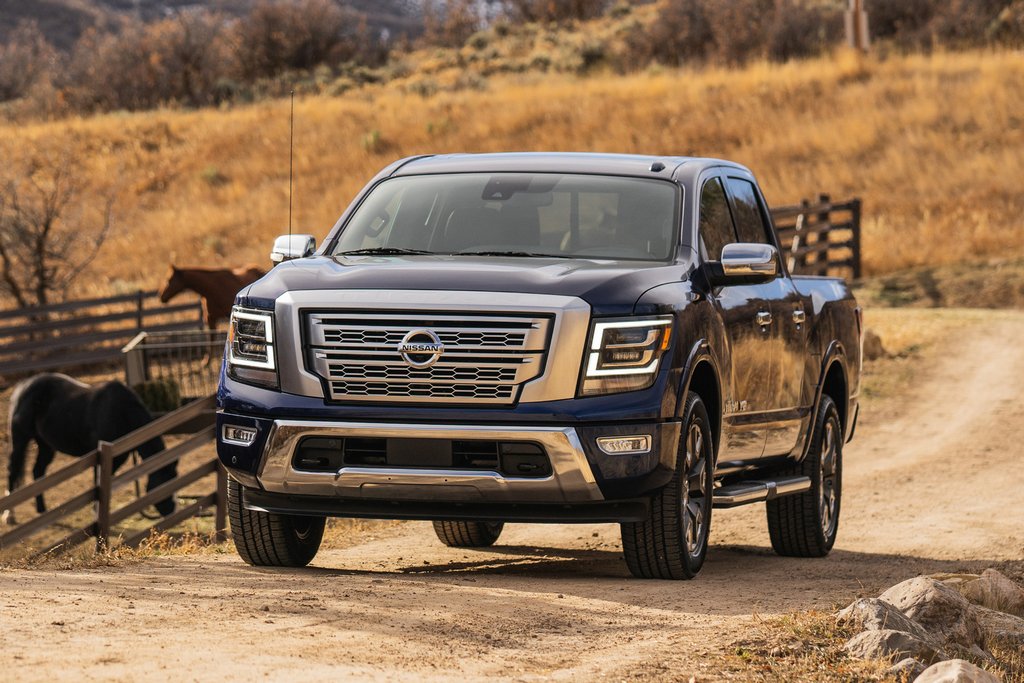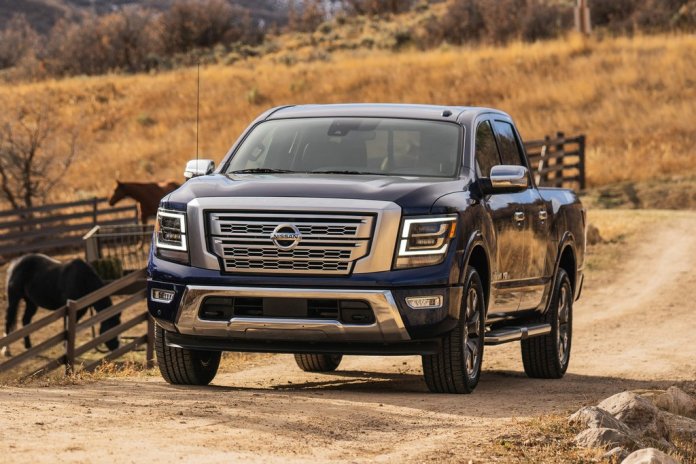 The often-forgotten Nissan Titan is actually a decent value, and that's even before you consider that it tends to be discounted more than its rivals. At around $52,000, the Pro-4X comes only as a crew cab and includes Bilstein shocks, a locking rear differential, and hill-descent control. Don't look for chunky tires or tons of off-road modes, but the big 9-inch touchscreen has an especially bright screen, and all Pro-4X versions have adaptive cruise control and parking sensors — options that tend to be expensive on rivals.
The Titan's standard 400-horsepower 5.6-liter V8 is as powerful as it is thirsty, so plan ahead if you intend to go way off the beaten path. Also, this is one of the only full-size pickups without an automatic mode for its transfer case, which is fine for mud-plugging but less convenient in mixed snow or on a dirt road. Still, let's get back to value: it's not uncommon for Nissan dealers to slice $10,000 or more off the Titan's list price. Find a Nissan Titan on Autotrader
2021 Ram 1500 TRX – $71,690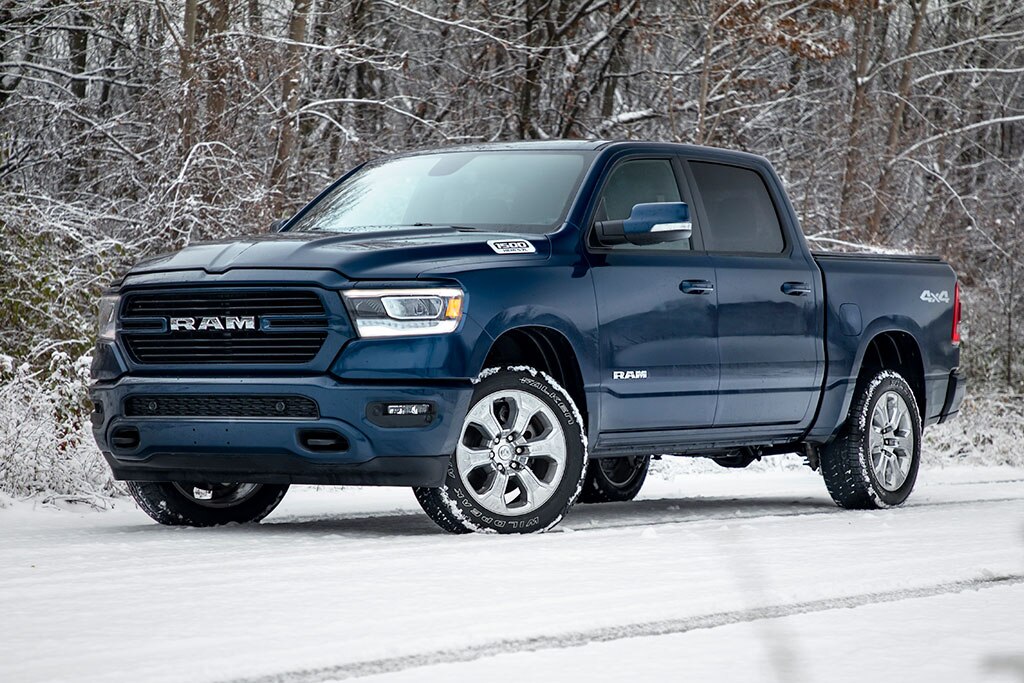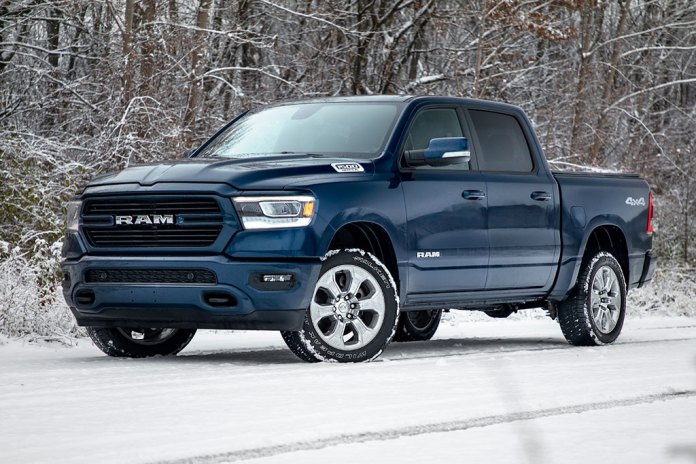 At least for now, the Ram 1500 TRX is the undisputed king of the off-road pickup hill. Its 702-horsepower supercharged Hemi V8 is way more powerful than any other truck, but that's only the tip of the mountain this truck just conquered. Bilstein Blackhawk shocks with remote reservoirs swallow just about any kind of terrain, and the truck rides on 35-inch Goodyear tires with a special tread pattern exclusive to the TRX. Beadlock wheels, which help keep the rim and rubber together when rock crawling, are optional.
The Ram TRX's styling tweaks are about more than looking menacing, too, though they do a pretty good job of that. Its hood features a functional scoop that shovels air to the supercharged V8, and Ram even offers a mounting point in the bed for the spare tire. It's an absolutely insane truck. Find a Ram 1500 on Autotrader
2021 Toyota Tundra TRD Pro – $50,370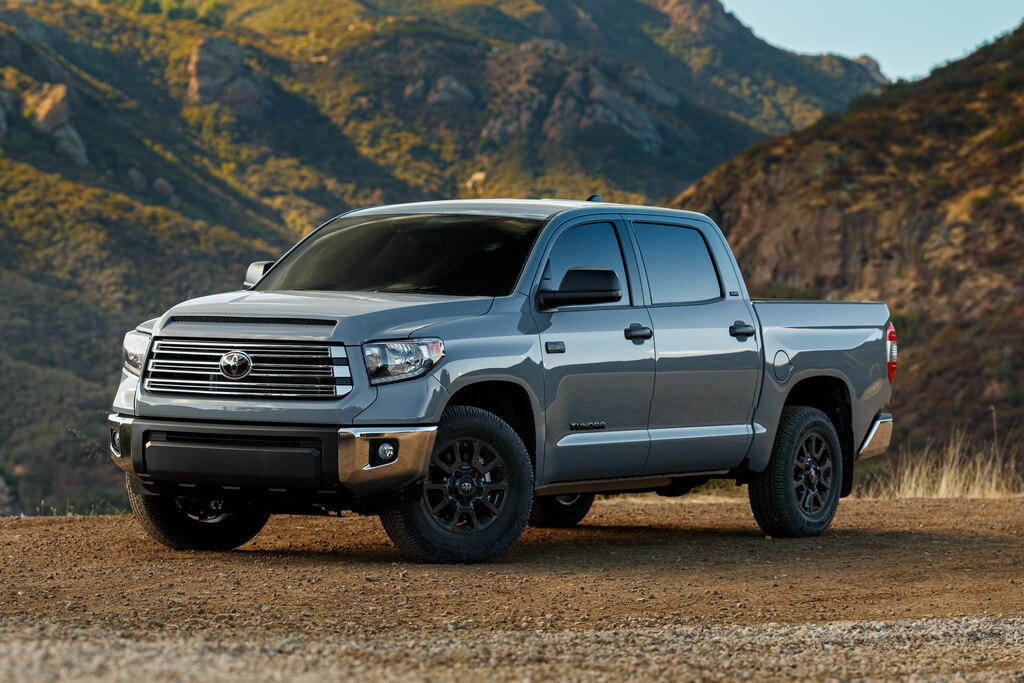 Sure, the Toyota Tundra is really starting to show its age, but the TRD Pro version of this big truck has earned its keep. Toyota bolts on extra skid plates and adds Fox shocks at all four corners, with remote reservoirs attached to the rear units for extended cushion. Its forged wheels wear special Michelin rubber not exactly intended for serious off-roading, though.
At a little over $50,000, the Tundra TRD Pro is a pretty good value for the suspension tech it includes, though the truck sitting over those fancy Fox shocks is dated and light on whizz-bang tech aside from standard adaptive cruise control. Find a Toyota Tundra on Autotrader