Car News: 
Oversteer
Sommer's Automobile Museum in Denmark Shows Off the Golden Age of the Automobile












Recently, on a short vacation to Denmark, I visited Sommer's Automobile Museum in Nærum, just outside of Copenhagen. Having arranged to visit the collection on an off day, I was honored to sit and have coffee and chocolates with its founder, an 86-year-old Danish gentleman named Ole Sommer.
Mr. Sommer was born into the automotive industry, raised in an apartment above the Ford dealership that his grandparents founded and his parents owned. In 1949, at age 18, he left Denmark for England, where he worked as an engineering apprentice at Jaguar's factory. After his father unexpectedly passed away, Ole Sommer returned to Denmark with the new responsibility of running his family's business at the age of 21. He became Denmark's first and largest importer of Volvo and Jaguar models, as well as trucks and marine engines -- an accomplishment that he credits to having a wonderful staff and in-house engineering training program. In addition to importing cars, Mr. Sommer designed and built many limited-production cars in an effort to jumpstart car production in Denmark.
Ole Sommer's collection of 80 veteran cars gathered over the past 60 years is housed in a three-story building on the property of the dealerships he once owned. His collection focuses on English, French and Italian cars built in the years between the two World Wars, as well as the 20 years following -- a time period that Sommer refers to as the "golden age of automobiles." The collection also houses examples of cars Sommer designed, notable Volvos he imported. and other vehicles designed and built in Denmark.
1957 Lancia Aurelia B24S
1960 Maserati GT Vignale Spyder
What I enjoyed most about the museum was the quality and focus of the collection. In going from a row of WW1-era race cars to 1950s British saloons to Italian convertibles, one can understand and appreciate the evolution of the coach and the hand-built European car. The progression of the Swallow Coachbuilding Company into modern-day Jaguar is a particularly interesting focus of Sommer's collection. The Swallow Sidecar and Coachbuilding Company was started in Blackpool, England in 1922 by William Walmsley and William Lyons, manufacturing chassis and motorcycle sidecars. By 1934, the company became S.S. Cars Ltd, then S.S. Jaguar, and, by 1945, Jaguar. My favorite car from this progression is the 1933 S.S. 1 -- their first complete automobile, essentially the grandfather of all Jaguars.
The 1933 S.S.1 with two Lancias
A jamboree of Jaguars (yes, that's what you call a group of Jaguars)
There's a story behind every car -- but most interesting and unique to this collection are the cars Mr. Sommer designed and built himself. Ole Sommer made multiple attempts to bring car manufacturing to Denmark, creating a few concept and limited-run vehicles. As a benefit to being Denmark's first and largest Volvo importer, Sommer had access to Volvo's engines and parts, which he used on a few of his cars. One of the earliest and most beautiful was his Volvo Special: essentially a Volvo Amazon sports coupe that followed the cancellation of Volvo's P1900. As the story goes, Sommer showed Volvo his in-progress Special, and they responded by showing him the P1800 -- also in development -- which had many similarities to Sommer's model, down to the taillights and the fins that stretch from the C-pillar to its elongated rear.
1960 one-off Volvo Special
After the Volvo Special, Ole Sommer designed and built a fun-loving dune-buggy-inspired road car called the Joker. Built on a tube-steel frame with fiberglass cladding and a Volvo B20 engine, this car handled like "a house on wheels." Production was limited to just seven units, and the project was canceled due to a decline in recreational motoring caused by the gas crisis.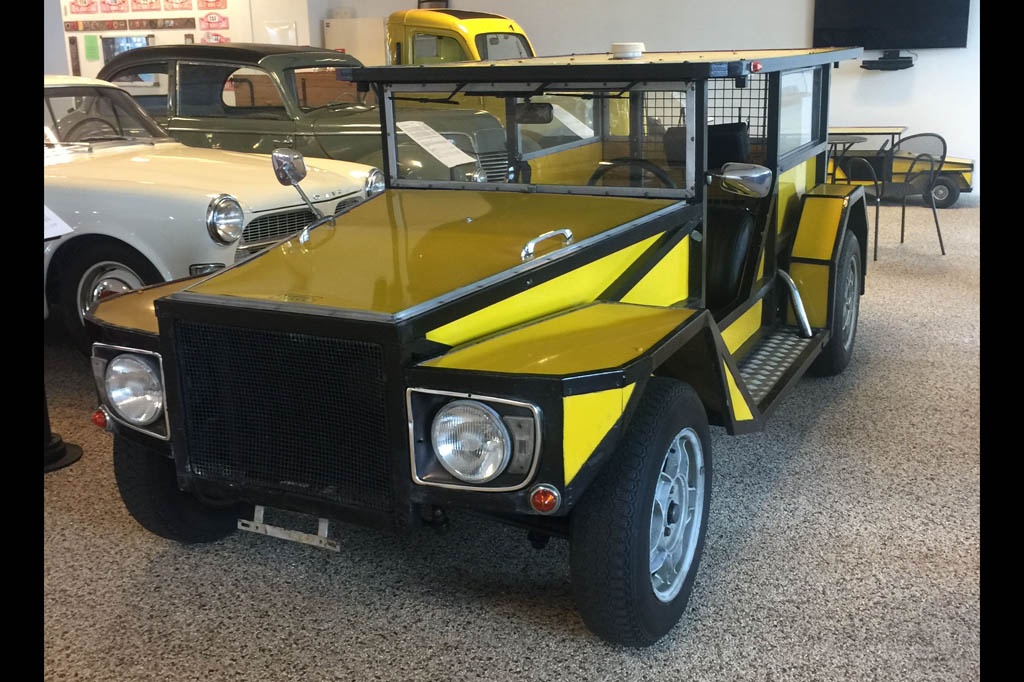 The Joker
Finally, the most successful of Sommer-designed vehicles was a sports coupe called the OScar (Ole Sommer Car). Hand-built from 1982 to 1985 with a Volvo heart and the Danish-built Berchetta fiberglass body style popularized by the AC Cobra, only 20 were produced, and 17 were exported beyond the shores of Denmark. I found this car to be the truest embodiment of the golden age of automobiles that Sommer preserves in the museum, taking the best attributes of golden-age sports coupes while offering his own Nordic touch.
The OScar
Operated by 20 part-time volunteers and generously shared with Denmark's veteran car club, Sommer's Automobilmuseum offers some of the rarest and most beautiful examples of European motoring history. Ole Sommer is a pillar for the classic-car community and a man who embodies what it means to be a true car enthusiast.
Sam Keller is a visual artist from Brooklyn. He runs the Instagram account @hamptonwhipz, capturing classic cars in the Hamptons, New York City, and anywhere else his travels take him.
MORE FROM OVERSTEER:
The 2015 Maserati Ghibli Absolutely Wasn't Worth $80,000
I Took My Dodge Viper to CarMax for an Appraisal
I Visited Cuba to See Old American Cars