Beginning on Memorial Day, the Hamptons becomes the main getaway for wealthy New Yorkers looking for summer solace. With that, out come the special vehicles — normally stuck in garages behind tall hedges — that are driven to the beach until they're put away on Labor Day to patiently wait for the next summer. Nothing is more exciting than seeing a beautifully restored Jaguar XKE or Porsche 356 nestled between behemoth luxury SUVs painted in drab metallic colors. Driving alongside these large modern SUVs, there are also many resident old-school models, like the Mercedes-Benz G-Wagen, the Land Rover Defender and a popular newcomer, the Ford Bronco. The Hamptons has cruisers, convertibles, high-performance cars and automotive oddities, yet all of these summer cars are head-turners driven slowly or parked in town for onlookers to enjoy.
Cars are the main mode of transportation in the Hamptons, but they're also the ultimate status symbol (barring those who take a private jet or helicopter to their summer homes). A five-minute stroll down the main drag of East Hampton, called Newtown Lane, will reveal a few Land Rover Defenders, a Porsche 911 Targa, a Mustang or two and — if it's your lucky day — a car of yore housing a crisply dressed gentleman and parked outside "Scoop Du Jour," the local ice cream parlor, which is full of car memorabilia.
Yet for all its frivolity and indulgence, the Hamptons maintains a profoundly rugged and astoundingly beautiful seclusion. A sense of timelessness is imparted by its storied history, landscape and detachment from the modern amenities of the big city. The stunning natural beauty of the area lends itself to driving a classic car to the beach and seeing the sunset. British sports cars from marques like Austin-Healey, MG or Triumph fit right into the Hamptons with their iconic styles — despite coming from a time when seat belts were an optional accessory. Although downright scary in a traffic-and-truck congested city, these cars are at home in the Hamptons. Many owners opt to turn the wrench on their own ride, with simple mechanics and inexpensive replacement parts also making for great summer projects.
German sports convertibles are also popular rides in the Hamptons. The Mercedes-Benz 230SL Pagoda (W113) is a familiar sight, along with old-school Porsche 911 Targas. The beautifully straight clean lines of the Pagoda, and the direct, purposeful shape of the 911/912 will never go out of style. I never knew Porsche manufactured a soft-top Targa known as the "softee" until I saw one in person. Named "Version I" by Porsche and manufactured from 1967 to 1969, it predated the more popular and iconic hard-window Version II.
The rugged-yet-stylish environment of the Hamptons also welcomes a population of vintage pick-up trucks. The trucks range from beautifully restored to wonderfully original Fords and Chevys in short- and long-bed configurations — plus the occasional rat rod and restomod. The form and implied utility of these trucks evokes a joyful sense of nostalgic Americana — as do details such as swooping lines, wood beds and spartan-yet-stylish interiors with column shifters.
There are some even more surprising automotive oddities cruising around the Hamptons. I was most impressed when a Mercedes-Benz Unimog advertising a nearby nail salon drove by, and at that moment I thought I had seen it all. A decommissioned military vehicle advertising the beauty industry makes as much sense as pink camouflage. On the opposite side of the size spectrum, yet equally exciting, I've seen a Citroen Mehari, one of 400 imported tiny plastic-clad buggies with Citroen's famous air-ride hydraulic suspension. I've seen a Fiat 500 Jolly, a roofless version of the Cinquecento with a bean-shaped fringe canopy for a roof. And I've even captured a Morris Mini Moke — a stripped-down golf-cart-like cabriolet based on the original Mini.
Memorial Day marks the beginning of the summer — and, with that, the high season to witness rare and beautiful vehicles. Getting to see cars of this caliber on a daily basis is akin to living in a automobile museum or at a summer-long Concours d'Elegance. Find a car for sale
Mercedes-Benz 230 SL Pagoda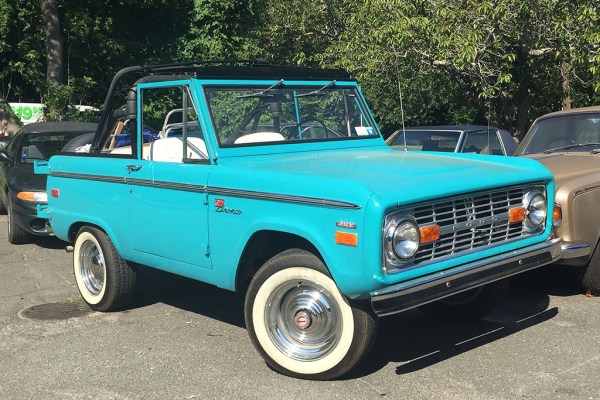 Ford Bronco
Triumph 2L Roadster & MGA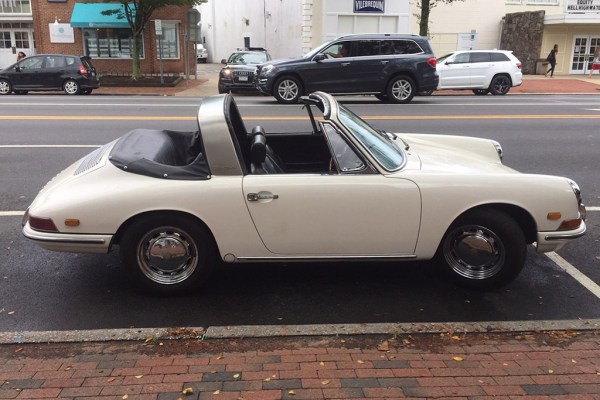 Porsche 912 "softee" (Photo: Kristina Felix Ibarra)
Ford F1 Restomod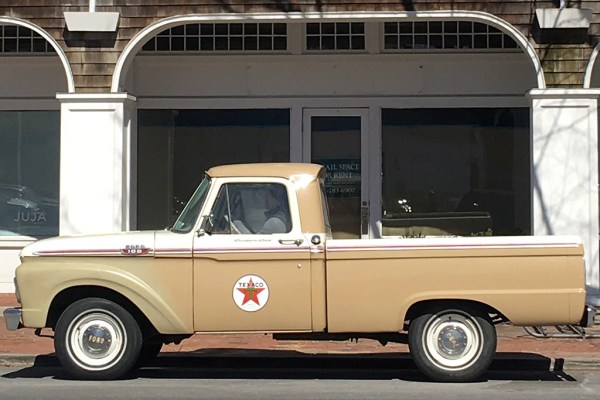 Ford F-100 (Photo: Dan Meeks/Borders Framing)
Mercedes-Benz Unimog
Morris Mini Moke
Porsche 356 Convertible
MORE FROM OVERSTEER
The C4 Chevy Corvette Is Highly Underrated
I Drove a Ferrari Challenge Race Car On the Street … and It Was Horrible
Here's Why This Acura NSX Is Worth $125,000