I follow many forms of racing, and the action in the pits always catches my eye — the crews, the tools and everything it takes to get the job done. One support vehicle in particular stands out to me as perhaps the ultimate pit truck: the Suzuki Carry.
I first noticed the Suzuki Carry at the track, of course. At the Formula Drift series, I saw two-time and current defending Formula Drift champion, James Deane, and his Worthouse Drift teammate Piotr Wiecek's rather interesting track support vehicle, the Carry.
The Suzuki Carry is a Kei Truck from Japan, and it's essentially the smallest legal truck you can drive on the road in that part of the world. Originally made in the early 1960s, this truck from Suzuki has been rebranded all across the world. Holden, Mitsubishi, and Nissan are just some of the names that have sold the truck. In fact, it might even be the only vehicle in the world that was branded by both Chevrolet and Ford. It's currently in its 11th generation, and the one that the Worthouse boys used as a pit vehicle is from the 9th generation, which was sold from 1991 to 1999.
Deane and Wiecek handed over their prized Kei Truck to automotive media powerhouse Hoonigan for a special project. Hoonigan was tasked with turning things up a notch on the Suzuki Carry. They got the legend Kei Miura to create a Rocket Bunny kit for the vehicle and tasked themselves with installing a Mazda Rotary engine in the mini beast. The result was a work of JDM art.
Here it is as I saw it at Formula Drift Long Beach 2019.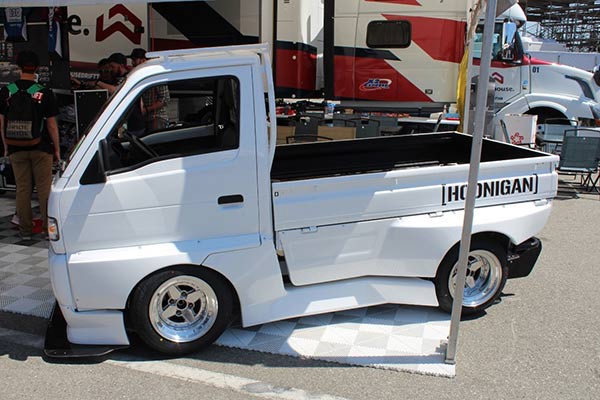 While the Worthouse-Hoonigan Carry went the route of art, there are plenty of other Carrys available for sale right now on Autotrader Classics, with models from 1990 to 1994. You can get a rear-wheel-drive model or opt for the four-wheel-drive version. And the best part is that, with the exception of one 1990 model listing, they can all be had for less than $6,000 — and they don't come with a scary amount of miles.
I would personally have one right now, but back to those tall-people problems I go. These are the same issues that keep me out of the Alfa Romeo 4C, but my loss could be your gain.
For more of his automotive exploits, you can follow Danny on Instagram @DKorecki and subscribe to his YouTube channel.
MORE FROM OVERSTEER:
Video | I Bought the Cheapest Fiat 500 Abarth in the USA
You Can Now Rent a 750-Horsepower Chevrolet Camaro From Hertz
Here Are 5 Great Convertible SUVs Listed For Sale on Autotrader