Recently I found myself in Lake Tahoe, where I got to drive the new 2021 Ram 1500 TRX. The TRX is the Ford F-150 Raptor's first-ever competitor, and in addition to being able to go off jumps without destroying itself – just like the Raptor – there's a lot else that the TRX can do, like help you landscape your house, go from 0 to 60 miles per hour in 4.5 seconds, and put a six-figure dent in your wallet. There are really two ways to look at a purchase like the TRX, from a logical standpoint and from an emotional angle. Let's unpack both below.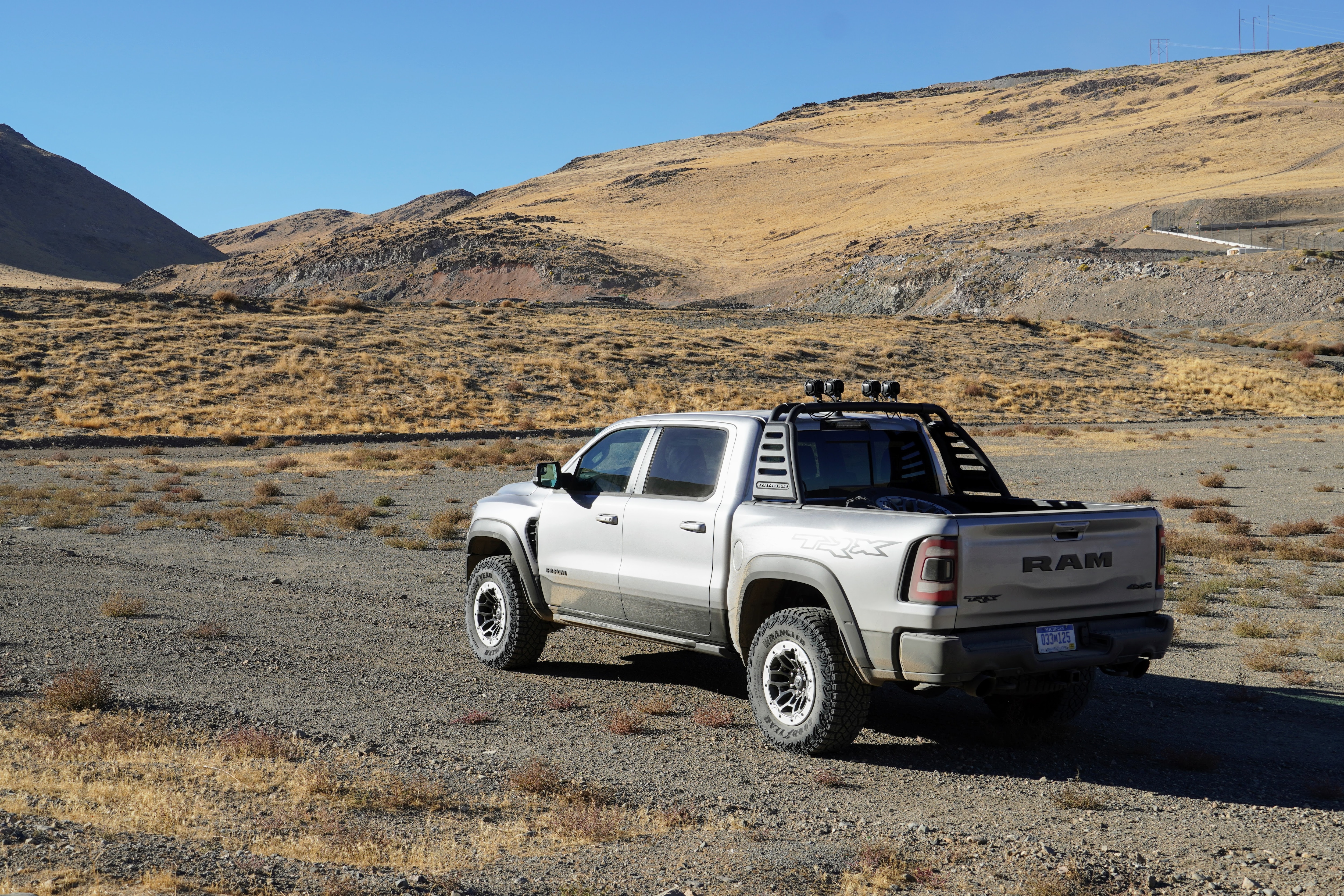 TRX as a Sensible Purchase
Trucks tend to be pretty reasonable purchases, meant to serve as basic transportation while also offering an immense utility that you can't get from a car or SUV. And the TRX is pretty competent in this regard, though like the Raptor, it sacrifices some capacities in favor of performance. Its towing capacity is capped at 8,100lbs, though somewhat oddly, Ram has chosen the TRX as the vehicle on which it's debuting a new trailer steering system, which should make backing up with and maneuvering a trailer easier than it's been in the past. The payload is rated at 1,300lbs; again, enough for most uses, but sub-par as far as the segment goes.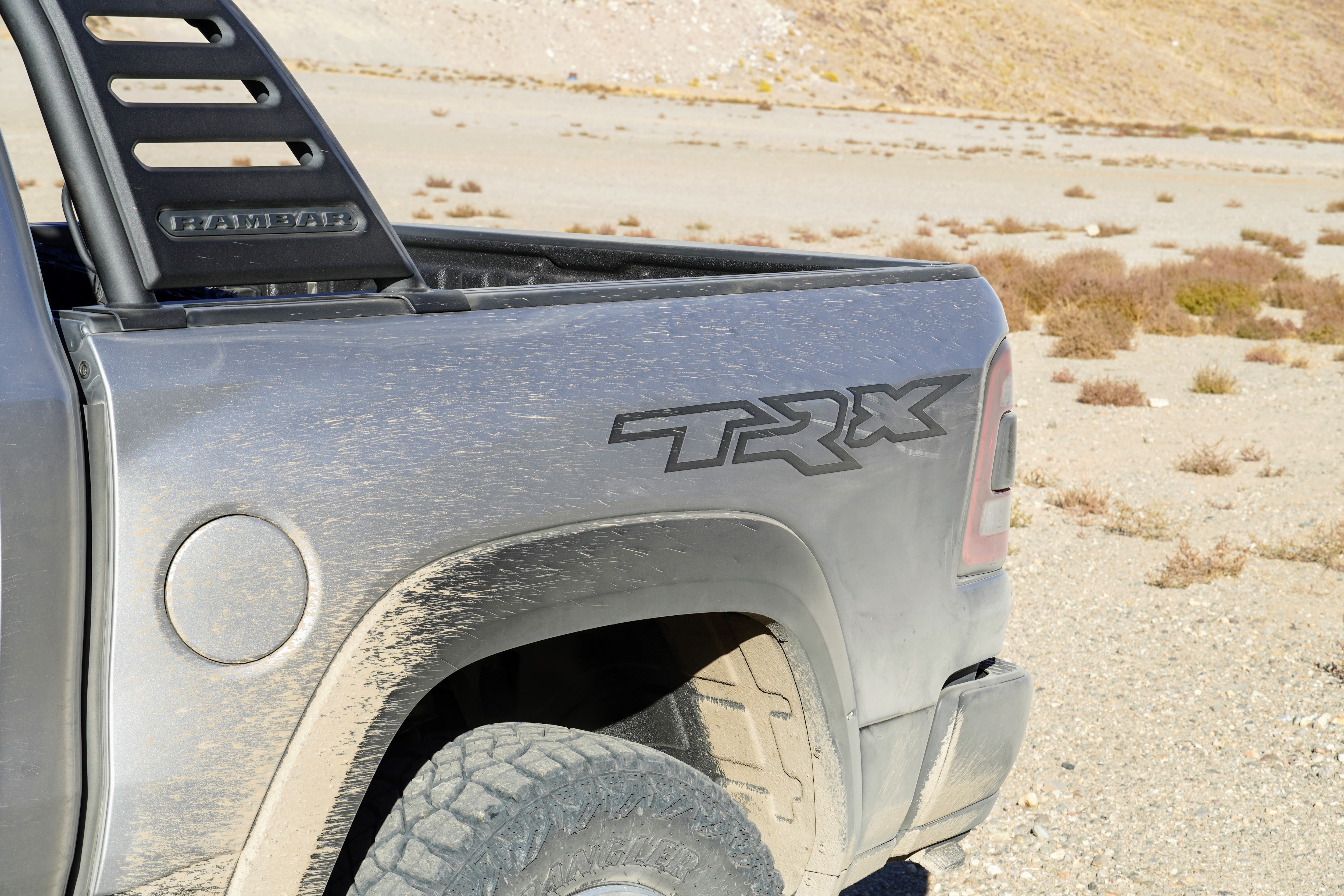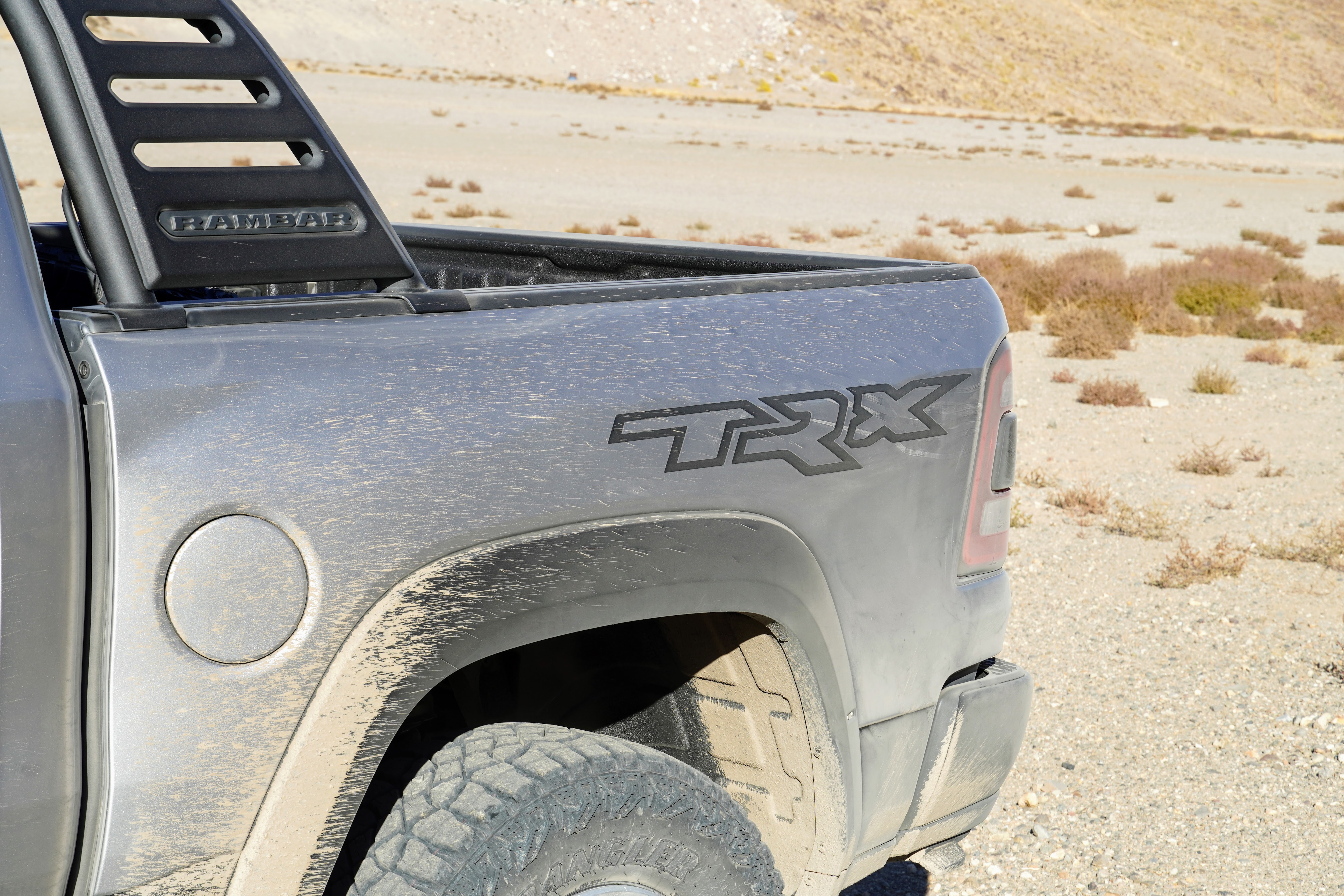 The TRX is offered in one configuration; crew cab with the 5.5-ft bed; that's the shortest of the Ram 1500s three available bed sizes. While it isn't available with the Ram Box bed storage system (the TRX's wider track means its front and rear fenders get their own stampings) or the multi-function tailgate, the bed is otherwise the same as in your average Ram 1500. Also, like on your average Ram 1500, rear-seat legroom from the crew cab is plentiful.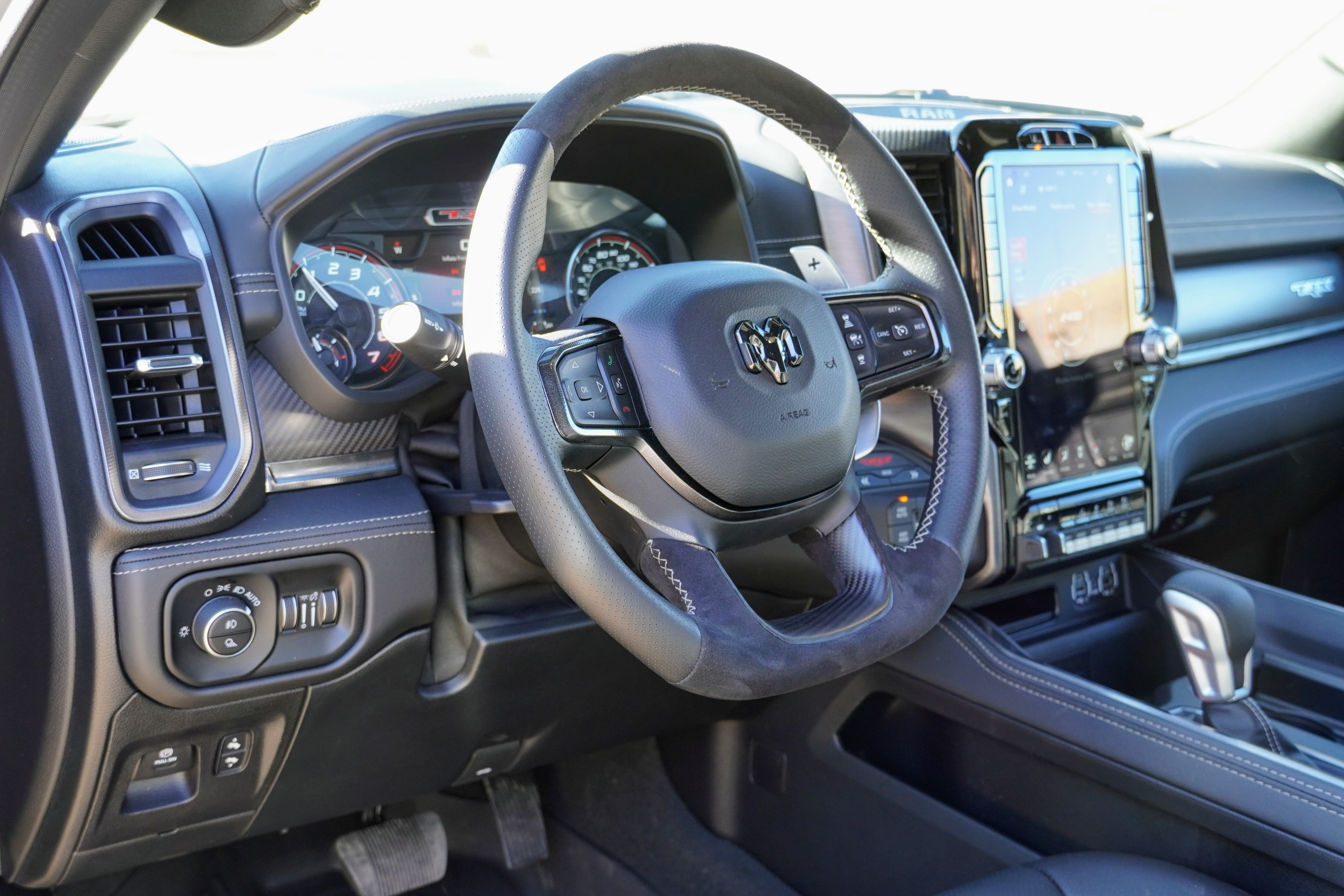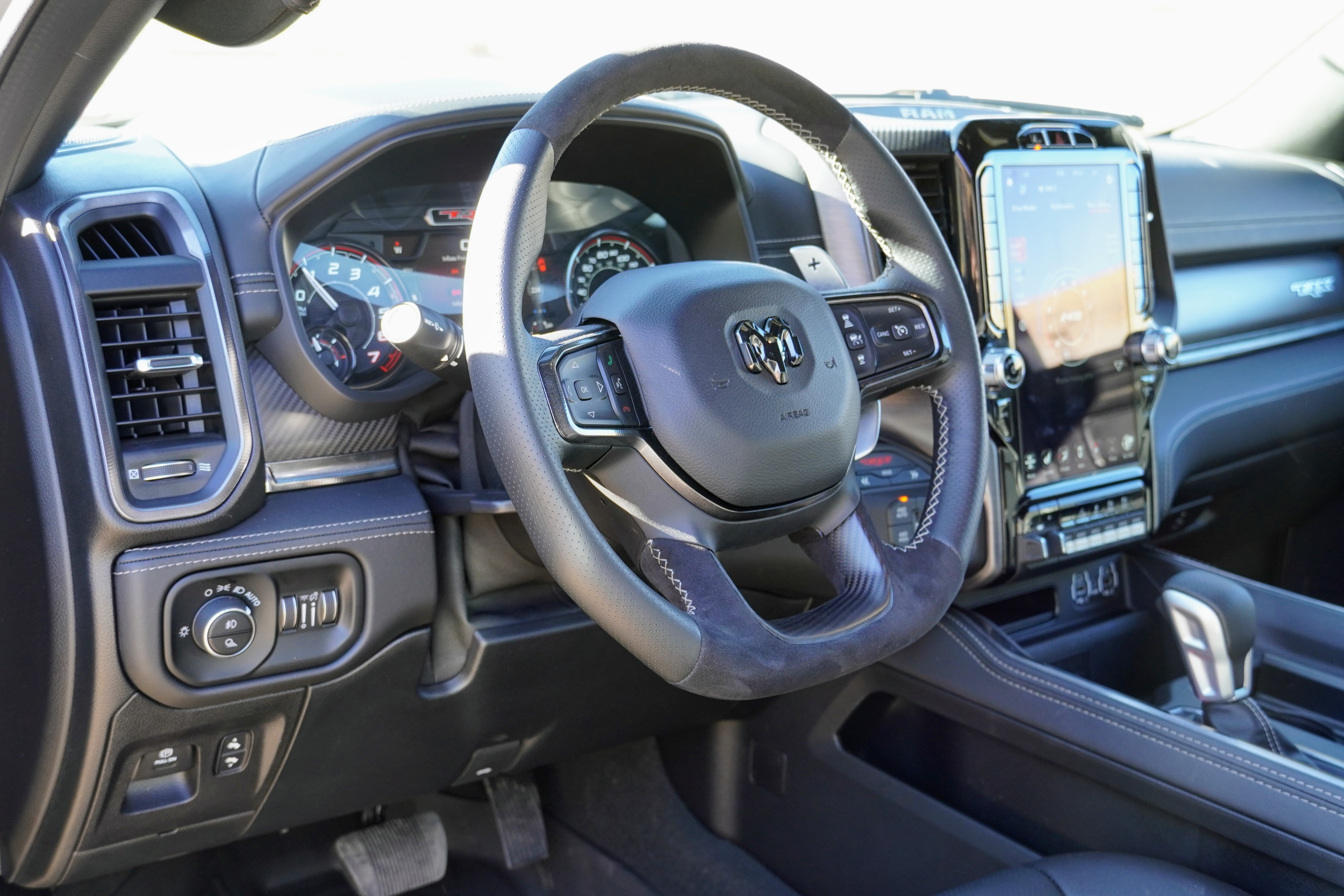 Ram also has the best interior in the full-size truck world at the moment. The brand's hallmark portrait-oriented 12-in infotainment screen comes standard in the TRX, and my test vehicle came finished with a smattering of suede, leather, and brushed aluminum surfaces as well. It's a good design, much better than the offerings of GM, Toyota, and Nissan. I've yet to sit in the new F-150, but I expect it will approach Ram's level of refinement in its upper trims.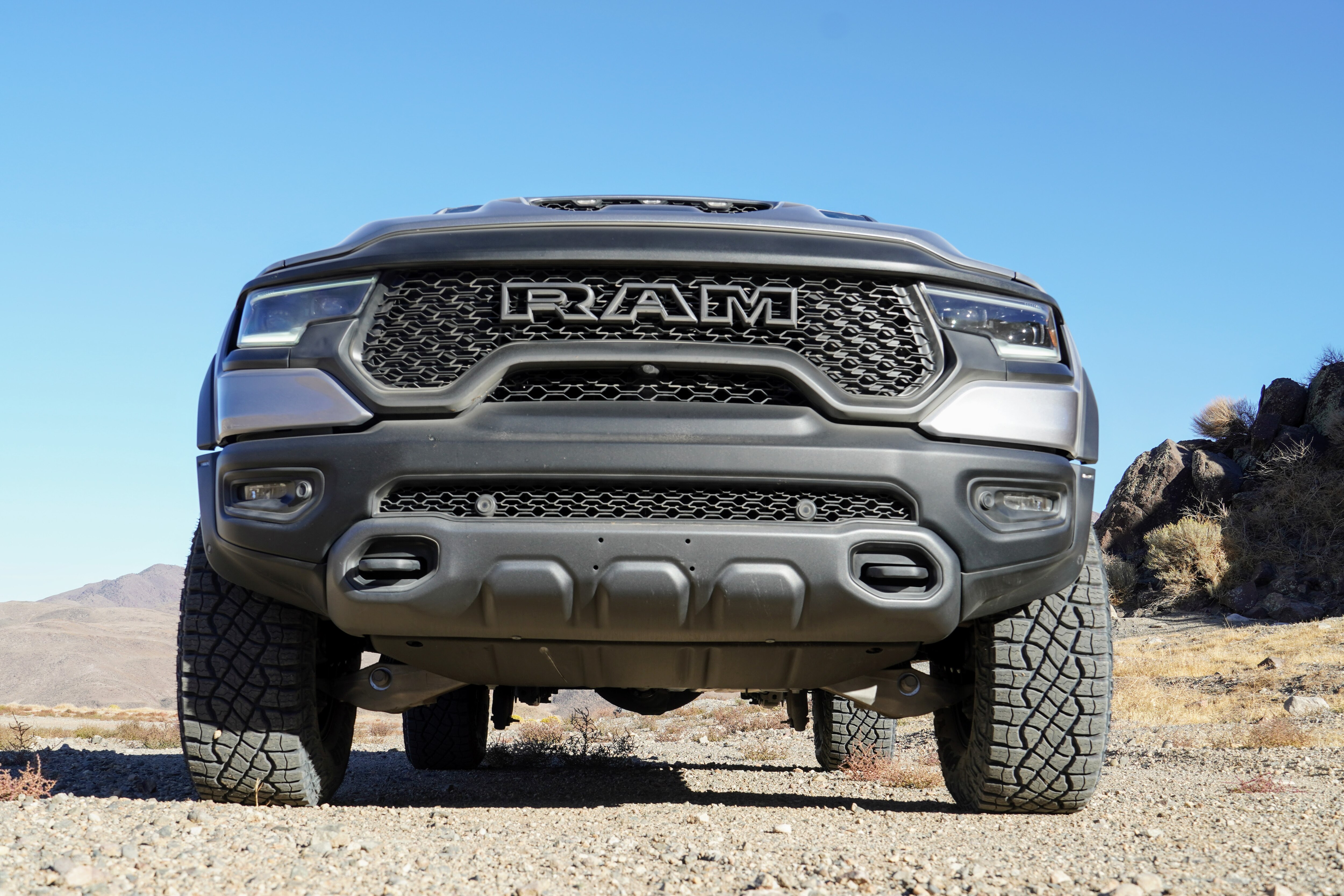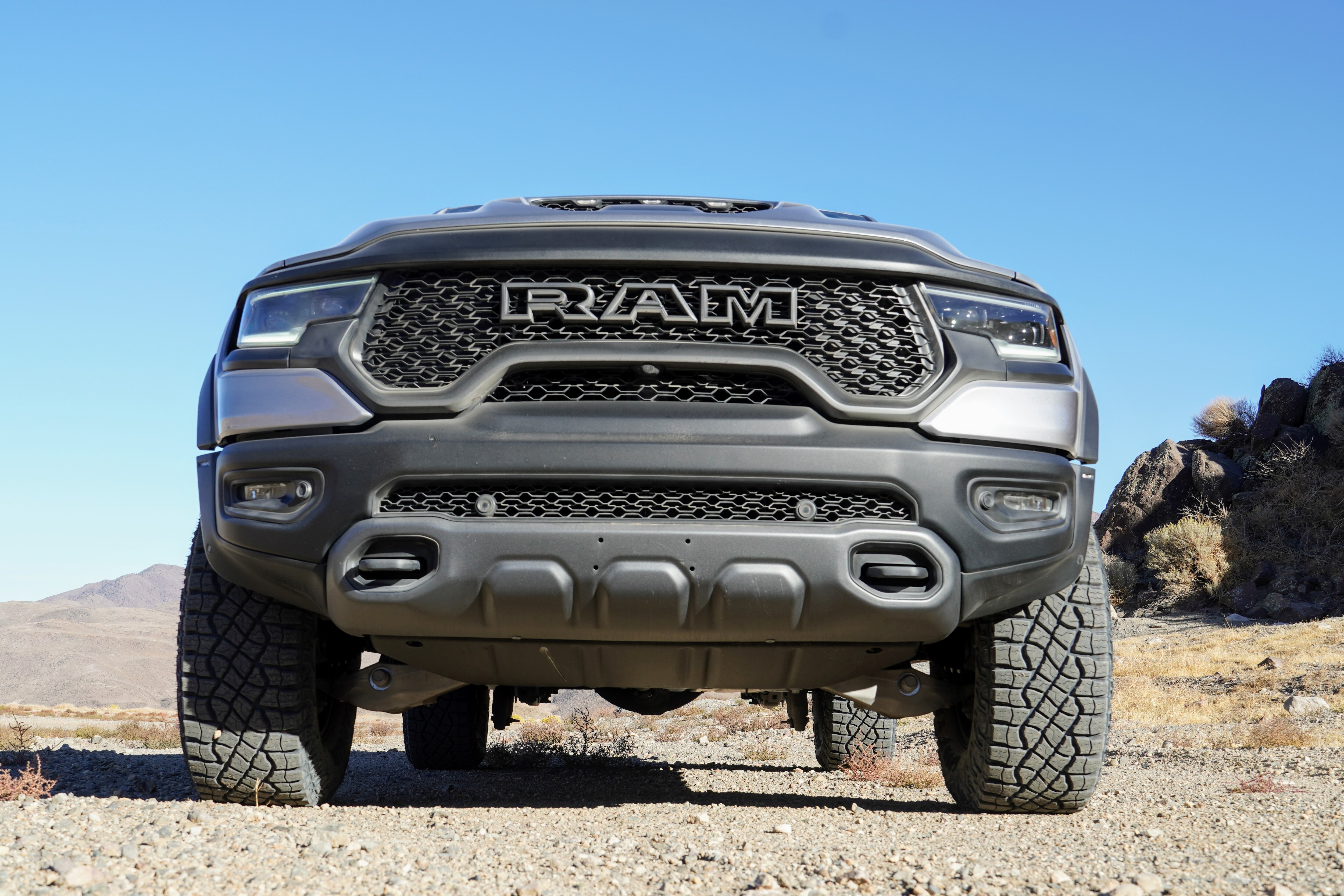 These will certainly get a bad rap for being huge – in its lone configuration, the TRX measures 88-in wide and 233-in long and has even huger blind spots than your average Ram given that its ride height has been raised by two inches. The ethics of driving something this massive aside, I didn't find it to be too cumbersome when piloting it around the two-lane road that encircles Lake Tahoe.
It didn't always feel like there was 702 horsepower under the hood, but when you wanted the power, it was certainly there. Also, the supercharged engine doesn't give you a burst of power halfway through the powerband like a turbocharged engine does; the TRX acceleration was far more linear than in the Raptor, which relies on forced induction. Either way, though, the supercharger whine was incessant, which some may grow tired of over time.
While it certainly didn't handle like my old GTI, for better or worse, these high-performance pickups are still pretty easy to drive.
We must call out that fuel economy for this thing is utterly atrocious, and you better believe it sustains on premium. The EPA rates it at 10 mpg city, 14 mpg highway, and 12 mpg combined, and that's assuming you drive it like you would an everyday vehicle, which is much, much easier said than done.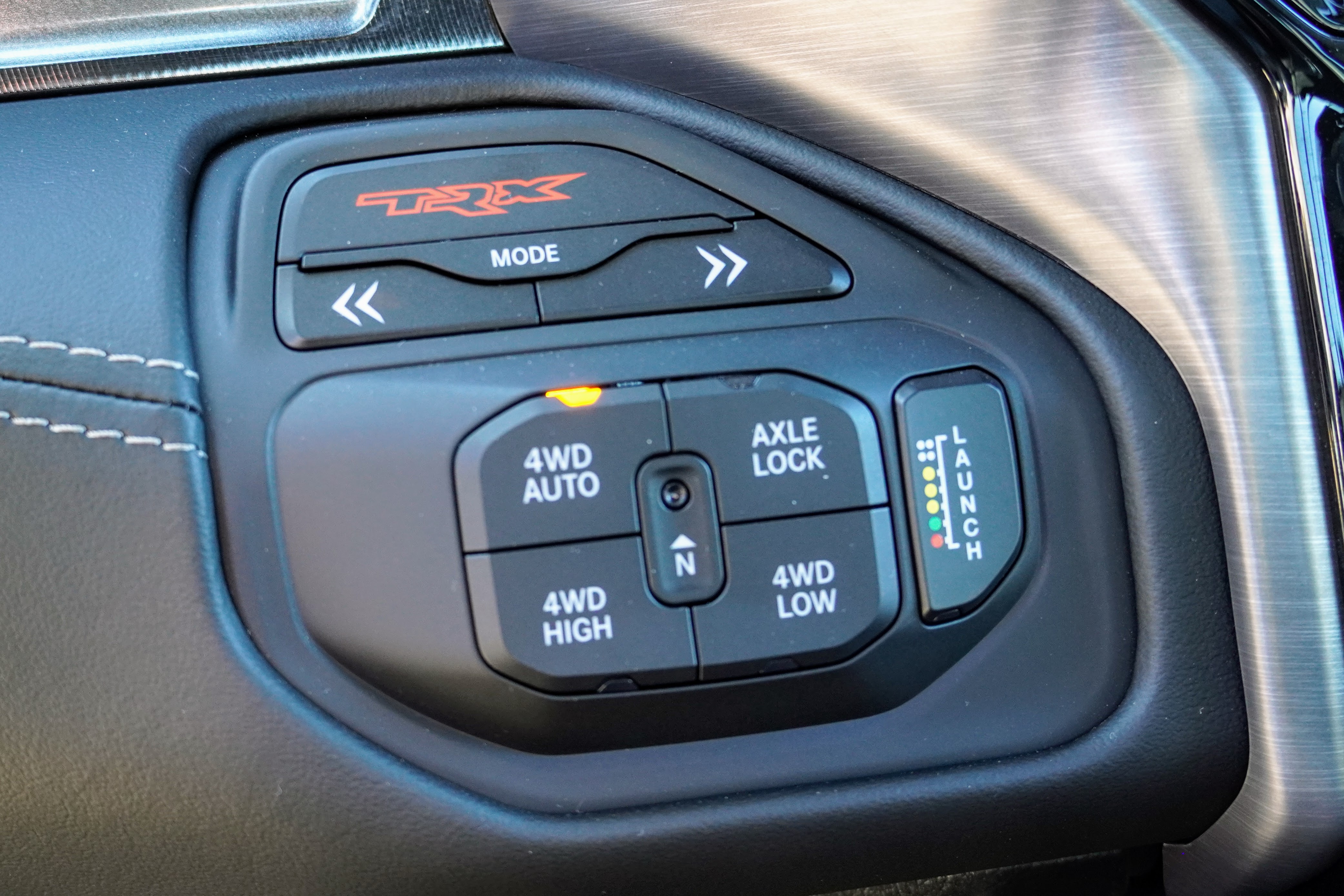 TRX as a $90,000 Toy
In terms of performance stuff, the Ram 1500 TRX has just about everything that the 2020 Ford F-150 Raptor has - both trucks even have 'Baja mode'. Ram didn't exactly reinvent the wheel here. To the Raptor's highly successful formula, the TRX adds a launch control and an additional 252 horsepower and 140 lb-ft of torque, which is nothing to sneeze at. One of the big takeaways here is that this supercharged V8 - known as the 'Hellcat' when under the hood of a Dodge-badged vehicle, really changes the ethos of the truck. I've put over 700 miles on a current-gen Raptor, over 150 of which were off-road, and at the time, I thought it was nearly perfect. After driving the TRX, though, I can't help but feel that the Raptor is lacking a little character. There's just no way to get the same growl out of its 3.5-liter twin-turbo V6 that you do out of the TRX's 6.2-liter supercharged V8.
Two more things - the TRX uses rear coil springs, while the current Raptor uses leaf springs; spy photos have shown that the next-gen Raptor will switch to rear coils as well. Also, the TRX is AWD-only; there's no option for the two-wheel drive from the truck's transfer case, meaning that you can't quite drift this thing like you can a Raptor.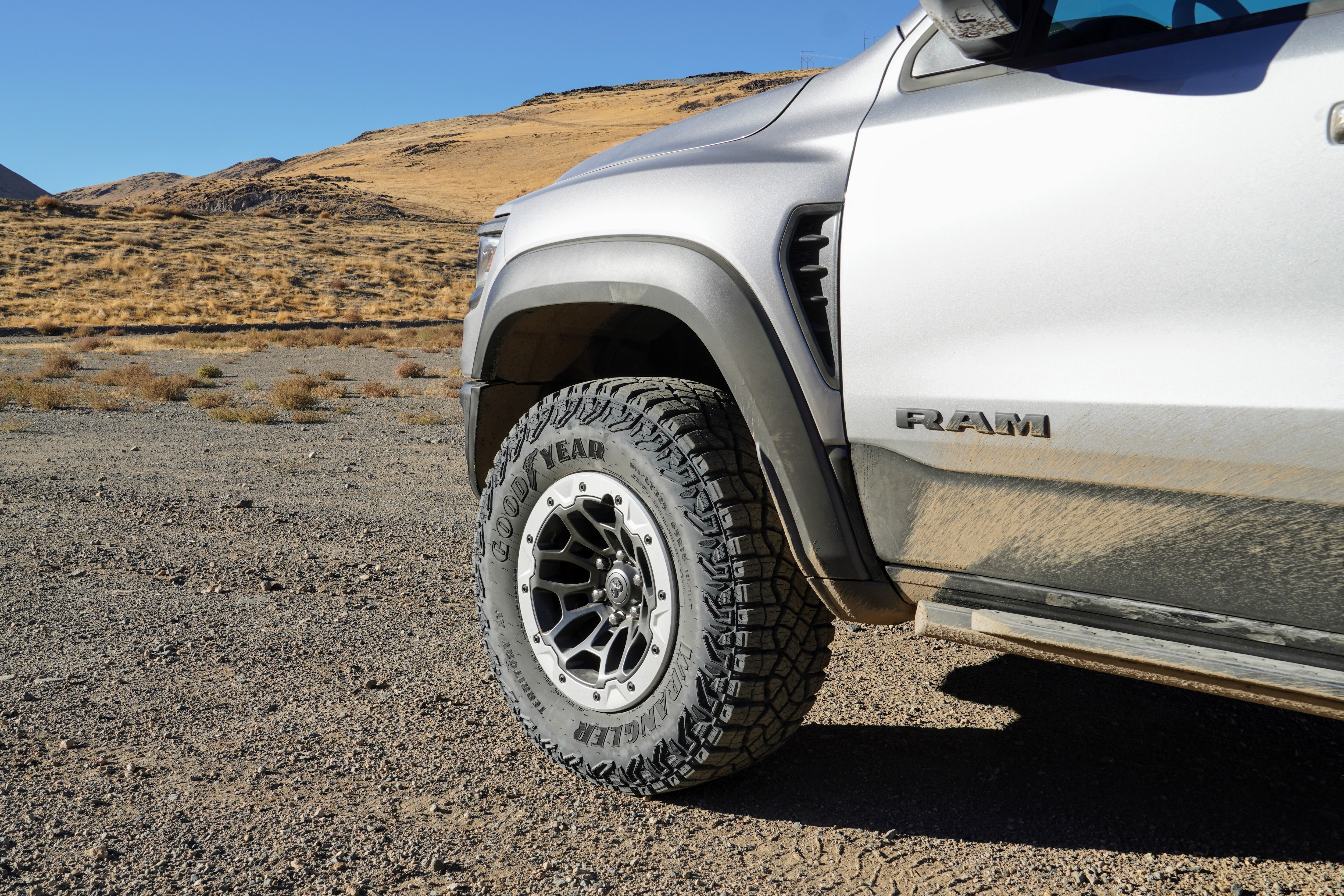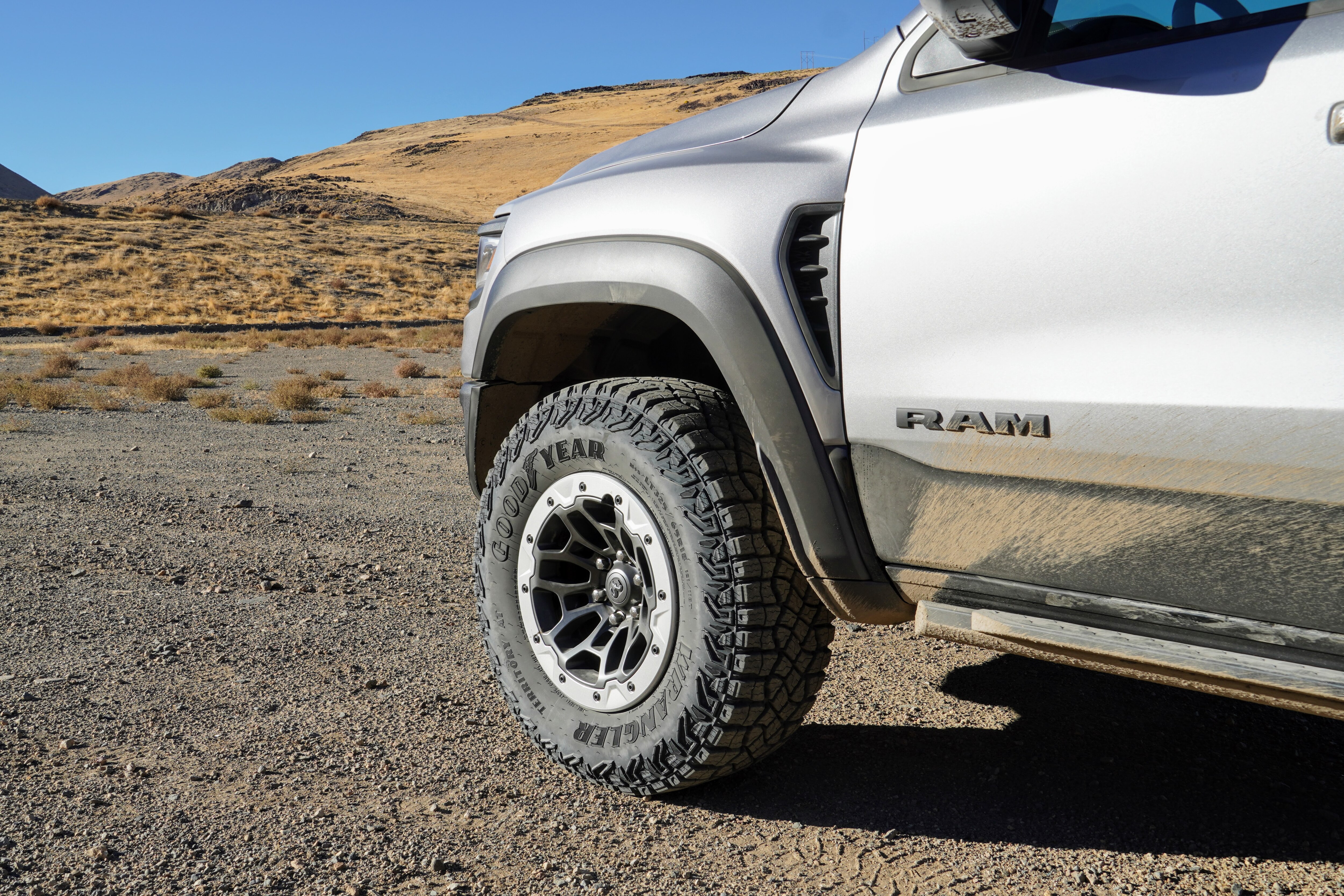 My demo for the day came with two bed-related accessories. First was a trophy truck-style in-bed spare tire carrier, and the other was a roll bar, or 'Ram Bar,' as the Ram PR team referred to it. On top of the bar were four overhead Mopar auxiliary lights, which were linked into a bank of pre-wired switches located on the dashboard.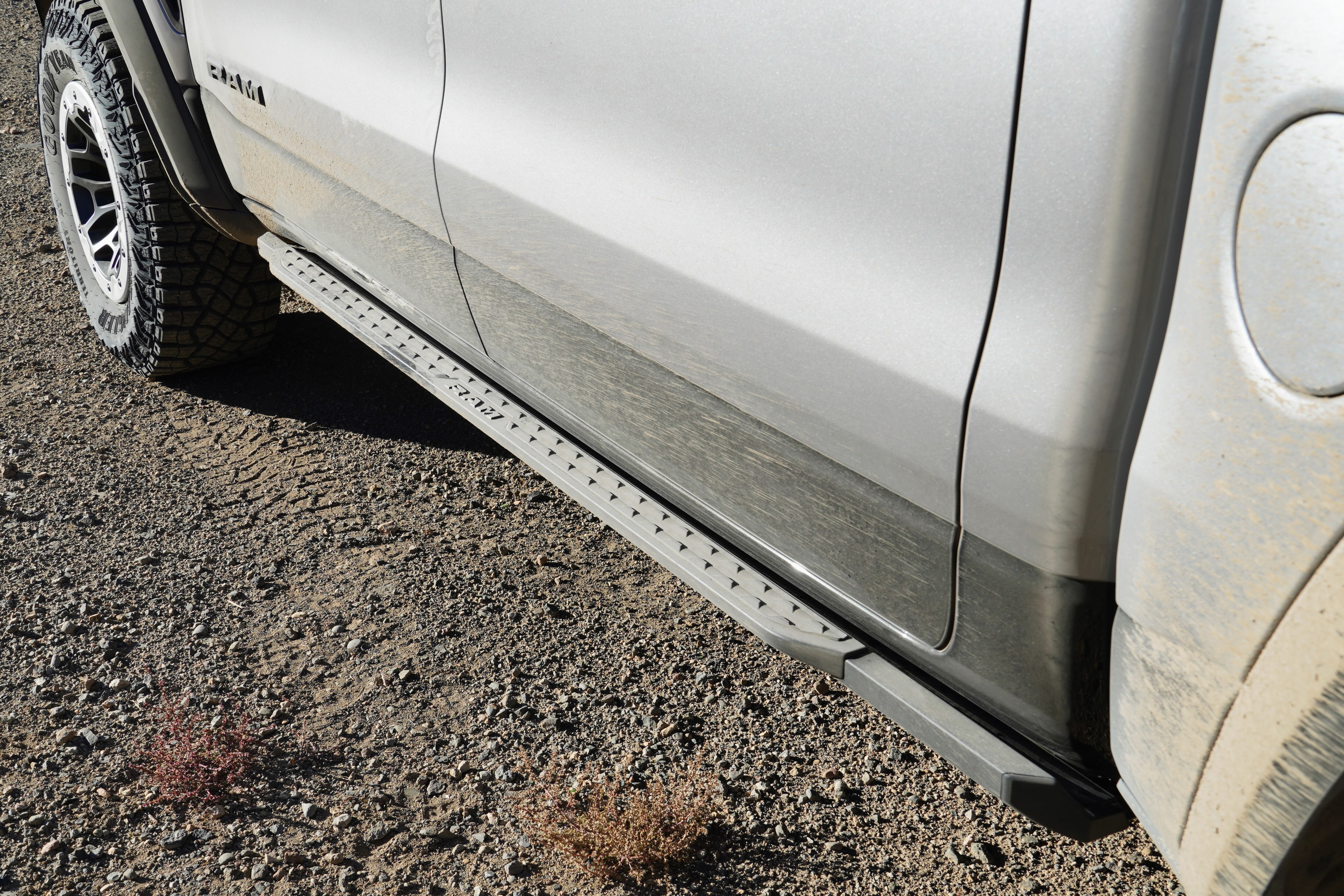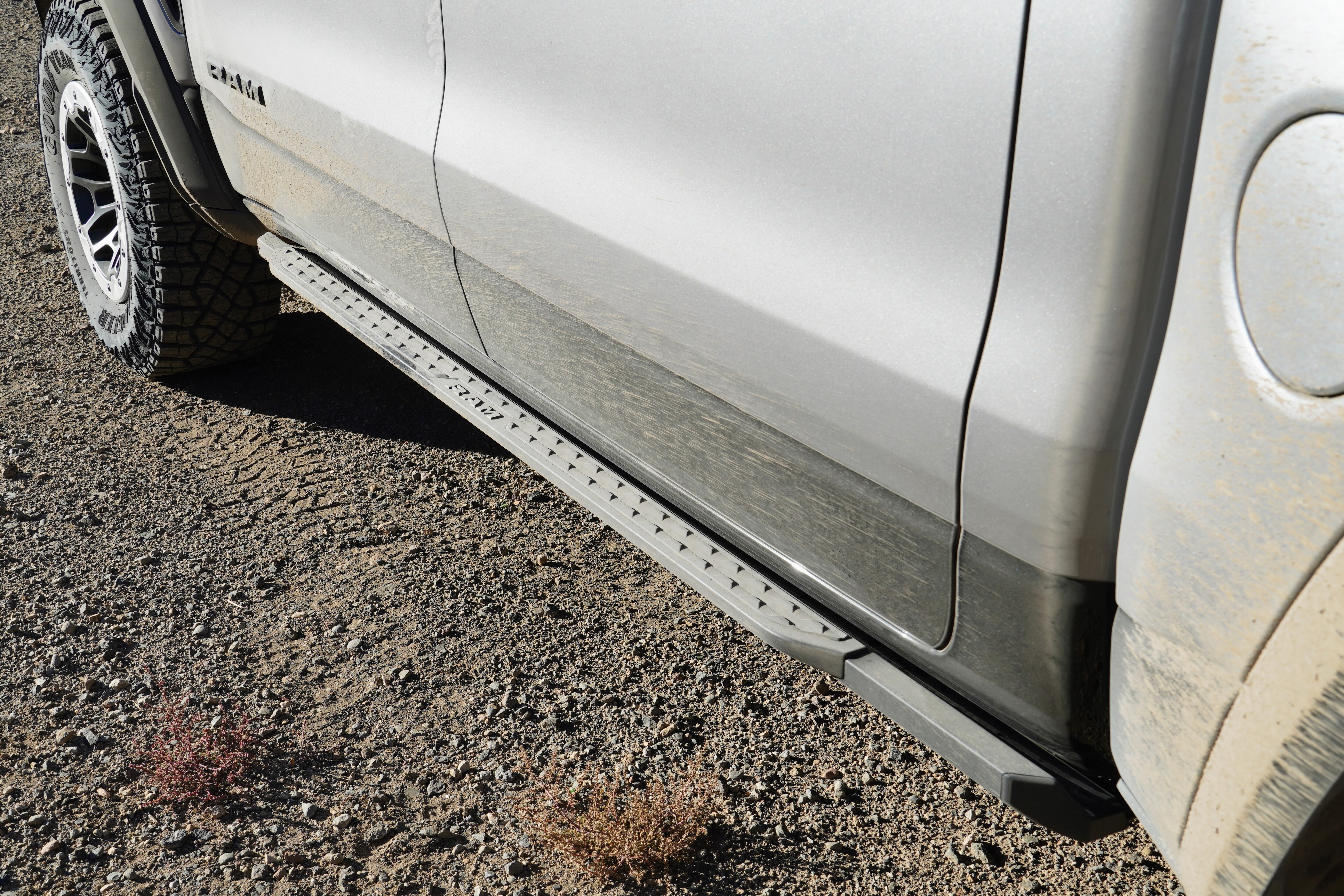 One of my favorite features that Ram has introduced on the TRX is its rock-slider running boards. All too often, new trucks will come with big bulky running boards that need to be removed if you're going to do any low-speed off-roading. In a perfect world, you replace them with rock sliders, which protect the rocker panels against damage from uneven terrain but can cost upwards of $1,000 a set. By developing a part that serves as both, Ram has saved TRX buyers some hassle and a bit of coin.
After a large portion of the day spent driving on-road alongside Lake Tahoe and through the outskirts of Carson City, the drive culminated at the Wild West Motorsports Park, a dirt race track outside of Reno. It was here that I tested the TRX on a long forest road loop, a dirt drag strip, a steep rocky ascent, and on a race track complete with multiple jumps. On the 'forest road,' the TRX performed just as it should; I was able to drive fast with minimal effort and with minimal damage to my spine, thanks to the combination of high-performance electronically-controlled proprietary Bilstein shock absorbers and 35-in Goodyear all-terrain tires. This is great news for those looking to actually use a TRX to get to remote places with any kind of urgency.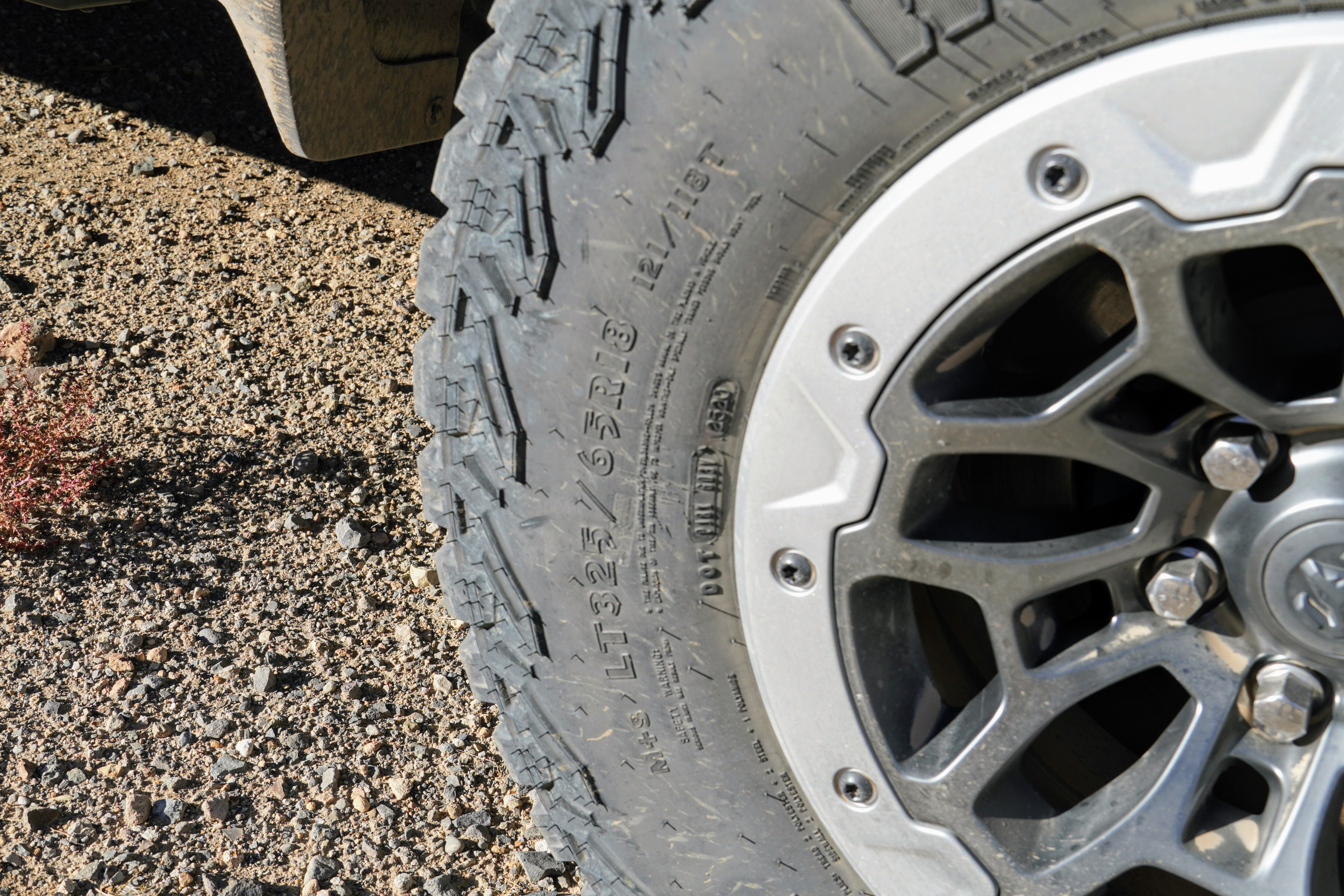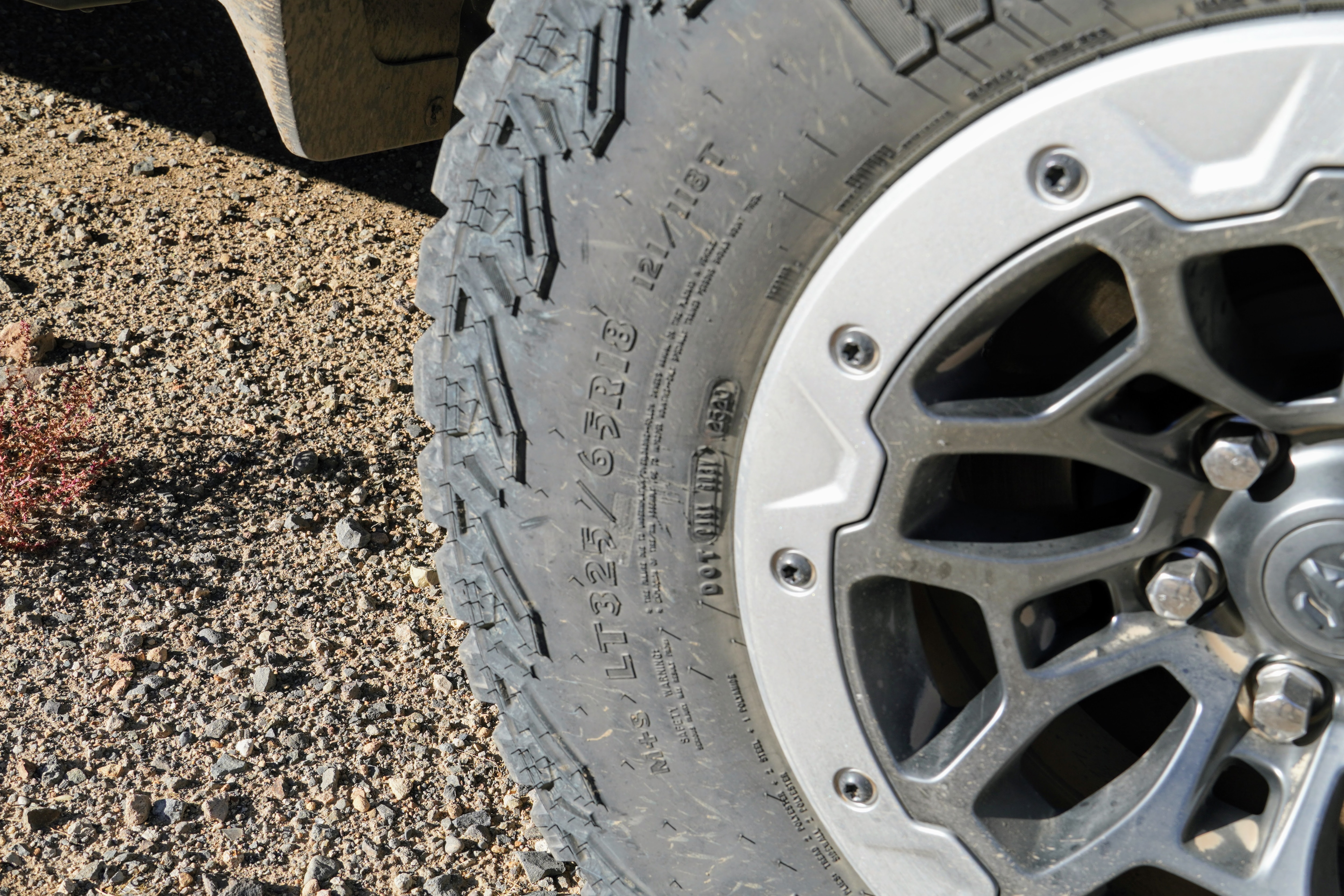 The drag strip launch-control portion essentially proved the competency of the TRX's AWD system; the truck is fast on-road, and it's fast off-road. Rock crawling was similar - one would expect that a pickup with 35-in tires could scamper up a boulder field without getting stuck, which was, in fact the case here.
The race track portion was where the real fun took place. All-in there were three areas of the track where the truck's tires would leave the ground, including a very deliberate 'kicker' style jump at the end of a steep downhill. It's not only amazing that these trucks can get three feet of air without bottoming out on the landing, but also that 6,349lbs of metal, plastic, and leather can land with such force without exploding into thousands of pieces. Either way, the truck handled the track like a purpose-built race truck. It never bottomed out, and landings were, dare I say, pleasant and uneventful from my position in the driver's seat. Ram was wise to limit everyone to four laps, as by the fifth, I would've been ready to really push this thing. I can now say that I'm more comfortable and confident going off of jumps in a three-ton pickup than I am on my mountain bike, which speaks more to the remarkable engineering that goes into these vehicles than my own personal risk tolerance.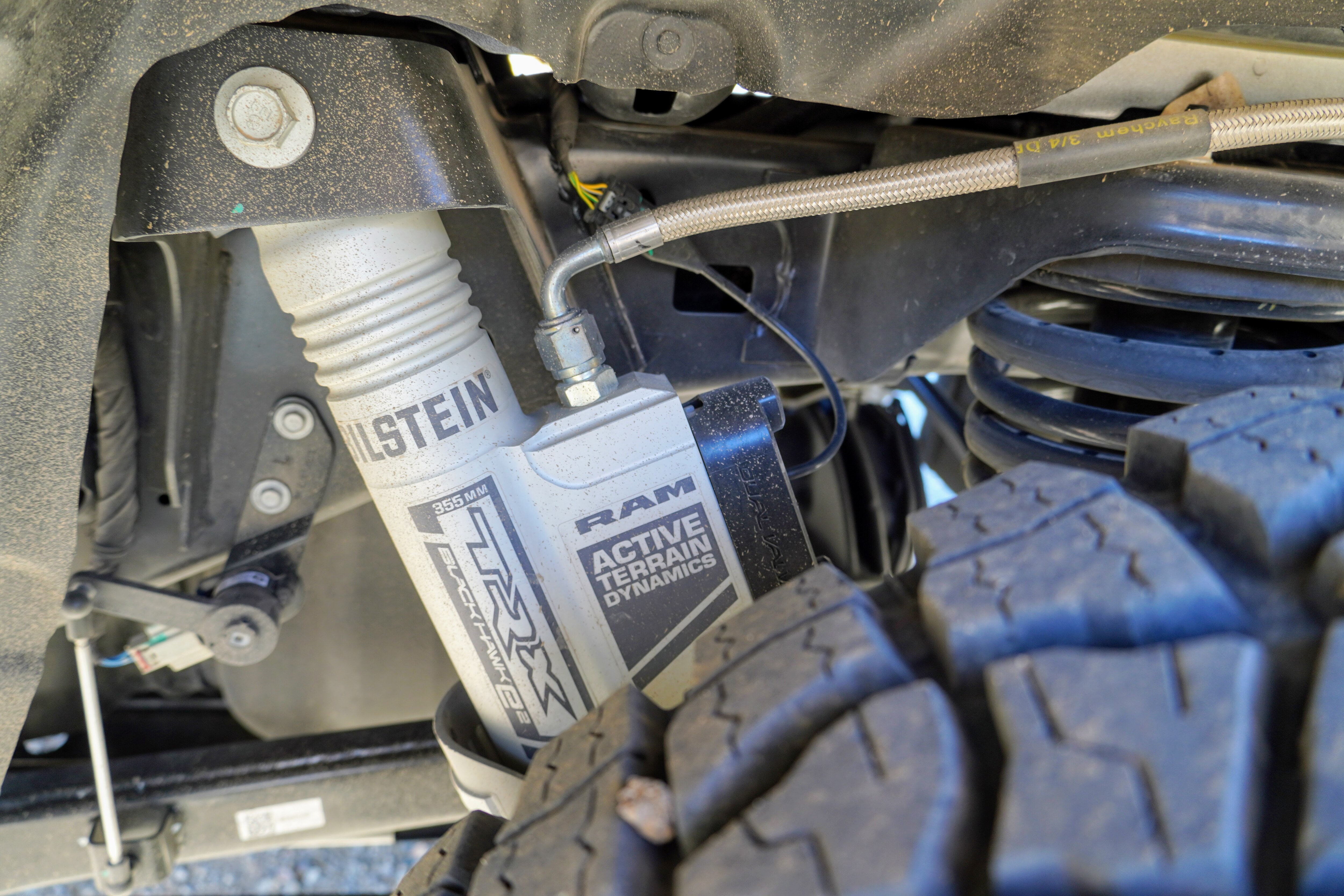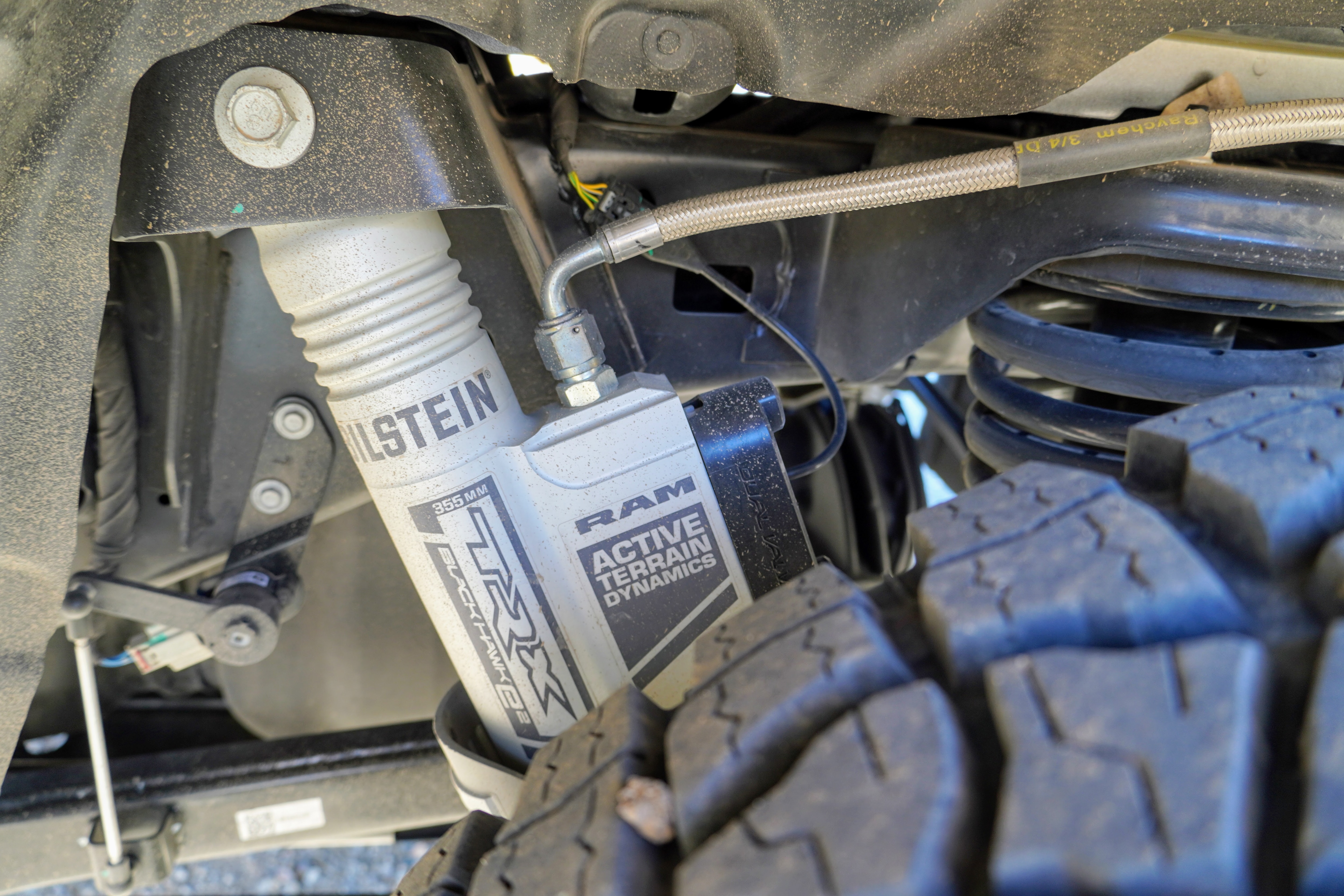 Conclusion
This truck elevates the high-performance truck segment in every way, but here's the thing. While the Ram 1500 TRX currently enjoys the title of the fastest, quickest, and most powerful pickup of all time, it will soon be challenged in all of these categories. Ford has already revealed an all-new 2021 F-150, and it's just a matter of time - likely less than a year - before it'll debut an all-new third-generation Raptor model. And that third-gen Raptor is all but confirmed to be available with the new 5.2-liter 'Predator' V8 that debuted in the Mustang GT500, where it makes 760 horsepower. So sure, with 702 horsepower and a 0-60 time of 4.5 seconds, the TRX is faster and more powerful than the 2020 Raptor, which makes 450 horsepower and goes from 0-60 in 5.1 seconds, but this isn't a fair comparison, as Ford has certainly benchmarked against the TRX in developing the yet-to-be-revealed 3rd-gen Raptor. Especially now that Ram has shown its hand, and Ford isn't one to play second fiddle in the full-size truck segment. So yeah, right now, the Ram 1500 TRX is the craziest, most powerful, grin-inducing truck you can buy today; it might even be the craziest new vehicle you can buy, period. But keep an eye out going forward, as the high-performance truck segment is just beginning to heat up. Find a RAM 1500 for sale
Chris O'Neill grew up in the Rust Belt and now lives in Salt Lake City, Utah. He worked in the auto industry for a while, helping Germans design cars for Americans. Follow him on Instagram: @MountainWestCarSpotter.