Have you ever wondered which new vehicles have the oldest overall designs? Well, wonder no more, because I've compiled a list! I went automaker by automaker, car by car, trying to figure out which new vehicles have the oldest designs, and these are the top seven. They probably won't surprise you, but if you're anything like me, they may provoke a different reaction: You'll probably look at them and ask, "They still sell that new?" And while it may be surprising, the answer here is yes. You can still buy a brand-new example of each one of these aging vehicles.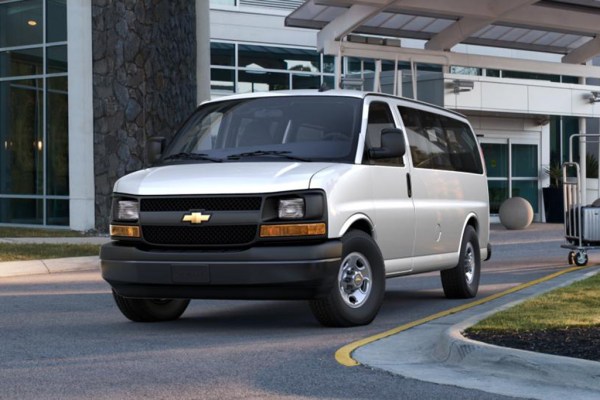 Chevrolet Express/GMC Savana – 20 Years Old (1996)
General Motors hasn't kept up with the recent cargo-van renaissance. Even though Ford, Mercedes-Benz, Nissan and RAM have each debuted new cargo vans in the last few years, General Motors is still soldiering along with the same vans it had all the way back in 1996: the Chevrolet Express and GMC Savana. And even if the Express and the Savana have any defenders here who point to the vans' last facelift as proof that these aren't actually 20-year-old vehicles, it's worth noting that the facelift happened in 2003 — so any way you slice it, these vans are insanely old. Find a Chevrolet Express for sale and Find a GMC Savanna for sale
Mercedes-Benz G-Class – 14 Years Old (2002)
The Mercedes-Benz G-Class, also known as the G-Wagen, is a bit lucky. It's actually been in production using the same design since 1990, but it's only been on sale here in the United States since 2002, so it doesn't seem as old as it actually is. Regardless of how you slice it, though, the G-Wagen is ancient. Its original design debuted in 1979, and since then, it's really only been updated, never completely redesigned. That said, some updates (like the one in 1990) have been significant. And trust me, you'll immediately notice the difference between a 2016 G-Wagen and a 1980s model when you climb inside. On the road, however, it still feels relatively similar — unless, of course, you're driving the one with 604 horsepower. Find a Mercedes-Benz G-Class for sale
Bentley Continental GT – 12 Years Old (2004)
Although the Bentley Continental GT has been updated, facelifted, massaged and revised to offer different engines, its basic design still hails from 2004. I've never really understood why this is, especially since the Continental GT's sedan version — which debuted after the Continental GT Coupe, in 2006 — was recently redesigned. Perhaps Bentley is trying to set a record for sales of $150,000+ vehicles with aging designs. Find a Bentley Continental GT for sale
Rolls-Royce Phantom – 12 Years Old (2004)
Here's something unbelievable: You can still purchase a new Rolls-Royce Phantom. It's true. The car that blew everyone away when it debuted back in 2004 because it has an umbrella in the door and a disappearing hood ornament is still available, with the same design, the same umbrella and the same hood ornament. The crazy thing here isn't the age as much as it is the used market. You can purchase a used Phantom, one that looks highly similar to a brand-new model, right now for roughly $150,000. Or you can buy a completely new Phantom for something like $440,000 plus tax, shipping and options. Personally, I'd save the $300,000 — but then again, I'm not the kind of person who buys a Phantom. Find a Rolls-Royce Phantom for sale
Aston Martin DB9 – 11 Years Old (2005)
I admit this one is a little unfair to the Aston Martin DB9. Yes, it's a decade old. And yes, if you go into a dealership to buy one, they'll charge you something approaching $200,000 for a 10-year-old car. But the replacement for the DB9, dubbed the DB11, is very much on its way. In fact, it'll likely reach showrooms in the next few months, rendering the DB9 obsolete. Nonetheless, it's amazing the DB9 managed to soldier on for so many years, while rival exotics with similar price tags have all had one, two and even three new designs over the same time period. Find an Aston Martin DB9 for sale
Nissan Frontier – 11 Years Old (2005)
Surely, you expected this one. The midsize-pickup segment doesn't generate a lot of sales, so the few brands selling midsize trucks — right now, just Chevrolet, GMC, Nissan and Toyota — tend to let their vehicles languish for a while before major updates. For example, until its redesign earlier this year, the Toyota Tacoma hadn't been updated since 2005. And the Nissan Frontier is the same age, hailing from all the way back in 2005 and carrying through to 2016 with surprisingly few changes. So yes, you can still buy a new Nissan Frontier. Presumably with an enormous discount. Find a Nissan Frontier for sale
Aston Martin Vantage – 10 Years Old (2006)
My old Aston Martin earns its spot on this list after 10 years without a significant redesign. Of course, like most of the cars on this list, there have been updates — including some major ones, like the addition of a convertible variant in 2007, a new interior in 2009, a new V12 model in 2011 and a new transmission in 2012. Still, although the Vantage has seen a lot of changes, it remains the same basic car that came out way back in 2006, when we were impressed that Aston Martin had a competitor to the brand-new Porsche 911. But while that version of the 911 was redesigned in 2012, the Vantage was left behind. Find an Aston Martin Vantage for sale
Honorable Mention: Ford Expedition/Lincoln Navigator
Although the Ford Expedition and the Lincoln Navigator were thoroughly revised in 2007 and again in 2015, it's worth noting that these two full-size SUVs still ride on the exact same chassis they did in 2003. For the last 13 years, Ford has also carried over buttons, features, latches and design elements. So the Expedition and Navigator get an honorable mention, because their appearance on this list depends on exactly what you want to consider a redesign — and also because it's amazing they've lasted this long with no major revisions, watching from the sidelines as their Chevy Tahoe and Cadillac Escalade rivals have been updated several times over the past decade. Find a Ford Expedition for sale and Find a Lincoln Navigator for sale
Runners Up (9 Years Old – 2007):
Jeep Patriot/Compass
Lexus LS 460
Toyota Tundra
Doug DeMuro is an automotive journalist who has written for many online and magazine publications. He once owned a Nissan Cube and a Ferrari 360 Modena. At the same time.
MORE FROM OVERSTEER:
Please Stop Installing Aftermarket HID Headlights
Here's Why Old SUVs Are Suddenly Shooting Up in Value
Ask Doug: Will Turbocharged Engines Last a Long Time?