If you're interested in buying a Tesla, you're probably thinking you'll have to spend big money on one — somewhere between $70,000 and $130,000, which is roughly the base price range of the brand's Model S sedan. But the used Tesla market is flourishing — and there are currently 21 different Tesla models listed on Autotrader for under $45,000. Admittedly, some of these have been crashed, or flooded, or destroyed in some other way — but these five are the least expensive operational Tesla models currently on the market.
1. 2013 Tesla Model S – 68,500 Miles – $41,900
The least expensive Tesla on Autotrader is this 2013 Model S, which is offered by Elegant Auto Sales in Hawthorne, California, near Los Angeles, for $41,900. Likely so inexpensive due to its mileage — 68,500 is pretty high for any three-year-old car, and especially a Tesla — this Model S was originally sold in the San Francisco Bay Area. Although it's a fairly basic example, it's a one-owner car with no accidents — and it'll surely get swept up by some Tesla fan interested in a bargain. Find a 2013 Tesla Model S for sale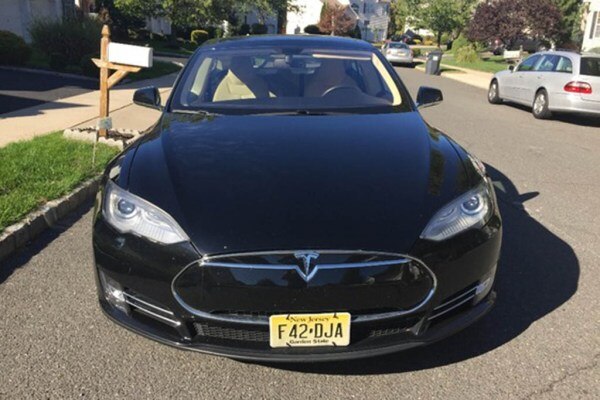 2. 2013 Tesla Model S – 48,200 Miles – $42,000
This 2013 Model S is only slightly more expensive than the cheapest one on Autotrader — but it touts 20,000 fewer miles. It's also for sale on the other coast: with a private seller in the New York-metro-area town of Bridgewater, New Jersey, where it's listed for $42,000. Like the least expensive model on our list (and the other Model S models included here), it has relatively high mileage for a Tesla — 48,200 — suggesting it was driven daily. Find a 2013 Tesla Model S for sale
3. 2008 Tesla Roadster – 42,100 Miles – $42,900
The only Tesla Roadster among the least expensive Tesla models on Autotrader is this one: a 2008 Tesla Roadster offered for $42,900 by a private seller in Camarillo, California, northwest of Los Angeles. The seller is clearly a Tesla fan, as his listing photos also show a Model S in his driveway — along with a Nissan 300ZX and an old Mercedes-Benz SL-Class. The Roadster, Tesla's first model, was heavily based on the Lotus Elise — though it uses a fully electric drivetrain and includes a long list of modifications from Tesla. Find a 2008 Tesla Roadster for sale
4. 2013 Tesla Model S – 88,800 Miles – $42,950
This sleek black Model S is notable for not just its low price — $42,950, from a private seller in Los Alamitos, California, near Los Angeles — but for its impressive miles: it's traveled nearly 90,000 miles in just three years, which surely must make it among the highest-mileage Tesla models in existence. Unfortunately for the owner, the high miles have clearly contributed to its low price — but the owner doesn't seem to mind, as his listing includes a photo of the black Model S he's selling next to the brand-new Tesla Model X he just purchased. Find a 2013 Tesla Model S for sale
5. 2012 Tesla Model S – 81,800 Miles – $42,995
Rounding out the top-five least expensive Tesla models on Autotrader is this 2012 Model S, which has also covered significant mileage — 81,821 miles, to be exact — in just four years. Offered by Secure Car Brokers in Salt Lake City, Utah, this white Model S is available for just $42,995 — and its Carfax report shows that it's a one-owner vehicle with no accidents. Find a 2012 Tesla Model S for sale
Doug DeMuro is an automotive journalist who has written for many online and magazine publications. He once owned a Nissan Cube and a Ferrari 360 Modena. At the same time.
MORE FROM OVERSTEER:
Tesla People Hate Me, But the Model S Still Isn't a Full-Size Luxury Sedan
I Hypermiled My Dodge Viper to See What Gas Mileage I Could Get
New 2018 Mercedes-AMG E63: It Is Still Possible to Drift